We may earn commission from qualifying purchases at no extra cost to you.
Learn more
What is it?
The Garmin Alpha 100 device is an advanced system that allows for GPS tracking as well as training for your dog withIn a self-created boundary.
The Alpha 100 utilizes satellite technology in order for the device to communicate with a dog's receiver collar.  It allows tracking of up to 20 dogs with one device and is designed with the ability to track other devices and dogs using compatible Garmin systems while hunting.
This technology is useful for pets that are off lead in situations where they may run off after distractions, such as animals.  It can detect and correct pets up to 9 miles away.
Why is it here? Garmin is well known in GPS technology as a manufacturer, and has utilized its vast GPS knowledge to create a cutting edge tool that not only allows for GPS tracking but also training of a dog.  The combination of tracking and training ads to the usefulness and safety of this device.
It has a steep price, but is a top of the line product in its class, and a gold standard to compare other similar devices.
How does it work?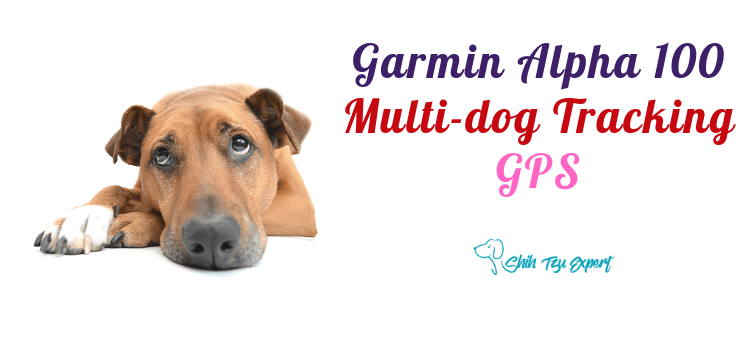 The Garmin Alpha 100 system utilizes satellite technology to communicate location and boundaries between the pet owner's device and the collar with receiver worn by a dog.  On a more technical level utilized a combination of GPS/Glonass tracking with Tri-Tonics training technology.
The Alpha GPS device allows the owner to communicate and train pet wearing the collar up to 9 miles away.  There are eighteen levels of continuous and momentary stimulation from sound stimulus to shock to choose from for correcting pet.  The owner sets up a virtual boundary on the handheld device and will receive an alert to device if dog approaches or crosses boundary.  Owner can then decide to send a stimulus to deter dog from crossing the boundary.
They may choose between vibration or sound stimuli.  The device will also show what direction and how fast a dog is moving.  The Garmin Alpha can also communicate with select other Garmin products to track members of group with handheld devices and or other dogs (up to 20 total).
Criteria for use:
This product is designed for tracking and training dogs in the United States.  It will not work accurately outside of the United States.  This product does not have a weight limit for dogs using it, but the collar and receiver do need to fit the dog for appropriate use without causing  obvious discomfort for dog.  The product comes with a 1 inch collar strap, but the strap can be swapped out for a more comfortable fit if needed.
What comes in the Alpha Track and Train bundle and their Technical Features?
Bundle includes the Alpha TT 15 handheld device, TT 15 dog receive with collar strap, belt clip, USB cable, field bag, and manual.
Handheld device— What you get: A small device akin to a walkie talkie that fits into handler's pocket.  It has 3" glove-sensitive touchscreen.  Handheld utilizes high sensitivity GPS with GlLONASS.  There are 18 levels of continuous and momentary stimulation to train with and preloaded TOPO U.S. 100k MAPS.  The screen is in color.  You also get a 1-year BirdsEye Satellite Imagery subscription for device that typically has a yearly subscriber fee.  The device includes a rechargeable battery that lasts 20-40 hours.

Receiver— What you get:  one receiver with 1" black collar strap and 5" and 13" extended range antennas.
Manufacturer information:
Garmin is a U.S. founded company who has been specializing in GPS technology since the 1980s.  Their technology is now used around the world, with the U.S. Army as one of their prized customers.
They are best known for GPS devices for automotive, boats, planes, hiking as well as smart watches.  Garmin has been in the business of dog tracking technology since 2011 and has an entire product line that is cutting edge and highly advanced.
They are based in the U.S.A. with a large online presence for marketing their items.  They provide warranty options on their products and are easy to contact for assistance via their website https://support.gramin.com/en-US/ or by email (found on website).
Safety concerns?
Boundary setting and correction with GPS devices carry the same concerns as any stimulus-oriented fence system.  The Alpha 100 has many inherent safety features to account for potential safety risks.  The safety features with the alpha TT 15 device include 18 levels of vibration or sound correction to tune to your dog's response level and sensitivity.  The receiver and handheld device are waterproof.  There is also a safety feature that disables the dog from being shocked when returning to the boundary after leaving it.
The goal for a safe stimulus inducing device is that the stimulus does not hurt your pet.  Having a well fitting receiver collar and adjustable level and length of correction stimulus help achieve this goal.  There are several factors that contribute to how different dogs perceive the same stimulus.  Dog size, coat length, and dog personality can all affect a stimulus lading to a dog correcting behavior versus fearing the system as a whole.  It is always a good idea to test the stimulus you want to use on your dog in your presence before using it out in the field when you may not be able to monitor your pet's response.
Keep in mind, a dog's personality may limit effectiveness of a stimulus inducing system.  Some dogs need more discipline than what a GPS tracking and training system can provide, as they will disobey the stimulus and be at risk for running away if the proper distraction comes by.  Be careful using a corrective boundary system on aggressive dogs, as they may become more aggressive or hostile towards owner with continued use of a stimulus they do not like..
Benefits and Features of the Garmin Alpha 100 with TT15 collar Bundle (Pros):
You have the ability to track and train up to 20 dogs from one handheld device.
The Alpha 100 receivers are compatible with the Garmin T5 tracking device for tracking-only situations.
This system works instantly, and you choose the amount of time spent on virtual boundary setup.
This system is easy waterproof and can withstand accidental exposure to water of up to 1 meter for as long as 30 minutes.
System is weatherproof, so rain, lightening should not interfere with its efficacy.
There are 18 different stimulus options for sound or vibration to be used to correct pet at either a continuous or intermittent duration. A shock may also be delivered.  Plus, your top three corrective stimuli can be programed on device for easy and fast use.
Able to track your dog's direction and speed, and correct it from up to 9 miles away.
Designed for hunting with dog.
Ability to correct only desired dog when tracking multiple on one device.
Ability to track other Alpha devices in your field, even different models (20TT 10/15/15, and mini alpha units).
Receive notifications when a dog is "treed" or "on point"
Preloaded maps included for easy navigation at all times despite signal interference.
Quick setup and near immediate use of product available.
Boundaries created can be saved for use when returning to a location.  Data can be saved on external memory card to save space on the device itself.
Handheld device screen has a lock feature to avoid inadvertent actions while device is at risk of being jostled.
Problems with the Garmin Alpha 100 with TT15 collar Bundle (Cons):
May be cost prohibitive at around $800.
Must manually correct your dog if alerted he or she is leaving your pre-set boundary.  Thus, in order for training mode to work properly you must monitor device and have it on you at all times the dog is using it.
Satellite technology  is subject to interference in areas of high cloud cover, dense tree cover, multiple buildings or roofs. Cannot reliably recommend use in all homes due to this.
For use in U.S. only.
Dogs are visible and vulnerable to other animals while using system outdoors and at a distance from the owner.
The electric fence causes discomfort if dog attempts to pass boundary.
A dog can leave the fencing area if he ignores his training and shock stimulus.
GPS systems of any type do require periodic updating.  The Alpha software does need regular updating as Garmin is constantly updating and improving the software.  To get best use of product features plugin device into computer and following manufacturer's instructions to update is advised.  Gamin's website provides info on this as well. Both handheld device and collar should be updated. of the things that changes on a pretty regular basis is the Alpha Software.
The MUST Know, True Facts about the Garmin Alpha 100 Bundle:
System is waterproof and weatherproof.
Tone and vibration stimuli options available at 18 different levels with variable duration of continuous or momentary.
Tracks up to 20 dogs for up to 9 miles.This product can track 20 of its own dogs, or 20 dogs from nearby Garmin systems, specifically the TT15 and TT 15 mini models.  The TT 15 mini model can only be tracked up to 4 miles away.  The extra receivers must be bought separately on Amazon or directly from the manufacturer as the Alpha 100 bundle only comes with one receiver and collar.
Batteries are rechargeable.  Batteries last 20-40 hours.
There are preloaded TOPO U.S. 100k maps ready for immediate use.
What do consumers think of the Garmin Alpha 100 with TT15 collar bundle based on consumer reviews?
For consumers this top of the line tracking and training GPS system lives up to the hype.  Consumers love the ability to take this device anywhere they take their dog.  It is used widely  by consumers for hunting, hiking, watching dog's free play outside, and even tracking pets outside while sitting in their homes.  Consumers feel the features provided by this system are steps above competitors.    Consumers who hunt especially appreciate the ability to track other hunters and their dogs who have compatible devices.  They also enjoy the warranty options provided by Garmin.
Some consumers find the amount of technology available overwhelming.  They feel sifting through all the stimuli options available is time consuming if they have not pre-programmed their favorite stimuli into handheld device.  The collar is felt be structurally stiff and antennas that do not move well if caught on objects while being worn by pet.  Some dogs have a difficult time getting used to wearing a collar with an antenna.  Consumers also feel the instruction manual provided is too technical and does not provide enough practical information about device.  They feel the TT15 collar does not fit their small breed dogs well.  The sensitivity of the touch screen is annoying to some consumers, and they feel the size of the screen could be larger.
Check Carefully because…
The Garmin Alpha 100 bundle only comes with one receiver collar. The ability to track and train up to 20 dogs exists, but extra receivers are sold separately.
This system is not suitable for all pets as not all pet behaviors work well with a GPS training system, and it is not guaranteed the stimulus to correct pet behavior will work for your pet.
The handheld tracker/trainer device is not compatible with all Garmin GPS collars.  The Alpha 100 is only compatible with Alpha TT15 or Alpha TT 15 mini collars.  If using with TT 15 mini collars the distance pet can be away from you for tracking and training is reduced from 9 miles to 4 miles.
The range device will work is listed as 9 miles, but treecover, hills, mountains, and tall buildings can decrease this distance singifcinatly.
GPS fence systems do not work great in urban areas or near heavily trafficked roads.
Consumers report the Alpha 100 bundle does not work well with small breed dogs, but there is a TT 15 mini system available that is compatible.
GPS systems are not recommended for young puppies that have not undergone basic training, as they easily develop fear behaviors from negative experiences.
What to watch out for with this product?
This GPS system is intended for use in the United States and will not work in other countries.  This is not a system flaw, but a regulatory issue.
Manual correction is required in order to correct a dog that is crossing a boundary. This device works best when being well monitored by user.  If autocorrection is desired then this is not the device for you.
This is not a bark collar.  System can detect barking, and you can deliver a manual correction for barking, but that is not what it is designed for and can be difficult to use in this manner.
This system is waterproof, but does not float.
Crucial Tips regarding the Garmin Alpha 100 tracking and training system with TT15 collar:
For use on dogs only.
Strap is interchangeable with any collar strap.
Can track and train up to 20 dogs, compatible receivers, compatible dogs associated with other receivers, or any combination thereof for up to 9 miles away.
The TT 15 collar works best on medium to large dogs.
The device comes preloaded with maps and will work immediate once receiver collar activated.
Extra memory storage of maps and data can be used with insertion of extra memory card (not included).
GPS data used can be saved on a computer with use of Garmin Basecamp software.
One year of BirdEye Satellite Imagery is included with purchase wich allows for enhanced geographic information when using GPS.
Can receive tree and point data on your dog.
Tracking and training collar can be turned off from the Alpha 100 device.
For use in U.S.A. Only.
No monthly subscription fee required.
Included 18 different sound or vibration stimuli for dog correction.
Not designed for auto correction of barking.
All corrections given are manual.
Waterproof system with touchscreen that works while wearing gloves.
Works best outdoors; will be less effective around busy roads, multiple buildings, and heavy woods.
Items to consider when picking a GPS tracking system:
There are many varieties and price ranges of GPS tracking systems to choose from.  It is important to consider several items in order to pick a device that fits you needs.
You should consider whether you want a GPS tracking system to monitor your dog in case they leave your site while on off lead hikes or runs, or if you need a GPS device that will also correct your pet's behavior.  Not all GPS tracking devices also have training options.
It is equally important to explore if your dog is fit for a GPS tracking system.  For a dog that is older and unlikely to run off, it may be unnecessary. GPS tracking systems are not recommended for young puppies who are still learning basic behavioral skills.  GPS tracking and training systems may not work well for dogs that are likely to ignore a vibration or shock stimulus if chasing game.  Pay attention to size requirements as the Alpha 100 technically has none, but consumers have found it does not work well on small dogs.  Garmin does make and Alpha mini product for small dogs.  The collars worn with Garmin GPS devices include antennas, which some pets will need time to get used to, or may not tolerate.  The Alpha 100 does require manual correction of pet when alert received that pet has neared or crossed boundary. You must consider if manual correction is suitable, or if you'd prefer another type of system that autocorrects a dog's behavior. Keep in mind this GPS training system does not correct barking behavior either.
The user of the GPS system does need to have an appreciation and understanding of GPS to get the most out of their system.  Many added features come with a top of the line system like the Alpha 100 such as data on if dog is treed or on point as well as ability to save maps of areas and up to 9 miles of working distance between handheld and dog.  If these features are more than you would utilize, it may be worth considering a less expensive and less extensive model.  The number of dogs you would like to track and ability to track other compatible GPS systems and dogs are features to consider as well. The Alpha 100 allows for tracking of a combination of 20 dogs including compatible devices from Garmin.
Where you plan to use a GPS tracking device should play a large role in your decision.  The efficacy of GPS technology and radius the system works at requires use to be in area of low cloud and tree cover.  GPS tracking systems are not reliable for use in home, and not recommended in areas with lots of traffic and or buildings.
The goal of GPS tracking for your dog is to keep it safe.  Keep included safety features in mind when picking a device.  The Alpha 100 is waterproof, allows for 18 levels of stimulus either vibration or sound with training mode and has a lock screen on handheld to avoid accidentally correcting pet.  You can adjust the Alpha 100 to have a different correction stimulus for each dog using it which allows you to tailor system to pets needs. It also has a long battery life, and battery is rechargeable.
Other things to consider with GPS tracking systems are whether or not any prescription fees apply monthly for the provided technology. Who manufactures the technology also plays a large role in its accuracy and ability to be updated as technology improves. The Alpha 100 is manufactured by Garmin who is a giant in GPS technology and constantly updating their products for improvements in technology and accuracy.  The Alpha 100 also comes with preloaded maps and requires no extra monthly fee to maintain this.
Conclusion
Give your dog the freedom to frolic off lead while keeping it safe with a GPS tracking and training device.  The Garmin Alpha 100 Bundle with handheld device and TT 15 collar is a top of the line product in the world of GPS tracking devices for dogs.  Not only is the product top of the line, but the manufacturer, Garmin, is an expert in GPS technology.  Garmin provide up to date and excellent GPS technology for its consumers.
Consumers widely utilize this product for hunting with dogs.  Not only does it track up to 20 pets, but it also allows for pet training and utilizes high quality software to do both. The Garmin Alpha 100 is compatible with tracking other Garmin devices as well.  Another popular use for a GPS tracking device is for pet owners who hike and run with their dogs in large areas with many potential distractions that can lead to a dog running off.  The Alpha 100 GPS system does work best in natural settings with minimal forest cover, traffic and surrounding buildings.  As an in home device to track pets from the house while they are outdoors, a GPS tracking device is not ideal.
With big features comes big responsibility to utilize device like the Alpha 100 to its fullest potential.  The price is the biggest deterrent to this system.  However, it is truly top of the line with its GPS tracking and training abilities. For those who don't mind a splurge and will utilize the system to its fullest tracking and training ability, it will not disappoint.  This may not be the system for you if you are not GPS savvy and would not use the training or tracking features to their fullest potential. The training feature does require manual correction when alerted of a dog disrupting a set boundary, so if an autocorrecting system is your desire the Alpha 100 is not a good fit.
As always, take the time to research if a GPS tracking system is right for you also compare with other models like Dog Expedition TC1 Border Patrol GPS System and Remote Trainer.  Then consider all of the included features and possible fees.   When purchasing a GPS system consumers need to keep in mind the size of their dog, as well as age.  Consumers need to understand their dog's behaviors and if those behaviors will be corrected or agitated by a GPS system.  GPS tracking is best for owners who have mature pets and can trust their pets off lead.  The training should be used to correct distracted behaviors not behavior issues.  If a GPS tracking device is a good fit for you and your pet, the Alpha 100 truly has all the bells and whistles of a tracking and training device.  The boundaries for you and your pet are endless with the Garmin Alpha 100 GPS tracking and training device.