We may earn commission from qualifying purchases at no extra cost to you.
Learn more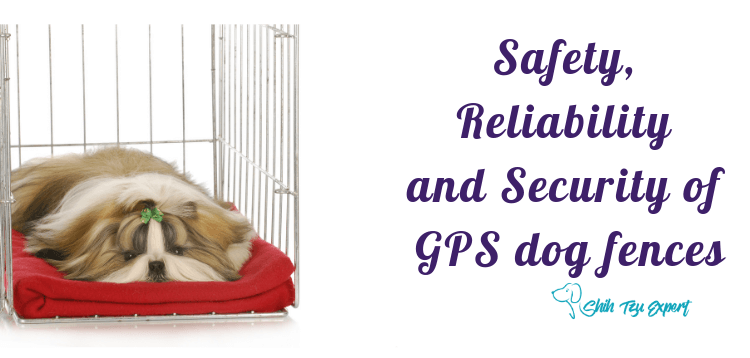 Dogs are truly man's best friend. They're the perfect companions, with their sweet, loveable nature and their cuddly side. If you're an animal lover, getting a dog seems like a no brainer. However, there's a lot to consider when it comes to getting a dog as a new furry friend. Take, for instance, keeping them safe on your property. As a member of your family, you're certainly going to want to take the best measurements to make sure your pup is as safe as can be, and has no risk of wandering off and getting lost or hurt.
Let's say that you've just recently bought yourself a new home with a new dog to go along with it. Uh-oh! This home, though beautiful with spacious interior and exterior, doesn't have a fence along its boundaries. With the size of this property, having no fence is surely a dangerous feature for your new pup.
He can easily cross over your property and into the neighbor's, or even worse, the street! What's the best way to make sure that your pup understands the boundary lines of his new home in a manner that is both effective and cost-efficient?
Luckily for you, there are a number of solutions! Pet containment systems have come a long way from the traditional physical fence. For example, we now have the electric fence, in-ground wire fences, and GPS dog fences. This article will go in-depth over the advanced nature of the GPS dog fence but first, let's take a look at some of the pros and cons of the other fence types.
Traditional Fences
This method of pet and property containment is about as old as houses themselves, and just as sturdy. Having a physical boundary around your home is the quickest and easiest way for your pup to learn where he can freely roam without putting himself in danger. Plus, there's the added bonus of teaching your pet their boundaries without having the need for behavioral correction.
However, it's important to keep in mind that physical fences are not always a viable option for a number of reasons. For starters, the Homeowner's Association or the subdivision governing where you live may have a number of rules dictating what type of fencing you need, or maybe they have strict rules against fencing in general. What's more, fences can end up being very pricey depending on how much land you need to fence in. This can cause an unexpected bump in the road if you bought your home before getting a dog or without considering what factors were necessary in owning one.
What's more, sometimes a traditional fence isn't enough to keep your furry friend contained. There have been countless stories of owners losing dogs with physical fences due to their pup being a little too rambunctious and catapulting clear over the fence. Some dogs are difficult to keep contained if they see a person or perhaps a squirrel, and in this case, no physical fence will be enough to keep a dog contained. In such circumstances, owners will then attempt to include other methods to keep their dog safely in their backyard, like a long leash. But then, does this not defeat the purpose of having a fence if your dog can't roam freely in the yard?
In-Ground Wire Fences
As the name suggests, in-ground wire fences are typically wire fences that are put underground to create an "invisible" barrier for your property. Often times, the barrier can be marked by flags so that both you and your pup are aware of where your property line ends.
Though the wire doesn't necessarily have to be placed underground to work, it's important to note that generally, these wires can be placed under a variety of different circumstances such as under rocks, water, or trees and still work just as effectively. These fences are a great option for covering a lot of ground, and irregularly sized ground at that.
These style of fences come equipped with a transmitter collar for your furry friend that responds to the wire in two ways: First, keep in mind that there is what's known as the "safe zone" for your pup, or the zone which they can roam in without a need for behavioral correction.
When your dog gets closer to the wire fence, a beep is emitted to warn him that he's stepping too close to the boundary line. If your dog chooses to continue walking towards the boundary line, a static shock is administered as a form of corrective action to drive the pup back towards home.
Generally, these collars have a level system of shock so you can choose what works best for your dog. What's more, most brands have collars that are shock resistant and waterproof so no matter what trouble your pup gets himself into, the collar will continue to work.
In-ground fencing systems are a good solution to use when you live in an area with strict rules against traditional fencing systems. They're relatively easier to install, too, meaning you won't have to hire any laborers to put up a fence–you could do it with a little hard work and your own two hands.
They're great for irregular plots of land that generally pose a problem for traditional fences. In-ground fences also likely end up being ultimately cheaper than physical fences, as all you need is to buy the wire and the transmitter collar system.
As with any corrective tools that use shock, your dog could learn aggressive and fear based responses. This can be an issue due to the fact that every dog feels pain differently and thus, you can't predict how your dog will react to the shock of this collar style. As a result, you may have a fence that's either completely ineffective to your dog if the shock is too mild, or one that causes other behavioral problems for your pup if the shock is too strong.
Many dogs have learned aggression and fear based responses from receiving inappropriate shocks: If a person or other animal is near the fence at the time the shock is emitted, the dog may then associate that other being with its pain and therefore respond aggressively on sight. Or, in the worst case, the dog may be so disturbed by the pain of the shock that he associates going outside with pain and thus refuses to go outside again.
With in-ground or "invisible" fences, your dog may also have a harder time with learning their boundaries. A livelier dog may not respond as well to the shock given when trying to correct their behavior and so continue walking past the unseen barrier. If you're not there to monitor your furry friend, this could result in him getting lost or hurt.
GPS Dog Fence
GPS dog fences are the latest in pet containment systems. Relying on the Global Positioning System, these style of fences can track your pet's movement at all times. They're much like an in-ground fence in the sense that they, too, are "invisible". Rather than having a wire that must be installed, they simply rely on you mapping out the latitude and longitude points of your property and defining the boundary in this way.
Others, however, rely on a circular grid to define the boundary. As a result, there's no possible deterrent for defining this property, be it the rules of your HOA association or something as trivial as a tree root blocking you from putting up a boundary. What's more, it also becomes easier to create a barrier around large or irregular plots of land.
Similarly to the in-ground fence, the collar of the GPS dog fence works in the same way. There is the "safe zone," or the area in which your dog has free roam over your property, and then there is the "warning zone". When your pup gets too close to the warning zone, a beep is emitted to remind your furry friend that he is straying too far. If he decides to continue testing his boundaries and steps beyond your property line, the collar then emits a shock based on a level of your preference to steer your pup back home.
The biggest difference with this style of fence is the fact that you can have eyes on your dog at all times. If your rambunctious pup chases after that pesky squirrel and gets off of your property, you can track him realtime via an app on your smartphone or a compatible website online. You'll receive the exact position of your furry friend and so be able to easily scoop him back up into the safety of your watchful eye.
GPS Invisible Dog Fence Coverage
Because the GPS dog fence as a containment system doesn't rely on the use of physical barriers, the great thing about it is that you can use it to contain just about any plot of land. You're completely unrestricted by size or shape, thus meaning you can create the ultimate containment system. All you need to do is define your land on a map based on GPS satellites and presto, you've got a barrier to keep your pet contained!
This works great for larger plots of land such as in rural areas. Your land can truly become your dog's playground as he can explore the great vastness of your property without you having to worry about him straying too far. Even in smaller properties where you're closer to the road, you can establish a perimeter around your space so that your dog can understand not to travel any farther than you have intended him to.
What's more, is there an area within your property that you don't want your dog getting into? Let's say that for instance, you have a pool or an award-winning bed of petunias he likes to dig in. Using the GPS technology, you can even create a barrier around these things within your already established perimeter, creating an added level of protection not just for your pup, but for your yard as well.
How Accurate and Reliable Are GPS Dog Fences?
As a pet containment system, just how reliable is the GPS dog fence? Their accuracy is pretty high, considering that you can track your pet in real time should they cross your property line. With the invention of this device, you can have your pet's coordinates delivered right to your cell phone (though keep in mind because some of these containment systems rely on cellular towers, there may be the need to pay a small service fee).
Having such crucial information on hand means that your pet will never have to be lost again. No other containment system offers this level of protection for your furry friend. The only thing that comes close is the microchip, but even this has its drawbacks: For instance, there is the risk of infection or rejection with implanting. Or in some cases, if your pet is brought to a certain vet, they may have an incompatible system for scanning the microchip.
The GPS dog fence system allows you an unparalleled level of accuracy and reliability in knowing the location of your pet at all times. However there's a margin of about 30 feet before the GPS dog collar signal is activated, which ultimately results in unclear boundaries. This means that your dog could well be on his way to his next grand adventure before you are able to get the exact location of his whereabouts. If you live on a small piece of land, this could also mean that your pet has the risk of running into traffic.
If your dog is not receptive to the warning beep and subsequent shock, he can very easily slip out of sight due to there being no physical perimeter for him to be aware of. If what the New York Dog Nanny says is true, then there will be a bit of a lag before you are able to successfully find your dog.
What's the Best Place to Deploy a GPS Dog Fencing System?
The best place to use a GPS dog fencing system will largely depend on the amount of property you are working with. If you have a smaller piece of land, perhaps one in an urban development, then it might be a good call to use a traditional fence. Though they can be potentially expensive, this classic containment system is the safest and easiest to use to train your dog to stay on your property without needing the aid of correctional tools. There's no beep, no shock–just a barrier that your pet inevitably understands that it can't cross.
However, sometimes you have a dog that can launch clear over the tallest of fences. Or perhaps you live in a subdivision that has strict laws against putting up fencing of any kind. Or maybe you just don't have it in the budget to get a traditional fence. For reasons such as this, including having larger plots of land, an invisible GPS dog fencing system might be just the fix. Particularly for large and irregular sized plots of land, this containment system offers the ease of simply relying on GPS technology to set the boundary of your property.
But if your dog ends up being non-receptive to the correctional methods involved in the GPS containment system, it's possible that using it on a smaller property may prove to be too risky. If you live in a traditional urban development right on a road, your pup could very easily get out of its safe zone and into the street, thus putting his life in danger. If you live on a larger piece of land, having a GPS containment system is preferable as you have more relatively safe space to work with as you maneuver to find your pet.
Can GPS Fences Be Used as a Training Tool?
If your dog is a wanderer and hard to keep contained, is the GPS fence system a good method for training your pup? The answer, of course, will depend on your dog. The GPS fence system employs two correctional methods to keep your dog in check: The first is a warning beep to let your furry friend know they're staying too far from the safe zone.
If your dog continues to walk past that, a quick static shock is emitted to deter him from going any further. For most dogs, this would be more than enough to train them to stay within your property lines. With enough training, the warning beep would often be sufficient to keep your pup within the perimeter established by the invisible fence.
As Dr. Jen's Dog Blog mentions, the use of shock in training can lead to risk of aggression or fear based response. The shock must be such that it is distinct enough to produce results while not being so traumatizing as to induce an adverse reaction in your dog. It's difficult to predict what the "correct" level of shock is for any dog, as they can be large dogs unfazed by the strongest of shocks, or smaller to medium sized dogs that react dramatically to what we may assume to be the mildest of tingles.
Let's say your dog is the type to be unfazed by the shock. If you go through each level of shock and find that nothing works for your furry friend, the GPS fence system becomes a moot point. If there's something beyond your boundary line that your dog wants, what's to stop him from going after it? Luckily, the GPS collar itself will help you with finding your pup, but it then becomes difficult to define the boundary of your property for him.
Or on the other hand, if your dog is too sensitive to the shock, a number of things can happen. It's possible that your dog could start to associate going outside with pain in general, thus leading to an issue with using the bathroom outside where it's appropriate. Or if your dog gets shocked when another person or pet is nearby, they may associate the pain with other beings and exhibit aggressive responses towards all strangers.
However, these situations are not the standard for all dogs. For many people, GPS fence containment systems are the perfect solution for training their dogs. The shock was neither too little or too much, and so the pup quickly learned the boundary of its home and the warning beep became all that he needed to understand that he was straying too far. But the reality is that all dogs are different, and you can never truly know how your dog will react until he is put in that situation. Thus, it's important to understand all of the risk factors involved.
Some GPS dog collars don't include any shock at all. Instead, they simply alert you when your dog has gone too far and give you the location of your pup within a few minutes' time. This way, the only corrective behavioral tool that is used is you, and you can gently guide your pet back to his appropriate location without the need of a shock.
Is a GPS Dog Fence Always a Suitable Containment System?
There's a number of factors that dictate whether the GPS dog fence is a suitable containment system. First and foremost, it depends on how well your dog responds to the behavioral corrections administered by the collar. If your dog is responsive to the warning beep and corrective shock, then it should be rather simple to get him to understand and learn where the boundary of your property is.
However, if your dog is not receptive or too sensitive to the behavioral corrections, then the GPS dog fence system may not be a good investment for you. As mentioned previously, there runs the risk of your dog learning aggressive or fear based responses based on the method of correction given by the collar.
Or if the collar is totally ineffective, then your dog may continue to wander uninhibited by the behavioral corrections being administered. It's important to remember that the GPS containment system is not a "real" barrier and as such, it can be unclear for your pet where the boundaries of your property lie.
Particularly prey-driven dogs may end up chasing a squirrel or person into the next yard totally impeded by the mild correctional shock. Should this be the case, however, you do have the GPS technology to monitor and locate your pup before he gets in danger.
Again considering that the GPS containment system isn't a true physical barrier, it's also worthwhile to note that this means that you can't keep out the rest of the world. This becomes a problem if you live in a particularly busy neighborhood. Other wandering animals or humans have easy ability to step onto your property with nothing to stop them, though of course your dog may be the perfect deterrent.
But in some situations, this is not the case. For example, if your dog is far too friendly to humans, it would be easy for someone to come and take your dog due to there being no physical barrier to keep them away. Or in the case of the stray dog, a particularly aggressive dog could come into your backyard and challenge or even hurt your pup. In situations such as these, physical safety becomes an issue that the GPS dog collar doesn't necessarily protect against.
However, for those on larger, more secluded plots of land, such matters may not be an issue. Though there may be the risk of the occasional coyote, sometimes physical barriers are not feasible to put up around an entire property. And in cases such as this, the GPS dog containment system is the easiest training method to use.
Price Points of GPS Dog Fence Systems
With all of this talk about GPS dog fence systems, you now must be surely wondering, what's the price? Something this advanced must certainly be expensive. And this is the case as it relates to certain wireless containment systems, but it's also highly related to the features that come equipped within the system. Sometimes you'll need a GPS fencing system that covers a lot of terrain, or perhaps you'll need one that offers compatibility with more than one dog. You can find a high-end variation of this fencing system for over $300, but it's also not impossible to find a good system for about $115.
So what's the difference between the caliber of two such systems? Take, for instance, the PetSafe Stay + Play Wireless Fence priced around $300+. This beast of a pet containment system covers a circular range with a diameter measuring three-quarters of an acre. It has a waterproof receiver collar that comes equipped with a training tone as well as five levels of adjustable correction, with a tone-only mode that allows you to correct your pet's behavior solely with a beep. You have the option of expanding the perimeter with additional PetSafe wireless transmitters that are also compatible with this system. What's more, you can add an unlimited amount of pets using additional PetSafe collars.
Compare this to the OCEVEN Wireless Dog Fence System with GPS priced around $100+ . This device only has 800 meters of radius, though it does similarly have the five levels of shock intensity in a waterproof and rechargeable collar. The collar doesn't have a tone-only mode, so your dog will always get shocked if he approaches the boundary line. OCEVEN doesn't mention anything about being able to add more pups onto the transmitter with additional collars.
So again, when picking a wireless GPS dog fencing system, what it boils down to is what you need in a containment system. At the end of the day, however, it's important to consider the fact that in choosing a GPS pet containment system, you are saving a considerable amount as compared to purchasing a physical fence. Often times, traditional fences can run into the thousands of dollars to set up a perimeter on your property! So no matter what manner of GPS dog fence system you choose, you'll ultimately have more money left over in your budget.