When it comes to new and unfamiliar things – especially ones that move and squeak like a guinea pig – dogs are always incredibly curious. This could cause them to bark, whine, or perform any other anxious behavior until they are given the chance to explore.
Why Is My Dog Whining At My Guinea Pig?
They are whining at the guinea pig because of a lack of familiarity as well as curiosity. Unless both animals had a previous experience near the other, it could cause them stress or fear to live in such close quarters.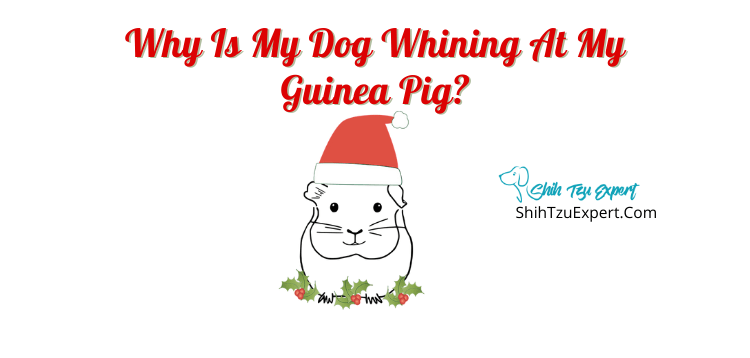 How Long Will It Take For My Dog To Get Used To The Guinea Pig?
It can take anywhere from one week up to a month to get the dog used to the guinea pig. You'll have to consider your canine's past experiences with small animals (rabbits, cats, etc.) and always have positive encouragement to offer instead of negative reinforcement.
If your dog has a history of aggression towards small animals, this could take much longer depending on your diligence with training as well as smoothing over the pet's more prickly behaviors. Some dog breeds are also natural hunters, and it can take time to communicate to the dog that the guinea pig is a pet on the same level as the dog instead of as prey.
How Do Other Dogs React To Guinea Pigs?
It's dependent on the breed of dog as well as the canine's past with small animals. Some breeds are natural hunters that will consider the guinea pigs prey, while others may be curious but not aggressive. If a dog has a history of aggressive or negative behavior with a small animal, they will likely act similarly to the hunter and will need special training to get rid of this behavior.
How To Train My Dog/ Puppy Not To Whine At My Guinea Pigs?
Before you begin training, be aware that this will be a bit of a process, especially if your dog has no prior positive experience with small animals such as a guinea pig.
Get them used to the guinea pig's scent. About a week before bringing the rodent home, set up the room and cage and allow your dog to sniff it all thoroughly. Items such as hay, pellets, or blankets with a guinea pig scent on it would all be great options.
Don't allow any contact at first and allow both animals to get comfortable. For at least one week, there should be absolutely zero contact between dog and guinea pig. Feed the dog just outside the closed door to continue to get them used to the scent and even consider doing some basic training outside the door as well. When training, use high value rewards for calm behaviors.
Start with a leash or kennel and slowly move the animals closer together. Begin by the door of the room and reward the dog for calm behavior. Every day move a foot or so closer and continue with the rewards system. Consider exercising the dog prior to introduction; a tired dog is easier to train.
Continue to keep them restrained/kenneled until they are both completely calm and unconcerned with the other. Eventually you will be able to move into allowing the guinea pig to roam while the dog stays restrained. This should be done with careful supervision! Be aware and be right there to assure that your dog will not make sudden moves.
Once you have 100% confidence in both animals, then they can free roam with supervision. There should always be supervision of the pets as a just in case, and training should be continued as needed.
Are Guinea Pigs Scared Of Dog's Whining?
Guinea pigs are natural prey animals, and behaviors that they are not familiar with may scare them immensely. Especially if the dog is whining loudly or barking, there is a good likelihood that the rodent will be afraid if not irritated.
Why Does The Dog Keep Whining To See Guinea Pig?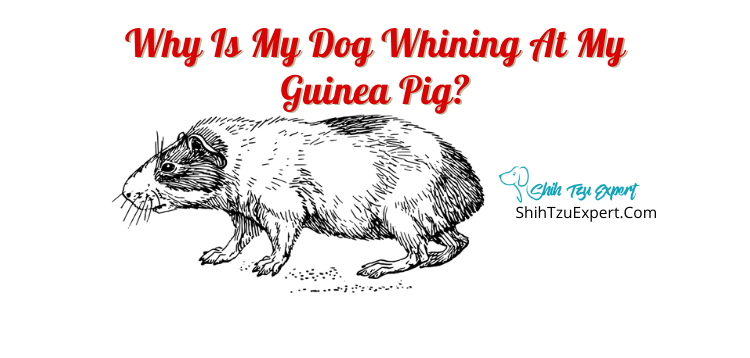 Dogs can be very curious about new things in their environment, especially those that are living and have odd smells. Depending on the dog and it's attitude, it may simply want to play with the guinea pig. Some breeds of canines are natural hunters, though, and it may desire to hunt a supposed new prey in their house.
Why Is My Dog So Obsessed With My Guinea Pig?
It is a new and unfamiliar thing in their home and they are curious about it. If training has not happened to allow both animals to greet and at least become familiar with each other, then this obsession will likely continue and may have dire results for the smaller animal.
How Can I Prevent My Dog's Obsession Towards A Guinea Pig?
The dog needs to be trained to prevent their obsession towards the guinea pig. This training should be structured around familiarizing both animals with each other and positively encouraging calm behaviors. As the dog gets more and more familiar, it will likely not be as curious.
It is also possible to train the dog to lose their curiosity. High rewards can be given when the dog looks away from or ignores the guinea pig and instead focuses on you. This encourages them to stay focused on you or their surroundings versus the new pet.
Is My Dog's Whining And Barking Causing The Guinea Pig To Get Stressed?
Even if the dog is trying to be friendly or playful with their noises, the guinea pig will likely be stressed by the excessive and loud noise. They are a natural prey animal and are not immediately accepting of disruptive behaviors such as barking or whining.
Can My Dog And My Guinea Pig Be Friends?
It is possible for the guinea pig and dog to be friends if both are trained properly. This involves slowly allowing each to become familiar with the other and having constant supervision.
Even if both animals become quick friends, guinea pigs move very quickly and something as harmless as a dog's paw placed on top to catch their friend could result in harm towards the guinea pig. It is better to always have the larger animal leashed or on your lap to avoid any accidents happening.
Will My Dog Get Along With My Guinea Pigs?
They can get along with the guinea pigs eventually, but it is always better to begin by seriously training the dogs and keeping the guinea pig separate most of the time. The dogs should have their own space away from the rodent, as well as the guinea pig should have it's own space and kennel where they can exercise and not be constantly watched or disturbed by the dog. They may get along in passing, but constant exposure to each other might be stressful.
Why Does My Dog Stare At My Guinea Pig?
Your dog is likely staring because it is a new point of interest in their life, or they may think it is a new toy. A guinea pig has new scents that a dog might not be familiar with and their heightened sense of smell is going to draw them to the new pet. They are curious as to what this new, moving, squeaking thing is and would like to investigate.
Should The Guinea Pigs Always Be Kept In Its Cage When The Dog Is Around?
A guinea pig should always be kept slightly away from a dog unless both have been trained and are familiar with each other. Even then, experts recommend constant supervision, as a size difference in the animals could lead to an unfortunate accident with the guinea pig if the dog becomes too excited and wants to play rough.
Do Dogs Scare Guinea Pigs?
As guinea pigs are a prey animal and dogs can have new and unpredictable behaviors, the guinea pig will very likely be scared at first. Even if the size difference is not great between the two, both have behaviors, noises, and smells that are new to the other and can definitely frighten the guinea pig.
Will My Dog Hurt Or Kill My Guinea Pig?
This depends on the dog and their attitude, as well as training and supervision. If a dog becomes too playful with the guinea pig (particularly if the dog is much larger than the rodent) even something as simple as the dog setting a paw on the smaller animal can injure or even kill them, despite the good intentions.
Some dogs are natural hunters or have had behavioral issues in the past in regards to smaller animals (such as cats or rabbits) and may have the intention to harm the guinea pig. Both the guinea pig and the dog should have areas separate from each other where they can roam and be unbothered by the other.
How To Convince My Dogs That My New Guinea Pigs Are Pets?
In addition to training the animals to encourage familiarity, it is also recommended to let your dog see you petting the guinea pig. This is called cross-petting, where you place both animals in the same area (on a couch, for example) and take turns petting each. It gives the dog an understanding that they are on the same level of affection from the human.
How To Desensitize A Dog To Guinea Pigs?
First, you should begin by getting the dog familiar with the scent of the guinea pig. Allow them to smell the bedding, pellets, cage, etc. until they are familiar with it.
Next, you can slowly introduce the animals to each other. Start with 10+ feet of distance and each day bring them closer and closer. This allows them to make eye contact and satiate their curiosity without harm coming to either pet.
Finally, both animals can meet with a suggestion that the dog is leashed or kenneled so that no accidents happen. Any time both animals are near each other without barriers there should be heavy supervision to ensure nothing bad happens to the guinea pig.
How To Stop Dog Barking At Guinea Pigs?
Train the dog with positive reinforcement and only allow calm behaviors around the guinea pig. Using treats to reward the canine for calm behavior and focus on you when around the guinea pig should help a lot with this problem.
Are Labradors Good With Guinea Pigs?
Like with any dog, this will depend on their history with smaller animals. As long as the labrador has not shown any sign of aggression towards pets like cats or rabbits in the past, they will likely be okay with a guinea pig once they get used to the smell.
How Do I Keep My Guinea Pig Safely Away From My Dog?
Create a separate space for them, whether this is in a room that the dog does not have access to or in an outside shed or gated off area. Each pet should have a kennel that they feel safe in, in their designated areas. It is recommended that unless you are nearby to supervise the pets that they should not be allowed any direct contact with each other.
Although it is possible for guinea pigs and dogs to live together, it is not recommended by professionals. If you choose to do this with your own pets, they should be thoroughly trained and desensitized to live harmoniously together. Always do extensive research and take into account the happiness and lack of stress for each pet.
References
https://www.theguineapigforum.co.uk/threads/tips-how-to-get-your-dog-used-to-guinea-pigs.113532/
http://www.animalbehavior.net/LIBRARY/GuineaPig/EFGPR/GuineaPig_HouseholdPetsIntroductions.htm