We may earn commission from qualifying purchases at no extra cost to you.
Learn more
You may recognize the Bloodhound by its wrinkly face and big, droopy ears, but Bloodhounds are more than their appearance — they're also loving and easygoing companions. Renowned for their sense of smell, Bloodhounds and their mixes also make for great house pets. They may require a bit of supervision to keep them from chasing adventure outside, but they are loving, affectionate and energetic, which makes them great for families if well-trained.
Physical Appearance
Purebred Bloodhounds are big dogs, ranging from 23 to 27 inches in height and 80 to 110 pounds in weight. They live anywhere from 8-10 years, though hybrids such as labhounds and German Shepherd mixes live from 11-13. Bred as hunting dogs, their musculature is strong and powerful. They have single, short, dense coats that range from black and tan to red in color.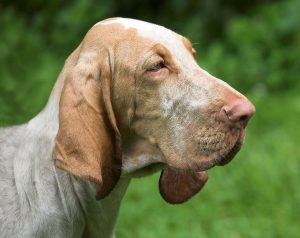 History of the Bloodhound
Bloodhounds have a storied history even before being recognized by the American Kennel Club in 1885. Descended from the St. Hubert hound developed in eighth century France, these pups were used to hunt game for aristocrats. In fact, their connection to the aristocracy is how these pups got their name, as they belonged to "blooded" people, meaning people of aristocratic blood.
The breed became popular in England after William the Conqueror brought them over in 1066. Many years later, Queen Victoria herself had a Bloodhound, which led many of the masses to seek a pup of this breed for themselves. As for its popularization in the U.S., it almost suffered a reputational setback when Harriet Beecher Stowe depicted Bloodhounds as vicious hunters in Uncle Tom's Cabin. After the breed competed in the Westminster Dog Show in 1888, however, it grew popular once again.
Bloodhounds also served many in trailing criminals, a function they still fulfill today as members of many police departments in the United States.
Different Bloodhound Mixes
There are many varieties of Bloodhound mixes in addition to purebred Bloodhounds that can be adopted or purchased from a breeder. Before buying a mix, though, remember that hybrid pups are not 50/50 combinations of their parent breeds — they may have varying genetic makeups, and therefore, how much they inherit from each side is unpredictable. That's why when looking at a puppy who is a mix, you must learn about each parent breed as well.
Labloodhound
Labloodhounds are hybrids of Labrador Retrievers and Bloodhounds. Standing between 22-30 inches and weighing up to 110 pounds, Labloodhounds, or "Labhounds" as they are sometimes called, are big lugs of love with affectionate qualities from both their parent breeds.
Labs were, at one time, America's most popular dog.These pups were brought to England from Newfoundland, where they were bred by fisherman to
jump into
cold water and bring back fish that escaped the fisherman's hook. Dukes in England later used Labradors to help hunt down game, which led to their popularity among common people as well. The English Kennel Club recognized the breed in 1903, while the American Kennel Club did so in 1917.
Labloodhounds share the curiosity of both parent breeds, so they love adventures, hikes and swimming. Their solid musculature helps with these activities as well. However, this also means these pups need a good deal of attention — left unsupervised, their hunting instincts can lead them astray and get them into trouble!
There are a few benefits and detriments to getting a Labloodhound as opposed to a purebred Bloodhound. Labhounds are comfortable sleeping indoors on floors, which could make them a great house pet. However, since they have a lot of energy to burn off, you'll definitely need a well-fenced yard to make them happy.
Then, there is the issue of their slightly different health requirements. Though they may not inherit as many wrinkles as a purebred Bloodhound, which leaves them less susceptible to skin infections, they need to be brushed more frequently due to the furry thickness of the Labrador's coat.
German Shepherd Bloodhound Mix
If we're talking about dogs with legendary senses of smell, it's impossible not to bring up the German Shepherd. Mixed with a bloodhound, these pups could track simply anything with their keen nose!
Weighing up to 160 pounds and measuring up to a very tall 27 inches, a German Shepherd Bloodhound mix is known as a fantastic trail dog. They may be black and tan, silver and tan, black and white, brown, or red, and they live to be about 13 years on average.
Unsurprisingly, German Shepherds received their moniker in Germany in the late 1800s. Not yet considered pets, these dogs were utilized for work purposes, such as helping farmers herd flocks of sheep. But by World War I, the German people were so familiar with Shepherds as loyal, loving guard dogs that they were popularized as pets.
German Shepherd Bloodhounds, if trained correctly, can be wonderful service animals due to the extremely sharp intellect on the Shepherd side. Though the American Kennel Club recognizes German Shepherds, the Shepherd and Bloodhound hybrid is not yet recognized by any registry.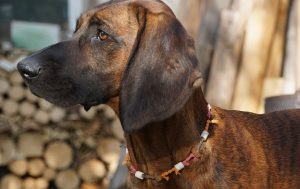 Bloodhound x Catahoula Mix (Bloodahouli)
The Bloodahouli is an interesting breed, as it is one of the only Bloodhound mixes where the non-Bloodhound parent likely has a little bit of Bloodhound in its DNA as a purebred. Catahoula dogs are a mixture of Bloodhounds, Mastiffs, and
Greyhounds
, and have been historically used as hunting dogs as well. The protective nature of both parent breeds makes Bloodahouli a great guard dog and service animal.
Bloodahoulis, unlike the Bloodhounds, will most likely have a variety of coat colors due to the propensity for Catahoula pups to have leopard print coats. It shares the adorable wrinkly face of the Bloodhound, but its wrinkles will likely not be as severe. And of course, since both breeds can weigh up the 100 pounds, it will be a large dog best suited for life with a yard instead of small living quarters.
Beagle and Bloodhound Mix
The Beagle/Bloodhound mix breaks the mold of other Bloodhound hybrids, as Beagles are quite small in stature. Beagles are affectionate pups standing anywhere from 13-15 inches on average and weighing up to 25 pounds. They're expected to live around 10-15 years.
Beagles, due to their keen nose and small size, were first used to hunt rabbits in England during the 16th Century. They were bred to be small enough to be carried around in pockets, and were a favorite of Elizabeth I for that very reason.
Recognized by the American Kennel Club in 1885, these dogs grew in popularity in the United States. Beagles reign as one of the most seen dogs in popular culture, with its depictions including Snoopy from the Peanuts cartoons and Wynn-Dixie from Because of Wynn-Dixie. 
Beagle/Bloodhound mixes require lots of attention, but they are sweet, friendly pups who do well with families and other dogs. Just remember that since you can never predict which genetic mix a designer dog will be, you may not necessarily get a dog with the Beagle's diminutive stature. It may grow to the size of a purebred Bloodhound still, meaning it will need lots of space!
Pros and Cons of Getting a Bloodhound Mix
The general rule of thumb when it comes to the Bloodhound Mix is that he or she simply demands lots of attention. These dogs are excitable — it's as simple as that! Any distraction such as a squirrel or another dog can send them running off. It's important to make sure they have toys and adequate exercise to keep them entertained. Early socialization is also key.
Remember also that if seeking out a Bloodhound dog, this breed does tend to slobber, and its odor is naturally a little musty. These are qualities you'll have to learn to love if you choose a dog of this breed. Note that, while purebred Bloodhounds are only moderate shedders, mixes such as the Labloodhound shed frequently. Constant grooming is required. But if you're looking for a loyal, outdoorsy, intelligent companion, these slight pains may be completely worth it!
Training a Bloodhound
Bloodhounds are, to put it simply, known for mischief. Not only do they have a stubborn and prideful nature, but they also love to chew, and owners report that they've had to take their pups to emergency vet visits after they've swallowed household items. Training these pups early is key to avoid any major surprises.
Tips for Training
All seasoned Bloodhound owners need a solid crate early on while training a dog. Check out the MidWest Homes for Pets Crate for an adjustable option which can be used indoors or outdoors.
You'll also need a solid leash to ensure they don't run away on walks. A comfortable, medium-to-long retractable leash like the Mighty Paw is great for a Bloodhound, as it gives both the dog and you flexibility on all kinds of walks. Pulling is natural to these dogs, so make sure the leash you choose is firm yet not harmful. A large harness and leash combo may also be a good option to ensure their comfort.
When training a Bloodhound or mix, start young. Consider using positive reinforcement instead of physical punishment. Both in Bloodhounds and the breeds that they mix with, treats, compliments, and pats to reward good behavior are usually the way to go.
If possible, take your Bloodhound mix to a training class early on to socialize him or her. Some classes may require vaccinations to be up to date; if so, check in with the program you enroll your dog in to see what you need to get started. If the cost of a class is too steep, you can always begin the training process by slowly introducing your Bloodhound mix to other humans, dogs, or various household pets such as very friendly cats.
Remember that while puppies are adorable, you may want to adopt an adult Bloodhound mix to avoid the training process altogether. Adult dogs have more training, and, as their personalities are more well-formed at least you know what you're getting into. However, a puppy isn't too hard to train with just the right combination of patience and persistence!
A Bloodhound's Personality and Quirks
Bloodhounds and their mixes are some of the most loyal and loving breeds out there. Their personalities vary greatly based on the mix — for example, the Labloodhound may inherit the friendly affability of the Lab, whereas the German Shepherd Bloodhound mix may be more protective and adventurous. But if there's Bloodhound DNA in your dog, expect a loving dog who needs lots of attention and stimulation. The stereotype of the lazy, porch-bound Hound is simply inaccurate — Bloodhounds love to play.
Bloodhound mixes need at least an hour of exercise every day. This could include running in the park, hiking, and swimming. Just remember to keep a close eye on your Bloodhound mix outdoors whether or not it is leashed, as this dog is prone to grow distracted trailing scents near and far.
Though outdoor exercise is encouraged, Bloodhound mixes should also have plenty of toys to keep its mind sharp while indoors. A bored Bloodhound will chew up your furniture and wreak plenty of havoc. Check out the Nylabone Dura Chew to offer your pup something sturdy to munch on, or a toy rope like the Mammoth Flossy. You can also teach your Bloodhound, who was bred to man-trail, to play a riveting game of hide and seek in your house.
One thing to watch for is the Bloodhound's tendency to "bay," or vocalize loudly. It sounds much like a combination of a deep cry and a wolf's howl. It may not happen often, but be warned that some may be put off by the sound, and be prepared for its intensity!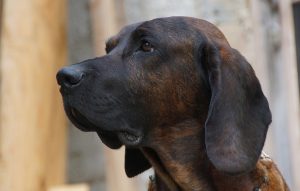 Safe Grooming
Due to its wrinkly face and predisposition to drooling, Bloodhound mixes have unique grooming needs. Purebred Bloodhounds have short, dense coats that only need a weekly brushing, but also need regular bathing to prevent their odor from becoming overpowering. Their wrinkles must be cleaned and dried multiple times a week, if not every day. You can clean a Bloodhound's wrinkles with a soft, damp washcloth or baby wipe and dry them thoroughly after.
Grooming Bloodhound mixes can be more complicated depending on the dog's other parent breed. For example, a Labloodhound has the high shedding capacity of a Labrador, so needs to be brushed more often. To brush any Bloodhound mix, use a soft to medium bristled brush and brush with the coat's grain. If your pup dislikes being brushed,
grooming gloves
are a good solution that may make it feel as if it's being pet. For a purebred Bloodhound or a mixed breed dog with a short, single coat, you can also use a
shedding tool
every once in a while.
Bloodhound mixes should be bathed regularly, as they get a little smelly with time. A good shampoo is particularly important for a dog with a short coat, as their skin may be more prone to irritation. To mitigate that risk, use a soothing brand like Wild 4 Dogs All Natural shampoo.
Additionally, their teeth should be brushed daily and their ears should be cleaned every so often. For nail maintenance, purchase a nail grinder and safe clippers. Your pup might not love having his or her nails clipped at first; make sure you encourage them with lots of treats and let them sniff the clippers first to develop trust. Begin slowly so as not to spark alarm. Buy some cotton swabs and an all-natural ear cleaner like VetWell to give your pup a thorough ear cleaning.
Keeping a Bloodhound Well Fed
Bloodhounds and their mixes are prone to bloating and, as all dogs are, at risk of obesity. Though it's good to use their love of food while training them, it's important not to let it get out of control! To make sure your pup stays healthy, feed him or her two or three small portions a day.
Prioritizing healthy, all-natural food for your Bloodhound is key. A few brands to try are Dog for Dog Food (for treats), K9 Grain Free Puppy Food (for both wet and dry food), and Natural Balance Formula (for dry food).
Preparing for Common Health Issues
When adopting or buying a Bloodhound mix, you'll first want to ask the adoption agency or breeder for the paperwork that ensures a clean bill of health. Before purchasing or adopting, you can check if the dog has received an OFA certification for healthy hips and joints. There is also a measure called PennHIP that scores how healthy your pup's hips are. Knowing the potential health risks in advance helps you keep a new pet healthy and happy!
Generally speaking, the most common cause of untimely deaths for Hounds are bloating and cancer. But that's not to cause fear — it's to ensure that, if you choose to own a Bloodhound mix, you watch out for abnormalities in their stomach areas. Always consult a vet if you think you might see something out of the ordinary.
Other health issues to watch for in both Bloodhounds and their mixes are hip dysplasia, elbow dysplasia, epilepsy, hypothyroidism, and dry eye. Due to the lack of circulation in their droopy ears, Bloodhounds are also more prone to skin infections. There are also issues to watch for in mixed breeds. For example, Labloodhounds sometimes inherit allergies from the Labrador parent breed.
No matter their age, size, or hybrid status, you should always take a new pet to the vet for a checkup right away. They'll be able to identify any common health issues and advise you on any health matters along the way. Like all breeds, it is advisable to spay or neuter your pup if it is young. Doing so decreases irritability and prevents spraying or unwanted pregnancies.
Finding Bloodhound Mixes
Adopting
When it comes to finding a pet, the old adage "adopt, don't shop" can still apply to a Bloodhound mix. Petfinder.com and adoptapet.com are great places to start in finding a Bloodhound mix that needs a happy home. Other organizations in the U.S. include the ASPCA, the American Society for the Prevention of Cruelty to Animals, A Forever Home, Lucky Lab Rescue, Second Hand Hounds. For Labloodhounds specifically, check out the Atlanta Lab Rescue, Greenfield Puppies, and Lancaster Puppies. You can also adopt from a local shelter using animalshelter.com, a database of rescue groups near you.
In specifically seeking a Bloodhound mix, you can also adopt from a breed rescue network. The American Bloodhound Club is a great resource for finding Bloodhound rescues near you. Workers at rescue clubs are knowledgeable about any underlying health conditions for their dogs, so you can ask them lots of questions before bringing home a pet.
When adopting, remember to ask the shelter or rescue group staff all about your Bloodhound Mix's track record. Ask for an approximate age, whether he or she has a history of abuse, whether he or she is socialized or housetrained, and how he or she responds to new people. It's advisable to ask for any certifications or bills of health it may have as well. A reputable shelter will be happy to answer questions on their dog's health.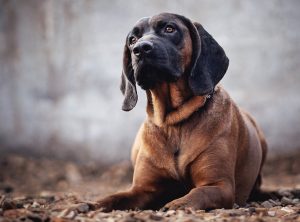 Buying From a Breeder
When it comes to choosing a breeder, it's especially important to choose wisely. It's never a good idea to indulge puppy mills or pet shops that do not abide by a code of ethics. Ensure that your breeder is honest about a puppy's potential health problems, and that the puppies in their vicinity seem happy and healthy. You can gauge a lot about a breeder simply by trusting your gut.
When buying a Bloodhound mix, expect and ask to see certifications that show the dog's parents have been screened for underlying health conditions. Look for CHIC registration and a rigorous knowledge of a mixed breed's genetics. Like workers at a shelter or rescue, good breeders are excited to answer questions about your potential new pet.
You can find a breeder in your area by word of mouth, or by looking at the
American Bloodhound Club
. Some breeders you'll find have their own websites; you may be perusing and find a dog you love that isn't local to your area. To find out if the breeder you've found is reputable, look for red flags, such as whether you can pay online immediately with a credit card. Usually before purchasing, a good breeder will ask for converse with you to gauge what kind of home you'll be able to provide a new dog.
Cost of a Puppy and Long-Term Care
Whether you're adopting or purchasing a Bloodhound mix, there is cost involved. Adoption agencies may ask for a fee of anywhere from 200 to 300 dollars for a new pup, while the cost at a breeder ranges averages 650-700 dollars.
To account for early veterinary visits, crates, fees for spaying and neutering, vaccines, and dental care in the first year, set aside at least 2000 dollars. Every year after, make sure you set aside at least 1000 for food, toys, treats, and yearly veterinary checkups.
Summary and Similar Breeds
In short, if you're looking for an energetic, happy-go-lucky dog who is loyal and an excellent companion on a hiking trail and in the home, a Bloodhound mix could be right for you! If you're prepared to devote lots of attention and nurturing to this mischievous large breed, this may be the pet for you. Just be sure to note its needs for grooming and exercise before making the decision to adopt a Bloodhound hybrid of any kind.
If you love the Bloodhound but want to explore similar breeds who might not be as stubborn or attention-seeking, check out the Black and Tan Coonhound, American Foxhound, or purebred Beagle.