We may earn commission from qualifying purchases at no extra cost to you.
Learn more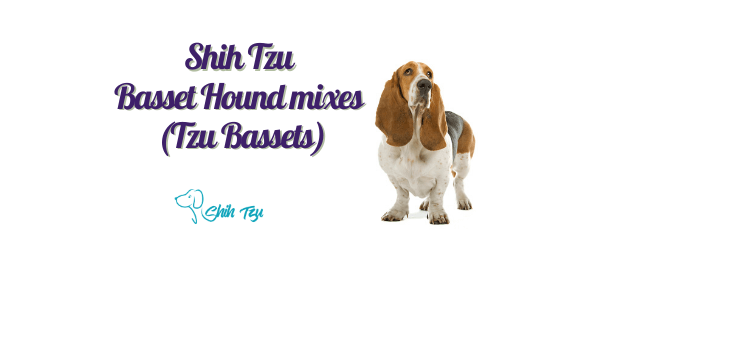 Introduction
In recent decades, hybrid mixes of dog breeds have begun to emerge, sought out for a variety of health and breed characteristic-related reasons. One such mix combines the long, low, lovable basset hound with the playful, gentle, loyal Shih Tzu, to form the Shih Tzu Basset Hound, known as the Tzu Basset. A relatively rare breed, the Tzu Basset has many characteristics that make it a desirable family pet. This article discusses many aspects of the Tzu Basset, including origin, care, temperament, and more.
What Is this breed?All you need to know About this breed
The Tzu Basset is a mix of the Shih Tzu and Basset Hound breed dogs. Shih Tzus date back to ancient Chinese times, originally bred around the year 800 to be companions of both royalty and commoners alike. Interestingly, all modern-day Shih Tzus are descendents of the only 14 members of the breed that survived the Chinese Revolution. Basset Hounds date back to the 1500s, originally bred in France to be slower, easier to follow dogs used for hunting small animals such as hares and rabbits. The Tzu Basset mix began to be bred about 30-40 years ago, when breeders began to mix breeds in order to attempt to decrease some of the health issues faced by purebred dogs.
Although Shih Tzus joined the AKC Toy group in 1969 and Basset Hounds joined the Hound group in 1935, Tzu Bassets are considered a mixed breed, and are therefore not eligible for AKC recognition. Tzu Bassets are, however, recognized by several other groups and clubs that recognized mixed and designer breeds: the American Canine Hybrid Club (ACHC), International Canine Designer Registry (ICDR), Designer Breed Registry (DBR), Dog Registry of America, Inc (DRA), and Designer Dogs Kennel Club (DDKC).
Tzu Bassets have an average life expectancy of 12-15 years. Fully grown Tzu Bassets are small to medium-sized dogs that mostly weigh under 40 pounds, usually averaging between 25-38 pounds. Males tend to be slightly heavier than females. Puppies can be expected to weigh, on average, between 11-13 pounds at six months of age, 22-23 pounds at a year of age, and reach their adult weights between 12-18 months of age. Like Basset Hounds, Tzu Bassets tend to have short legs and longer bodies, with an average height of 9-13", and an average length of 13-20". Puppies reach approximately 6" of height by six months of age, and their full heights by 12-18 months.
The coats of Tzu Bassets are highly variable. Some may have the shorter, smoother coat of the Basset Hound, whereas others may have longer, silkier coats more similar to the Shih Tzu. Tzu Bassets can be single or double-coated, depending upon the dog. Colors can range, including white, yellow, orange, brown, and brindle. Tzu Bassets can be bi- or tri-colored, and often have coat markings similar to Basset Hounds. Additionally, some members of the breed may inherit the Shih Tzu's characteristically shorter nose, while others have the basset's long, floppy ears.
Tzu Basset Health and Care
Tzu Bassets are generally healthy dogs, but do have some issues that are common to the breed. Tzu Bassets have a tendency to love to eat, and can become obese. They do not tolerate heat or humidity well. The longer, droopier ears inherited from their Basset Hound heritage are prone to ear infections. Eye problems, including glaucoma, are also common in the breed. Because basset hounds are more likely to develop dental disease than other breeds, Tzu Bassets may as well. Some more serious health problems that Tzu Bassets may develop include hypothyroidism, Bradycephalic syndrome, and intervertebral disc disease. Tzu Bassets also can be prone to digestive issues, including the life-threatening condition of gastric torsion/bloat.
Some tips can help keep Tzu Bassets healthy. In order to prevent digestive issues, not exercising them within an hour of eating is recommended. Weekly teeth brushing with a dog-specific toothpaste helps to prevent oral disease and tooth decay. High-quality dental chews also work well in dogs that do not tolerate tooth brushing. The Tzu Basset's ears should be cleaned at least weekly. Ear cleaners specific to dogs, often carried at veterinary offices, are best to use, along with cotton balls and gauze for gentle wiping. As with any dog, spaying/neutering is recommended in order to prevent unplanned litters and shelter overcrowding, reduce behaviors such as marking, mounting, and roaming, decrease aggression and fighting, and potentially improve lifespan.
Essential Products and Grooming Accessories
Grooming products and accessories for a Tzu Basset include brushes, nail clippers, shampoos, and more. Deshedding brushes are useful for initially loosening and removing dead fur, dirt, and debris, especially in double coated dogs. These can include products such as rubber curry brushes, or special deshedding tools, such as Furminator products. Slicker brushes are useful for longer-coated members of the breed. They consist of longer pins, which reach deep into into the dog's coat, and help to remove knots and mats. Pin brushes have wider-spaced, shorter, blunter pins, and are useful as a top coat brush.
Tzu Bassets require regular nail trimming. Guillotine-type clippers, where the nail is inserted into a hole and then cut by a blade upon squeezing the handles work well for small to medium dogs with thinner nails. Nail grinders also can be used. When it comes to bathing Tzu Bassets, several considerations should be made when selecting a shampoo. Ingredients such as oatmeal and aloe vera are helpful in protecting the dog's coat and skin from irritation and dryness, and deodorizing shampoos may be helpful. Between baths, deodorizing wipes can also be useful, as the basset hound lineage in Tzu Bassets may cause them to develop an odor quickly.
Like all dogs, Tzu Bassets also require leashes, collars, and other accessories for walks. Because of their tendency to wander, Tzu Bassets should be kept on leash at all times when not in enclosed areas. Six foot leashes made of nylon or leather are generally considered the best type to use, as they are common, durable, and allow for proper control of the dog. In safe areas with more space, Tzu Bassets might enjoy longer leashes that allow them more room to explore. Collars are necessary to attach identification tags, and are considered to be properly fitted when two fingers can be slid between the collar and the dog's neck. Harnesses also can be useful for Tzu Basset puppies, or for dogs that tend to pull, as they decrease stress on the dog's neck, decrease pulling tendencies, and increase the owner's control, especially if the Tzu Basset smells something that it wishes to track.
FAQs
Are Tzu Bassets family- and pet-friendly?
Tzu Bassets are easy, family-friendly dogs, and do well with children and other pets. They love human interaction-but, that also means that they do not do well with being left alone for extended periods of time, and can become vocal or destructive. Therefore, they are most appropriate for families or senior households in which someone is often home.
Are Tzu Bassets awesome companions?
Tzu Bassets bond quickly and easily to their families. They thrive upon human interaction, and make excellent, happy companions.
Are you a good match for the Tzu Basset?
Tzu Bassets are great matches for owners who can provide the dog with consistent companionship. They would not be the best match for those who are gone for long periods throughout the course of the day. Otherwise, Tzu Bassets are intelligent, docile dogs, with temperaments that suit many owners. Both the size and energy level of Tzu Bassets are well-suited to many environments.
What are the pros and cons of Tzu Basset ownership?
Pros of owning a Tzu Basset include the dog's easy-going, lovable personality, reasonable grooming, care, and exercise requirements, and strong bond. The cons are few, but include some degree of separation anxiety and stubbornness.
Temperament and Personality
Tzu Bassets tend to be easy-going, friendly, docile, and affectionate dogs, bred from two breeds known to be gentle and happy. They quickly bond to their owners, and make excellent support animals, as they are most content when close to their families. Tzu bassets are loyal, sensitive pets. When properly introduced, Tzu Bassets also easily make friends with strangers. Tzu Bassets are intelligent, yet also can possess a stubborn streak at times.
Tzu Bassets thrive on human interaction, but this also means that they often do not do well being left alone. They may bark excessively due to loneliness or boredom. Overall, though, they are eager to please, with stable temperaments making them well-suited for many households.
The Basics of Grooming
Tzu Bassets have normal to slightly denser coats, and fur can be shorter, smoother, and flatter similar to the Basset Hound, or longer and silkier, similar to the Shih Tzu. Coats can be a single or double layer. While Shih Tzus are low shedders and considered to be hypoallergenic, Basset Hounds tend to be heavy shedders. This usually makes the Tzu Basset a moderate shedder. They are not considered to be as hypoallergenic as purebred Shih Tzus, but may be a better choice for those with allergies than purebred basset hounds.
Proper brushing can help to minimize shedding and improve the health of the Tzu Basset's coat. Longer coated dogs should be brushed weekly, with care taken to ensure that knots and mats are removed. Hair around their paws may also need to be trimmed to assist with mobility. Shorter-coated dogs should also be brushed regularly, using a firmer-bristled brush to remove dead hair first, and then a soft-bristled brush to smooth down their fur. Due to their Basset Hound heritage, Tzu Bassets may also have an odor, and should be bathed regularly. Grooming and maintenance requirements that should be performed at least weekly also include inspecting and cleaning the Tzu Basset's ears, and brushing their teeth. Nails should be trimmed every 3-4 weeks.
Top Tips for finding a Tzu Basset
Finding a Tzu Basset can be difficult. Older dogs can sometimes be found through rescue organizations that specialize in Shih Tzu and Shih Tzu mixes, and work closely with animal shelters. Shih Tzu mix rescue groups include Shih Tzu Rescue, Inc in Florida, Shih Tzus and Furbabies Small Breed Dog Rescue in the Southeastern US, and Rescue Me! Shih Tzu rescue (which includes multiple countries). Some basset hound rescue organizations, such as those found through the Basset Hound Club of America's list of recognized rescues, may also have mixes, but the dogs in these rescues are usually abandoned hunting dogs, vs designer mixes.
With any dog, responsible breeders should meet buyers in person, allow visiting to see where the dogs reside and the puppies are raised, provide buyers with veterinary records of both the puppy and his/her parents, and have written contracts with buyers. The International Designer Canine Registry, which provides registration services for Tzu Bassets, among other designer breeds, contains a list of registered kennels across the United States, Canada, and Australia. Breeders and kennels in good standing with the Registry, and litters of puppies granted IDCR registration are advertised on the organization's website, making it a resource for potentially locating reputable Tzu Basset puppies.
When purchased through a breeder, Tzu Basset puppies tend to cost similar amounts as purebred Shih Tzus. This varies regionally, but generally falls within the $500-1000 USD range, although prices can be as high as $3000. The cost of owning a dog varies based on multiple factors, such as veterinary care, food, toys, boarding and walking services, grooming needs, and other supplies. Rover estimates the average monthly cost of owning a dog (including food, toys, flea/tick and heartworm preventatives) at about $150, while other sources from the ASPCA to AKC estimate the annual cost of dog ownership (including routine veterinary care) to run from about $400-1800 USD. An estimate by Forbes, which included the possibility of high emergency veterinary care costs, even put the lifetime cost of owning a dog over $90,000. Regular checkups, oral care, and preventative medications can help to decrease unforeseen costs.
Training and Exercising your Tzu Basset
Tzu Bassets are intelligent dogs that quickly pick up commands, and are eager to please their people. Shih Tzus can be known to be difficult to potty train, so Tzu Bassets can be as well. Potty training is best started young. Tzu Bassets puppies are small, and need to be let out regularly. Eliminating outdoors should be met with plenty of verbal praise, pats, and treats.
In general, training Tzu Bassets is best accomplished with plenty of positive praise, but also consistency. A healthy dose of patience is also needed, as Tzu Bassets can be stubborn dogs, which can add a level of difficulty to training. Stubbornness should be dealt with firmly, but also gently, with positive reinforcement of desired behaviors. Socialization should also be started early in order to help minimize the separation anxiety characteristic to the breed.
Tzu Bassets are not highly active, generally with a moderate activity level, and are calm within the house. But, this does not mean that they should be completely sedentary, as they are often quite active outdoors. Tzu Bassets need short daily walks, recommended at around 30min/day, and/or playtime or games of fetch in enclosed areas. Due to their Basset Hound heritage, Tzu Bassets should not be allowed off leash in unenclosed areas, as they have a tendency to track and wander off. Dogs that are prone to becoming overweight, a common health issue in the breed, may need more exercise.
How to Feed and Dietary Requirements / Restrictions of
As previously mentioned, Tzu Bassets love to eat, and do have a tendency towards obesity if left unchecked. Therefore, they should be fed 2-3 smaller meals/day, and free feeding should be avoided. Food should be high quality, avoiding high-calorie, low nutrition fillers. Tzu Bassets should eat around two cups of food per day, with food costs estimated at $35-40/month.
Most Popular names for dogs
According to Rover, in 2019, the most popular male dog names included Duke, Milo, Rocky, Cooper, Max, Buddy, Jack, Charlie, Teddy, and Bear. The most popular female dog names included Molly, Luna, Daisy, Lily, Bella, Bailey, Lola, Sadie, Lucy, and Zoe.
Summary
Although lesser known than some more popular hybrid dog breeds such as puggles or labradoodles, Tzu Bassets possess many desirable traits of both the Shih Tzu and basset hound, and are sweet, loyal companions. Tzu Bassets are known to be great family pets, and come in a variety of colors and coats to please all different preferences. At a manageable small to medium size, with moderate energy levels satisfied with reasonable amounts of exercise, and reasonable grooming requirements, Tzu Bassets can be an excellent choice for many dog owners, and would love nothing more than to become someone's new best furry friend.
Current Owner or a prospective owner of a Tzu Basset? Share your experiences or ask questions here
Other Similar or Comparable small & Medium dog Breeds
Other small to medium-sized dog breeds known to be smart and family-friendly, similar to Tzu Bassets, include beagles, pugs, miniature schnauzers, poodles, puggles, bulldogs, Pembrooke Welsh corgis, Boston terriers, and Cavalier King Charles spaniels.