We may earn commission from qualifying purchases at no extra cost to you.
Learn more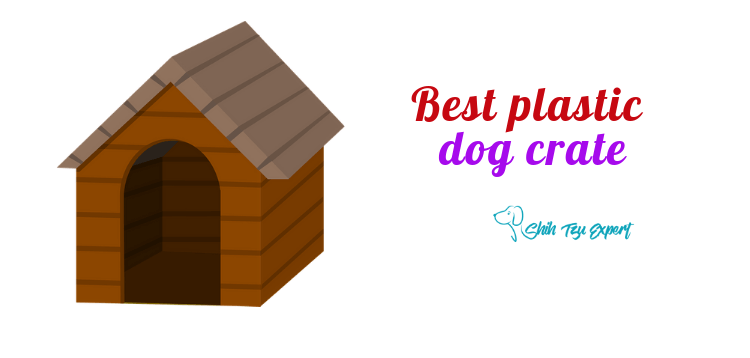 Crate training is one of the best things you can do for your dog, particularly with young dogs who can't be trusted with full run of the house yet due to destructive tendencies or having accidents. If you are patient and train your pet properly, their crate will become a place of safety and security for your best friend. So what crate should you get?
Best plastic dog crate for 2019 [Reviews & Buyer's Guide]
The Petmate Ultra Vari Kennel is an excellent option if your dog is a frequent travel companion. It features tie-down points to secure it in your car, is approved for most airlines, and has better ventilation than many other plastic crates. It's made of heavy-duty, recycled plastic with metal screws and covered doorposts to make it more durable.
It comes in four sizes, allowing it to be used with all but the largest dogs. The sizes are listed by weight, but I still recommend the measuring method of picking a crate. Also, if you are selecting this crate for airline travel, be aware that most airlines count ear height.
Things to watch for
Multiple customers have noted manufacturing errors, such as wingnuts without deep enough holes or damage from shipping. The listed measurements on most online listings for the crate are the outside dimensions and measured at the widest points, so you need to pick a bigger size than you'd think based on the listing.
The latch has also been noted to not be sturdy enough to stand up to a determined dog. Smaller sizes are also made with weaker plastic than larger crates. Recent reviews also note issues with the cover over the doorposts popping off and allowing the dog to escape.
Pros
Well-ventilated
Better visibility than many other plastic crates
Airline approved
Bars are close enough together to prevent dogs from dragging things into the crate
Tie-down points allow you to secure the crate while traveling via car
Easy assembly
Cons
Floor space is 1-2 inches smaller than listed measurements
Isn't big enough for extra-large breeds
The latch isn't sturdy enough for all dogs
#2 Petmate Sky Kennel = Best Plastic Crate for Airline Travel
The Petmate Sky Kennel is another good option for traveling with your dog. It requires minimal modifications to meet the requirements for international flights. It comes with holes for zip-tying the doors shut, rims meant to be used to lift the crate, and a solid door that helps make escape harder. The included food dishes are large enough to be useful and allow the airline to fill the bowls without opening the door as per regulations.
The latch on the larger sizes is a vault-style that locks into four points, making it one of the most secure on this list. Always check with your airline prior to travel, but this crate has many positive reviews from people flying with their pooch. It has been noted as a good option if your dog is prone to breaking all wire crates.
Things to watch out for
It comes with plastic nuts rather than the metal ones that are required for international travel on many airlines. Also, the measurements for the interior space is hidden deep in the product description, so the size listed at the start of many online listings for the product is misleading.
Many pet owners also noted that the handle can break off easily. Other owners have reported cracks, either from shipping or after relatively small drops. The handle is noted as a weak point on small crates. The larger crates are prone to cracking at the corners if shipped improperly, so check your crate thoroughly. The largest size is also too tall for many airlines to accommodate in their cargo holds.
Pros
Ventilated on all sides
The door on larger sizes is a vault style with an extra horizontal bar for added security
Pre-drilled holes for zip ties
Included food bowls and live animal stickers
Cons
Needs metal nuts to be used on international flights
Interior measurements are hidden in the description
Prone to cracking
The largest size is too big for most cargo holds
The Petmate Ruffmaxx is a plastic crate in a brown camouflage color meant for use while camping, hunting, or enjoying other outdoor activities with your furry friend. It is fully ventilated on all sides and comes in three sizes that can handle dogs up to 80 pounds. It is all plastic, which some customers prefer as their dogs can pop out metal ventilation grates and escape. It features a squeeze latch for easy, one-handed operation.
Like all Petmate crates, it requires no tools to assemble. The maximum size is 29" in height, so while it fits most breeds, it can't handle very tall dogs or dogs with erect ears if used for flying or for a home crate to keep them locked in while you're gone. It's one of the lightest carriers offered on this list, particularly for the size.
The design of the ventilation holes makes it feel more like a den, so if your dog likes that feeling, this is a good option. Many customers noted that their dog liked this as their indoor crate as well as a travel crate.
Things to Watch for
Some customers have reported that their crate was shipped without sufficient padding and arrived cracked. Others have reported that the latch is flimsy or doesn't fit securely in both holes. This means it isn't good for escape artists or for flights. There have also been reports of dogs chewing their way out.
If your dog has separation anxiety and is prone to chewing their way out, this crate isn't for you. There have also been reports of manufacturing issues with the post holes that result in the door being unopenable. Be sure to order well in advance to ensure you don't end up with a broken crate and no time to return it.
Pros
Great for outdoor use
Ventilated on all sides
Lightweight
Assembles with no tools
Cons
Flimsy latch
Plastic can't stand up to chewing
Not meant for tall dogs
Poor packaging
This is a cheaper option than many on the list. It isn't fully-ventilated on all sizes, so be sure to double-check the product images. This crate comes in plenty of sizes and is the most budget-friendly option we're reviewing today. These carriers are best for short trips such as to your vet or as a crate used to secure your dog in the car.
It's lightweight, so it won't add as much to the weight of your pet when you're moving the crate. It also features tool-less assembly. Customers have noted that it is a close match for the Petmate kennels on this list, so if those are out of your budget, this is an option for you.
The smallest size also has bolts as well as clips to help keep it closed. Most of the small sizes use clips, which isn't as secure for determined dogs. This could easily be fixed with a drill and a trip to the hardware store, but it might not be worth it when you could just buy a different crate.
Things to Watch For
Many customers have noted that the edges are jagged and can cut people or pets. There have also been reports of cracking and other issues common to thin plastic. Smaller sizes also have clips that customers have noted as having manufacturing issues that prevent them from closing.
Smaller sizes have been noted as flexing when carried by the handle. The door latch and its posts have been noted as a weak point that a determined dog could break out of. The latch is also noted as being hard to shut on the medium to large sizes.
Pros
Budget-friendly
Lightweight
Many color options
Large size range
Cons
Thin plastic
Smaller sizes use clips rather than screws for all attachments between the top and bottom
Price means manufacturing issues
This crate offers wheels on all but the smallest size, allowing owners to move large dogs more easily. This would be the best option for older people, or those with disabilities. This is also good for moving large dogs with less strain on the owner. It includes on-door food dishes, live animal stickers, and all-metal hardware to allow you to fly with your furry friend.
It also offers the largest sizes of any crate on this list. All the ventilation ports are metal, a unique feature on this list. That means that if your dog tends to chew plastic ventilation this is the option for you. It is secured both with latches and bolts. The floor is guttered to allow easier cleanup of any messes or accidents. This crate is well-reviewed and has the least customer complaints.
Things to Watch For
Some customers have reported issues with the wheels or their retaining wells breaking. The wheels also don't have brakes installed on them so they need to be removed for many airlines as customers have noted. It's also suggested you get a bed or some other padding since the guttering might be uncomfortable for dogs to lay on.
Some customers have also received a second-hand crate when they paid for a new one. Be sure to check your crate thoroughly before use and order well in advance of any planned trips if that is what you're buying it for.
Pros
Thick plastic
All ventilation holes are metal on all but the smallest size
Removable wheels for easy transport
Airline approved features
Cons
Wheels can be fragile
Issues with secondhand crates being sent as new
The MidWest Homes for Pets Spree Travel Carrier is best for small breeds due to the maximum size being 22 inches. It has excellent ventilation, an integrated handle that is less prone to breaking and comes in three colors. I can't really talk up the handle enough since every crate I've ever owned has had the handle snap off due to it being a separate piece.
This is also a good option if you own multiple species of pets, such as cats or birds since this would be a good option for taking them to the vet as well. It isn't meant for airline travel but it would work well for vet trips, short car trips, or an everyday home crate for a small dog. The door also bows outward, giving your pet more interior space to enjoy. However, it isn't the most secure option for escape artists.
Things to Watch for
The door is not the standard swinging door. It has four locks on the top and bottom and these are undone to open it. It allows you to open it on either side, but some people have complained about it. If you prefer the standard door lock then this isn't the crate for you. This also isn't the most secure crate out there.
There have also been complaints of very sharp edges on the bars of the door that would need to be filed to be safe for both people and pets. The instructions are also noted as being unclear due to how small the pictures are printed. Multiple customers have noted missing hardware.
Pros
The handle is a solid piece of the carrier
Three colors
Ventilated on all sides
Bowed door for more interior room
Cons
Only for small breeds
Not meant for airline travel
Plastic locks for the door are noted as being flimsy
Which Crate is Best?
Which crate is best depends heavily on your needs, budget, and your dog. If your dog is an escape artist or gets hot easily you'll need a different crate than someone with a more laid back dog. No matter what type of crate you get, it needs to be just a bit bigger than your dog is. It should be tall enough for your dog to stand, and wide enough for them to turn around easily. There are five types of crates that can be used for dogs.
The first is wire crates. This type allows plenty of airflow so they're good for dogs that overheat easily or live in a hot climate. They're easy to clean, and you can buy panels to section off parts of a larger crate to the right size, meaning you only need to buy one crate for your puppy. However, some dogs find these easy to escape from and they aren't very attractive to look at.
If your dog isn't destructive or prone to escape, there are both soft-sided crates and decorative crates to choose from. Soft-sided crates are great for traveling if you like bringing your pooch with you on your journeys. Decorative crates give your furry friend a nice place to sleep and feel secure that blends into your decor. However, these options aren't suitable for all dogs.
There are also heavy-duty crates, meant for dogs with separation anxiety, destructive dogs, and escape artists. These crates are great if your dog fits these categories, but more expensive thanks to their sturdier materials and construction.
The final option is a plastic crate. Dogs that like dens tend to appreciate plastic crates since they're the most closed-off option in general. Many models are approved for use on airlines, so traveling with your pet is easier. They're also a better option for escape-artists. However, the lesser airflow can make it a bit hotter inside, and some dogs dislike the lack of visibility your average plastic crate offers.
As this article is about plastic dog crates, if it sounds like this is the right option for your dog, continue reading.
What to look for when buying a plastic dog crate
What should you look for when buying a plastic dog crate? Size is obviously the most important factor. Be sure to measure your dog's length, shoulder width, and height. Add three inches to find the minimum measurement your crate needs to be. Check this against the internal measurements of a crate to select the right size.
You also need to be sure your crate can stand up to the level of chewing your dog is prone to. You should also consider airflow and visibility, depending on your dog's needs. If your dog has issues like separation anxiety, there are other things to keep in mind.
Are plastic crates safe for travel?
If you're traveling with your pet, you want your pet to arrive safely. That means you're likely looking for what kind of crate is best for traveling. Plastic crates are the standard for air travel. They're lighter than metal or wire crates. Soft-sided crates are also popular, but a determined dog can escape them easily. They also aren't suitable for traveling in a cargo hold, which is frequently required for larger breeds.
My dog is large, what crate is best?
There are plenty of options for large dogs on this list. If your breed is very heavy or tall, then you might not have as many options.
What is the best crate for a dog with separation anxiety?
Separation anxiety is a serious condition that frequently manifests as destructive tendencies and other behaviors typically seen in dogs that aren't housebroken. However, it is distinct in that the behavior isn't borne from lack of training, but genuine anxiety at being left alone.
Dogs with the condition frequently show signs of distress or depression when their owners are preparing to leave. Dogs with separation anxiety often become destructive in an attempt to escape the home, causing damage both to the home and themselves. The condition is more common in dogs that have been adopted from shelters compared to dogs that have been owned by one family all their lives.
In order to handle the condition, specialized training and stronger crates are required. There are a number of resources out there to help, with your vet being the best source of information. They can help you find local resources and trainers to help your canine companion feel better about separations. In the meantime, a strong crate can help. This article has a list of crates that have been well reviewed by owners of dogs with separation anxiety.
What is the strongest dog crate?
While plastic crates can be very good at dissuading all but the strongest or most determined dogs from escaping, they vary widely by brand and plastic thickness along with construction. Petmate is well-reviewed for strength and quality. However, many models have plastic ventilation holes which many dogs find easier to break out of than all-metal ventilation. If you know your dog is prone to destroying crates and you aren't planning on travel.