We may earn commission from qualifying purchases at no extra cost to you.
Learn more
Grooming your small dog at home can be a good way to bond with your furry friend.  Taking the time to brush and bathe your pup not only allows you the chance to get a good look at their skin, coat, and overall body, but also may be very relaxing and enjoyable for your dog.
The grooming needs will depend on what type of small dog breed that you have. 
Short haired breeds, such as the Chihuahua
require a lot less maintenance than the longer hair breeds, like the Maltese or Yorkshire Terrier.
The earlier in your pup's life that you introduce them to grooming, the better.  This way they become accustomed to the handling.
Hair Brushing
My Shichon requires daily brushing.  He really enjoys it, as he gets a treat after, as well as some play time.  Incorporating treats and play time into grooming is a fun way to keep the pup engaged, and from becoming too overwhelmed.
Regular brushing on all breeds is great for reducing dandruff, increasing blood circulation, and helps keep shedding down.  It is also good for spreading the natural oils around the coat while removing dirt.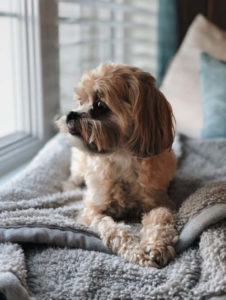 It's important to use the right type of brush, depending on the type of coat your dog has.  For long hair, the pin brushes work best.  Bristle brushes tend to work better on short or medium coats.  There are also special brushes available to target matted hair.
Brushing through your dog's coat thoroughly before bathing is always a good practice.  If you don't brush prior to bathing, the
hair that is tangled or matted
will only become worse, once in the water.  If unable to remove mats with a brush, you will need to cut them out.  Matted hair can be painful for your pup by pulling on the skin or causing other serious skin issues.
Nail Trimming
Dogs nails need to be clipped on a regular basis.  If the nails are making noise against the ground, when they walk, then they need to be shortened.  Without regular trimming, the nails can start to curl under then into the paw pads.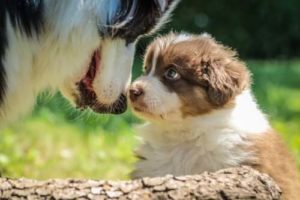 A cordless Dremel style tool is also a good way to trim. This would avoid hitting the quick and causing bleeding.  It acts as a file in shortening the nails.
Teeth Brushing
Just like us, dogs need to keep their teeth and gums healthy to avoid problems down the road.  The most effective way to do this is by brushing your dog's teeth.
Using dog toothpaste, place some on your finger and begin cleaning your pup's teeth.  This will introduce them to the process, and over time you can move on to a finger brush, or dog toothbrush.
As dogs age, it may be necessary to have a professional cleaning by your veterinarian.
Ear Cleaning
Some dogs may be more susceptible to dirt and wax build up, depending on the type of ears they have.  Regular cleaning can help reduce build up and chances of infections.
You can purchase ear cleaning solution at a pet store.  Apply the solution to a cotton ball and clean the part of the ear that you can see, getting dirt and wax out and avoiding the inner ear.
The ears have many nerves in them connected to your dog's body, so being careful with the ears is imperative.  Be sure to praise them for sitting still, during this process.
Bathing
Many pups love bath time, but others may simply tolerate it or despise it.  Being sure you have everything you need together, prior to the bathing, will be helpful.  Shampoo formulated for dogs, towels, and treats are just a few necessities.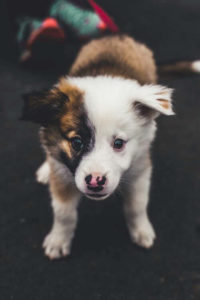 If your dog is a runner during bath time, you can get a bath lead that hooks up to a leash, allowing you to secure the dog in the shower/bath area.  Be sure to use lukewarm water during bathing.  Hot water can be dangerous and harmful to the skin.
Rinse entirely making sure all the residue is off.  A hose or shower connector is the most effective way to rinse your dog, as a cup with water may not be able to remove all the shampoo residue.  Lastly, use a wet cloth or towel to wipe the dog's head, face, and around eyes and mouth.
Once rinsed and cleaned, towel dry him.  Dogs instinctively will want to shake the water off.  You can reduce water going everywhere by laying the towel over him or holding the towel up while he shakes.
For longer haired dogs, such as mine, blow drying while brushing may be needed after towel drying.  I started this with my dog as a puppy, and he loves the dryer.  Use the dryer on the cool setting.
Keep in mind, too frequent of bathing can cause skin issues, remove natural oils, and create skin irritation.
Hair Trimming
Trimming or clipping the fur is best done after bathing and when the fur is fully dry.  Professional groomers tend to use dog grooming clippers over scissors, and this is also a safer option when doing it on your own.
If you are going to trim the hair on your own, be sure to invest in good dog grooming clippers.  Clippers come with different attachments that will trim to the desired length, depending on the number on the blade, just like a barber uses.  Read the directions that come with the clippers, to ensure safety.
The key is patience and persistence. 
Restraining the dog on a leash
while trimming, and giving him breaks as needed, are helpful hints.  Using the clippers slowly and taking your time will create better results.
Having a professional groomer as a backup is always a good option as well.