We may earn commission from qualifying purchases at no extra cost to you.
Learn more
Pet grooming is a fast growing career field! Groomers work in salons, vet clinics, pet stores, kennels, and more. Their job is to make pets beautiful and healthy by bathing, brushing, styling and trimming their coats, and clipping their nails. It goes without saying that their job will be impossible without Professional Dog Grooming Kits!
It's a job that requires lots of patience. It also requires a general knowledge of grooming tools, practices, skills, and anatomy as well as common pet health concerns. Oftentimes, groomers are the first to detect skin or tooth diseases to be treated by a professional veterinarian. In addition to that, it is important for groomers to know about basic breeds and their coats and to have a general knowledge about the tools that are used by groomers every day. Certification from online dog training programs or schools are really helpful, although not required.
Stamina to lift pets as well as the agility to catch pets who are trying to escape are also good traits to have. The patience to work with misbehaving animals and basic training techniques are invaluable.
Finally, it is important that a professional pet groomer has a high-quality pet grooming kit. These kits can be ordered as a set, or piece-by-piece if you choose to fully customize your kit. The basic equipment for dog grooming includes items such as,
dog clippers
, brushes, scissors and thinners, nail clippers and grinders, air dryers, a bathing station, and a sturdy grooming table.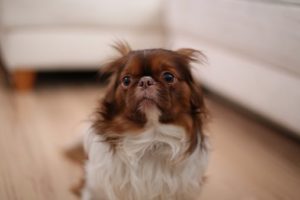 An Efficient Routine for Grooming a Dog
Here are the basic steps you should take to groom a dog. The first step is to bathe the dog and get him nice and dry with your air dryer. Next, once dry, carefully brush or comb the dog, carefully removing any mats or tangles from their fur. Place the dog on your work surface, using whatever attachment devices you need. Be sure to adjust the height of your table, if possible, so that you are at a comfortable level with the dog.
First trim the head, using clippers if the dog is calm, blunt scissors if the dog is moving around a lot. Be careful with the sensitive areas of the head. Make sure there is no hair growing over the dogs eyes as it could affect his vision. To trim the dog's ears, hold the ear gently in your hand and slowly move the clippers over them. Then use a damp cotton ball to clean around the dog's eyes and remove any discharge or debris. Then, using an ear-cleaning solution, clean the ear of excess wax and dirt.
To do the body, start at the head and neck area and move down the body with the clippers, being sure to use steady strokes. Clip down the backbone and then each side. To finish, clip the belly hair.
Clip the dog's legs from top to bottom. To trim the paws, brush the hair away from the growth and trim with sharp scissors. Clippers can be used to do under the feet.
Finally, stand back and take a look. If you've missed any spots, go back and get them.
Cleaning the Eyes and Ears
Be sure to give the dog breaks when grooming, as needed, and use positive reinforcement and treats to praise him when he does well.
WHAT SHOULD BE IN PROFESSIONAL DOG GROOMING KITS
Dog Clippers
Believe it or not, clippers and trimmers are not the same thing, even though the two terms are often used interchangeably. Clippers are wider and for clipping large areas, for example a dog's back or side. Trimmers, on the other hand, are narrower and meant to be used for detail work.
Many people wonder, can't I just use human trimmers to shave my dog? It works well enough for me. This is not a good idea. Dog hair is thicker and courser than human hair, and dogs have more sensitive skin. Human trimmers are not made to work on dogs. Dogs clippers, which tend to be more expensive, have quieter, more powerful motors, a faster blade speed, and blade teeth that are much finer. Never use human clippers on your dog as it could lead to injury. You should also be sure that you don't ever use dog clippers on human hair either!
Clippers are a key part of the groomer's tool kit. A home user can often get away with cheaper, lower end clippers, while a professional
dog groomer needs to have high-quality clippers in order to do an effective job.
Professional clippers will be better at getting through courser hair, and will only take one pass to get the job done. In other words, they'll allow you to be more efficient so you can get through your work load more quickly and do a better job.
There are tons of different options available on the market. The important questions to ask yourself are: How powerful is the motor? How much noise do they make? How much do they vibrate? Are they comfortable enough that I can hold them for a long time? How good are the blades? And finally, how hot do they get?
Power
The torque of the motor and how well it maintains it's speed determines the quality of the cut. You will need a faster speed if you are trying to clip a dog with course hair. However, a more powerful motor will lead to a noisier clipper with more vibration. Also, a motor which is too powerful can lead to more friction causing the blade to get overly hot and potentially burn your pet. Many varieties of clippers come in dual speeds, the faster speed is good for doing large areas, like the body, while the slower speed is perfect for detail work like feet and faces.
Noise and Vibration
Many dogs are sensitive to the noise and vibration of clippers. You definitely want to find the quietest clippers you can and that make the least vibration. Vibration can also bother people with arthritis or carpal tunnel syndrome. Unfortunately, clippers with stronger and more powerful motors also tend to make more noise and vibrate more. You need to weigh these different options with your own needs.
If a
dog seems especially sensitive to the clippers,
let him see and smell the clippers before you turn them on, remove the blades and run the clippers over his body so that he can feel what they are like. Finally, go slowly and take your time and keep your first session as short as you can. If you don't stress him out too much, he will probably be more cooperative next time.

Ergonomics
A professional groomer is going to spend a lot of time with their clippers in their hands. Therefore, the a comfortable grip is very important. A lighter tool will also help as well. Although, keep in mind, a lighter tool may be less powerful, less durable, and will most likely vibrate more.
Blades
Blades come in different sizes, the size is represented by a number. The larger the number, the longer the hair it will leave. For example, a #3 blade leaves 1/2", while a #4 blade will leave 3/8". The quality of the blades is important. Some blades are detachable, while others aren't. Detachable blades are easier to clean and sharpen and can be replaced easily.
The hardness of the steel, or the how well it is able to keep a sharp edge, and if the blades smoothly transition over each other will greatly impact how well your clippers will work. Ceramic blades do a better job of staying cool. Stainless Steel, titanium, silver, carbon, and chrome blades will stay sharp for longer. Titanium and silver are the most recommended blades for professional groomers. Ultra-edge blades are infused with carbon for tougher coats. Show–edge blades, on the other hand give a more polished look and are often used with show dogs. Fine-tooth blades will not work on dirty or thick hair, but if used on the right type of dog, you'll get a nice polished look. They usually show an "F" after their blade number.
Heat
An important thing to look out for in your clippers is how much heat they create. Some cheaper clippers heat up quickly and don't do a good job of dispersing the heat. This can potentially harm an animal! To prevent this, you may need to use a special coolant spray on your blades.
Clippers that have brushless motors will get less hot and are much safer. Another thing that can definitely come in handy is to have a set of clippers with interchangeable blades. That way, if your blade gets too hot, you can just replace it with a spare. Also, it's important that you consider that a more powerful motor is going to cause your blades to get hotter. It's important that you find your balance between the power of your motor and the potential of your blade to get hot.
Corded vs. Cordless
Today, many manufacturers are coming out with cordless, rechargeable clippers. These have the benefit of not having a cord that could get tangled up with your dog, or not reach. Corded clippers also tend to be lighter and quieter. But are there drawbacks? Of course, one drawback, especially for a professional, is that the cordless clippers will eventually lose their charge. If you are spending your day grooming dogs, you will have to stop to charge your clippers every once in awhile. Some cordless varieties do come with cords so that you can charge them and use them at the same time.
Maintaining Your Clippers
Once you've taken the time to choose your clippers and make the purchase, you'll want to make sure that you carefully maintain them. You should always clean hair out of your clippers after each use. You'll also want to either hire a professional sharpener to sharpen them periodically or replace your blades. You'll also want to keep your blades well-oiled. If you take these simple steps, your clippers should last you a long time!
Some accessories that may come with your clippers include, an instructional DVD, a carrying case, a protective apron, a spare battery, spare blades, or special guide combs that will help to control the hair length.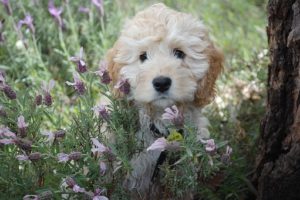 How to Brush a Dog's Teeth
Dental hygiene is very important for dogs, just as it is for humans! They are susceptible to building up plaque on their teeth and developing periodontal disease too. To help prevent this, the American Veterinary Dental College suggests that ideally you should brush your dog's teeth daily. Toothbrushes that are specifically designed for dogs have special soft angled bristles for reaching all areas of a dog's mouth. Other options include a finger brush or dental wipes.
Finally, always be sure that you use toothpaste made for dogs because they come in flavors that dogs enjoy, such as, poultry or seafood. Do not use human toothpaste on your dog. They flavors won't appeal to them and they include tough abrasives and foaming agents
When brushing, focus mainly on the teeth under the upper lip. If your dog resists brushing, it's possible that he is experiencing pain in his mouth which should be addressed.
Set of Brushes
Another important tool for a dog groomer is a set of brushes. Brushing is important because it loosens  dead hair follicles to prevent shedding, and it also redistributes the natural oils in the dog's skin to make their coat nice and shiny. The brushes you use will depend on the dog's coat, including the thickness and the length. Here are some of the different types of brushes you will find:
2-in-1 Brush: As the name suggests, it can be used in two different ways. One side has bristles that are useful for removing dead hair while the other side can be used to remove dander and dirt.
Slicker Brush: This type of brush can be used with any type of hair. The head is either curved or flat and has thin wire pins to detangle and remove hair.
Pin Brush: This is very similar to the slicker brush, but the pins are tipped with plastic or rubber and is used for longer, silkier coats.
Undercoat Rake: This is very similar to a pin brush, but the longer pins make it suitable for heavier coats.
Bristle Brush: These brushes are ideal for dogs with short, wiry hair. They do a great job at removing debris.
Shedding Blade or De-shedding Tool: This horse shoe shaped brush is built for removing extra hair. This will help keep the dog cool on a hot day, keep the house cleaner, and make a dog look and feel better.
Scissors & Thinners
Scissors and thinners are another important part of a groomers kit. They do a great job for detail work and cleaning up mistakes. Some scissors may work really well for some dogs and then be dangerous to others, so it's important that you have various types of scissors in your kit!
Straight Scissors: These are the scissors that are used the most. Unless if you are a professional, make sure they are smaller than 7 1/2", as the larger ones can cause injury to the dog if used incorrectly.
Curved Scissors: These curve on these scissors make them useful for reaching out of the way places, such as the feet or the backs of the thighs.
Thinning Shear: These are great for a more natural looking trim and also for fixing grooming mistakes. They have special teeth that space out hairs for neater cutting. Just be careful when cutting close to the skin.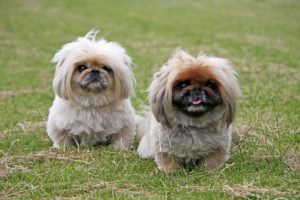 How Do I Remove Matted Hair (Without Cutting It!)?
Using a slicker brush smooth out small sections of hair, one at a time. Lift up the dog's hair with your hand, pat the brush into the hair and then gently pull it away from the body. Continue this process all over the dog's coat, being sure to find tangles hidden in the bottom layer of the fur. Finally, to prevent mats in the future, be sure that you keep up with the brushing. Depending on the type of dog, you'll want to brush him daily to every couple of weeks.
Nail Trimmers & Grinders
Keeping a dog's nails trimmed is so important! Not trimming can cause pain or injury to the dog. Therefore, nail trimmers are another important addition to a grooming kit.
There are several styles of clippers available. Scissor Clippers (also called Miller's Forge Trimmers) are best for larger dogs because they are sturdy and strong. Guillotine Clippers have a hole in the front. Simply place the dog's nail in the hole and squeeze the tool to clip. The blade will cut off just the tip. Finally, you can finish up with a Grinder if you would like a nice finish. Grinders can also be used for thicker nails, but keep in mind they take longer to use and the vibrations can bother skittish dogs.
Be sure you have some styptic powder available when trimming nails. It is used to stop bleeding in case if you make a mistake and cause bleeding.
Forced-Air Dryers
It is important to dry a dog after bathing and before giving him a hair cut. Regular human blow dryers are not a good option since hot air is bad for dog's skin and coat. Instead, special forced-air dryers, made specifically for pets, blow cold air at high pressure to dry a dog. Just be careful when blowing near the face and other sensitive areas.
A more pricey option is an Ultra-high Velocity Dryer. These useful tools, as their name suggests, blow fast air to dry more quickly. They are quieter which is a great benefit when working with sensitive dogs. Just be careful to not use these blowers to dry near the dog's eyes, ears, or genitals. Instead, use a soft towel to dry those parts manually.
How to Safely Remove Ticks from a Dog
Ticks can pass diseases to humans and animals. These include, Lyme disease, babesioses, and ehrlichiosis. It only takes three to six hours for the pathogen to be transmitted, so it is important that the tick be removed as soon as possible after it's discovered! The earlier it is removed, the more likely that your dog will not get infected.
Ticks range in size from almost impossible to see to the size of a person's finger tip. The can live in woods, beach grass, lawns, forests, and even cities. They feed on mammals, birds, and even other insects.
To remove a tick, you'll need a pair of fine point tweezers. It is important that they have a fine point as that will help to avoid tearing the tick and further spreading infections. Spread the dog's fur, then grab the tick with the tweezers, getting as close to the skin as possible. Then, pull straight up in a slow and steady motion. This will prevent the tick's mouthparts from breaking off and embedding in the skin.
Another option is called a tick removal hook. To use the hook, place the prongs on either side of the tick and twist upward.
What kind of Shampoo Should I Use?
A dog's skin has a more neutral pH than a human skin. Therefore, your dog's shampoo and conditioner should also be closer to neutral. This is why you should not use human shampoo to wash your dog. Over time, the acidity of human shampoo can strip away oils from the coat and leave dry, damaged fur and skin in it's place.
General purpose shampoos can be used on most dogs, they come in many different scents. Hypoallergenic shampoo is specifically formulated for dogs with sensitive skin, allergies, or other bad reactions to regular shampoo. Puppy shampoo is for younger dogs. They are mild and will keep the skin nice and healthy. Flea Shampoo, as suggested by the name, helps to eliminate those pesky fleas that won't leave Fido alone. They kill the fleas instantly, although they do nothing to prevent more. Aloe vera shampoo is soothing and cooling for your favorite pup's coat and skin. Medicated shampoo is available by prescription from a veterinarian and will help to clear up any of a number of skin conditions. Black shampoo works on both black and white coats, making your dog's hair shiny and healthy.
Bathing Station
Collapsible and foldable pool baths are made from a PVC material, and are easy to drain and refill.  They are specially made to prevent the dog from slipping, but it's important to trim the dog's nail before using. Booster baths are stand up tubs that are usually made of plastic and come with a hose and an entrance and exit door to make it easier to get your pet inside. Fixed stations are work stations that are attached to the plumbing. They usually include walk-up ramps, hot and cold faucets, spray hoses, and racks for shampoo and other supplies. These are the best option for professional groomers.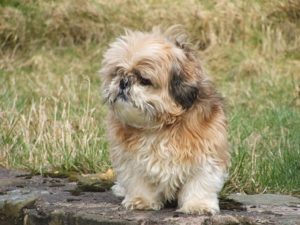 What should you do if your dog gets skunked?
We've all been there before. Fido has been outside, nosing around, when he comes home smelling like SKUNK!! This is not a time to panic, instead follow these steps to de-skunk your dog.
Mix a solution of one quart of hydrogen peroxide (3%), ¼ cup baking soda, and one to two teaspoons of liquid soap. Be sure that you mix these in an open container,. If you mix it in a covered container, the solution could explode! Wearing clothes you don't mind ruining, use paper towels to soak up as much of the skunk liquid as you can. Then dab it on the affected areas, avoiding sensitive areas like mouth, nose, and eyes. Allow it to soak in for five minutes or more. Finally, rinse it off and then
wash the dog with pet shampoo.
Then dry! If the dog was sprayed in the face, flush the eyes with saline solution. Then gently dab mineral oil to the eyes, and flush them with saline again. Finally, you'll want to carefully pat the mouth and nostrils with cotton balls or a paper towel dampened with saline.
If you don't have those items on hand you can help to decrease the smell using some basic items from your pantry apple cider vinegar peppermint mouthwash or even some beer!
Dog Grooming Tables
Grooming tables
are a great investment for the professional groomer. They lift the dogs to a good level for grooming, and include arms, anchors, and nooses to hold the dog in place, standing, and stable. A
Hydraulic grooming table
is the most expensive type, but they are the best tables for professional groomers. They have a hydraulic pedal system for raising and lowering them. Next, e
lectric grooming tables
have a push button feature to raise and lower them. They tend to be more affordable than hydraulic tables. Finally, the third option are
foldable
t
ables.
The legs of these tables fold up and collapse for easy storage. They come in various sizes and heights and are the best option for
groomers who travel
.
You now know what items you will need to start dog grooming, as well as some basic skills. If you have these items, you should be just about ready to start your grooming business. Enjoy this fun and rewarding career!