We may earn commission from qualifying purchases at no extra cost to you.
Learn more
Home Grooming Your Favorite Furry Friend!
Grooming your dog is tricky, but it can also be a great way to bond with your dog and save some money at the same time. A standard cut for a dog can cost between $30 to $90 while a more creative cut can cost in the upper hundreds. It's important that before you begin, you receive some kind of training so that you know what you're doing and what to expect. When you are grooming, you should take your time and have fun with it! If you have any questions, find a professional groomer to ask, they may even let you sit in on a grooming session. Have fun and be creative (if you choose) and keep in mind, if your grooming doesn't go as well as planned and your dog ends up with a funny hair-do, the hair will grow back. Bad results don't last forever, so don't be afraid!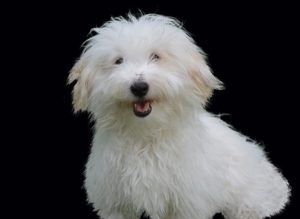 Why Should You Groom Your Pet?
Regular grooming will help to keep your dog's skin healthy. Grooming can decrease the chances of skin irritation like scratches, parasites, and thrush. Plus, a well-groomed
dog is easier to keep clean
. Also, the act of grooming your dog gives you the opportunity to give your dog a good once over, checking for things like swelling, cuts, or signs of illness. Combing your dog helps to distribute oils in it's coat and remove loose hairs.
On average, you should groom your pet about every 6 to 8 weeks. However, this depends on the type of coat it has.  In fact, a short-haired dog may not even require grooming while a long-haired dog will (unless if you want your dog to have a long-haired, "show dog" look). A curly-haired dog doesn't have to be trimmed, but it is nice to trim him periodically to keep him looking tidy and well-kept. A wire-haired dog will need trimming only every few months.
Tools Needed for Home Grooming
There are only a few items that are required for grooming. For best results, it is best to use accessories made specifically for pets that are veterinarian-approved. The following tools are available to purchase at your favorite brick and mortar pet store or on-line store. If you choose to groom your dog with electric clippers, you will need the following items:
These items are needed in addition to the clippers or in place of the clippers if you are doing the entire haircut with manual scissors:
Other tools that are useful, although not necessary include:

Preparing Your Space
Find a flat for grooming your dog
, preferably a table so that you don't have to crouch over and risk hurting your back. This should be in an easy to clean area, there will be hair everywhere! Be sure that your table has a slip proof protective cover on it to prevent your dog from. Especially if you are just starting out, it is a good idea to have a second person to assist you by holding onto your
dog and giving him treats and toys
to keep him happy and comfortable. Finally, if there is a certain look that you want to give your dog, it can be helpful to find a picture and set up a picture nearby for reference.
Bathing Your Dog
Before you begin, be sure that you bathe and towel dry your dog. Always use dog shampoo when you are bathing your dog. Human shampoo can contain certain harmful chemicals that could damage your dog's skin. Always make sure that you rinse your dog well and then allow your dog's coat to air dry completely. If you blow dry his fur, this may just result in more difficult mats that you will then need to  remove. Clean your dog's eyes to remove any debris or discharge. Then, use an ear-cleaning solution to remove excess wax and dirt.
Brushing and Dematting Your Dog
Make sure that you brush or comb your dog's hair in order to remove tangles and mats. Clipping can be painful for your dog if it is matted. The easiest way to demat your dog is by using a dematting comb. This is a tool that looks like a comb but it has a sharp edge for cutting through mats. You should not clip a mat with scissors, you could cut your dog if it suddenly moves. If your dog is too matted, it is sometimes just best to either shave him or seek a professional to groom your dog's fur. After this initial grooming, try and stay on top of the brushing and combing to keep the mats at bay so that you can groom your dog yourself the next time. If you make your dog's first grooming to painful or difficult, it will be that much harder to get him to participate the next time.
There are several types of brushes for brushing your dog's hair:

Grooming
First clip your dog's nails. Clip off only the very tip of the nails to avoid clipping blood vessels and causing bleeding. If your dog does start to bleed, you can stop the bleeding with flour, corn starch, or styptic powder. You can also use a nail grinder to grind the tips of the nails. Again, only grind the tip.
You can groom your dog's coat using a combination of clippers and scissors, but you can also groom him only with scissors. It's up to you. When starting out with clippers, it is best to first try them out in an inconspicuous area of your dog in order to verify how much the clipper takes off. If you need to, adjust the size of the blade in order to adjust the length. The higher the number, the shorter the hair will cut. In general, it works best to clip your dogs hair in the same direction as its hair growth. Make sure you stand back frequently while trimming to check the quality of your work. It is much easier to spot errors and irregularities from a step back.
Grooming the Head
It's best if you start with the head as this is the are that requires the most attention and it will be easier for you to stay alert. Trim the head to a rounded shape, beginning at the top of the head between the ears, working in rows from ear to ear, from the back of the head to the top of the eyes. It is best to use the blunt-tipped scissors around the delicate area of the eyes, especially if your dog is wiggly. You can hold your dog's eyes closed with a finger when you are trimming in that area. Clean and trim the ears. Comb the hair on the ears in a downward direction,
making sure that there are no mats
. Hold the ear leather in your hand while trimming it to its shape. Make sure you don't cut the ears. Clip under the chin in an even line.
Grooming the Back, Belly, and Chest
Clip the body from where the neck meets the head and down the vertebrate, using quick uniform strokes. Then clip the sides, starting at the bottom and working your way up to the top. This will make it more even. The best way to groom the belly, chest and insides of leg area is to have your dog lay on his back. Distract him with toys or treats if this is not a position he enjoys.
If you are grooming the back, belly, and chest with scissors and not clippers, comb hair up and backwards to make it stand up and so that you can see any uneven ends. Cut until the hair looks the way your want it.
Grooming the Legs and Feet
In order to groom the paws,
brush the fur
on the feet, against the direction of hair growth in order to make it stand up, then trim the hair away with sharp scissors.
Grooming the Rump and Tail
The skin on the rump and tail is thinner and therefore can be more sensitive, so it's best to use caution here. Hold your dog's tail out and the hair will hang down on either side. Trim the hair to an even length. Finally, hold the hair at the tip and twist it, then cut the hair across, making sure to not cut the tail.
To finish up, give your dog a final brush and and stand back to see your handiwork. Touch up any areas that you may have missed.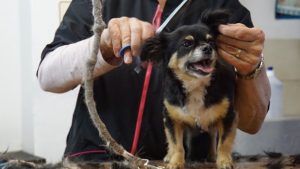 Extra Tips
Oftentimes, dogs will be frightened of the sound or the feel of the clippers. If this sounds like your dog, find clippers that make the least amount of noise. Get him used to grooming gradually by keeping your first sessions short and stress-free.
Be sure that you praise your dog frequently for good behavior and give him lots of treats. This will make grooming him much more pleasant for the two of you now and in the future. At the same time, be firm and steady with your dog to always let him know that you are in control.
Start clipping your dog when he is a puppy, if possible. This will help him get used to his periodic groomings.
It is always better to cut less off than more. You can always go back and cut more, but if you cut too much off you'll have to wait until it grows back.
If your dog isn't steady and calm it can be easy to make blemishes in his hair with the clippers.
In conclusion,
grooming your dog at home
is not the easiest thing in the world to do, but it can be oh-so-rewarding! Just be patient and make sure it doesn't ever escalate into a battle. If you make it easy for the two of you, it will become an enjoyable activity that you can share with your dog for many years to come.