We may earn commission from qualifying purchases at no extra cost to you.
Learn more

Responsible pet owners understand that outdoor exercise is a necessary aspect of keeping their furry friends happy and healthy. Unfortunately, in today's fast-paced society, pet owners do not always have enough time to take their dogs out for walks as often as the dog needs them to. This is why having a safe and properly contained area for your canine companion to run around in is incredibly important. If your yard is not already fenced in, properly containing your dog can be a difficult, costly, and time-consuming task. Some pet owners may not have enough time or money to build a traditional, visible fence. Other people simply do not like the way that fencing looks, and prefer not to put any up. And some people live in places that do not allow residents to put up fencing. That being said, your dog still requires some sort of containment in order to ensure that he or she can play outside without the risk of running away, or running into the street and getting hit by a vehicle. In situations like these, pet owners may want to consider installing wireless fencing. With so many different products available within this market, it can be difficult to determine what product is the best choice for you and your beloved pet.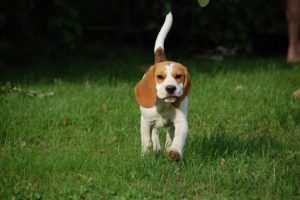 Product Name
One option for pet owners who would like to use wireless fencing as their method of dog containment is the KD661 Outdoor Wireless Dog Fence.
Why Is This Product Here?
Manufactured and sold by Shenzhen Passiontech Technology Company, this
dog containment system
is made in Shenzhen, China. The company has been in business for eight years and prides itself on complying with international quality and safety standards. This system is completely wireless, easy to install, and customer friendly. The 12-page user manual that comes with this system is detailed and helpful. The cost of this product is reasonable, for the
containment system that is required for a small size dog
weighing 10 pounds. The price of the containment system increases as the weight of the pet that you wish to contain increases, and prices of this product vary slightly depending on where you purchase it.
Every KD661 Outdoor Wireless Dog Fence System comes with one transmitter box, one receiver and collar to place on your pet, adjustable shock probes
for pets with thick or long fur, one 110-volt power adapter, one carrying strap, one voltage tester, two repair screws, a manual that explains installation and pet training, and 50 boundary flags to set up around your designated perimeter in order to help train your pet.
Product Specification
Age of Dog: As a standard rule, puppies under the age of three months old should not use a wireless fence.
Weight of Dog: This system fits pets that weigh anywhere from 10 to 150 pounds.
Neck Size: The waterproof TPU belt-style collar fits dog neck sizes of 8 to 21 inches. It is made of nylon webbing coated in thermoplastic polyurethane. The collar features size-adjustment holes that are punched out throughout the entire length of the collar, so pet owners are able to easily adjust the collar to the precise size that their pet needs, then cut off the excess collar length that is not being used.
Portability and Setup: The setup of this system is quick and easy, and should only take a few minutes because the system is completely wireless and does not require you to bury wires in the ground. The indoor transmitter can be mounted on any wall inside of your home. The signal will transmit through walls, so the transmitter box can be hidden in a closet or garage, if you wish to keep it discrete. This system's transmitter needs to be plugged in to a power outlet to work, therefore it is only portable to locations that have a 110-volt outlet.
Batteries and Power Outlets: This system includes one transmitter box with one AC
power cord that can be plugged into any standard 110-volt outlet, a receiver with an adjustable collar, an LED voltage testing light tool, and one lithium ion battery that is required to power the collar when it is on your dog, which is included with the system. The receiver collar is rechargeable and should be charged for a minimum of four hours the first time that it is charged. From then on, a low battery indication light will blink red when the collar needs charged. The AC power cord that comes with the system is used to charge the collar.
Space and Area: The minimum control range is 20 meters from the transmitter box. The maximum control range is 550 meters from the transmitter box. The containment area can be increased to any size with the use of additional transmitters. Each additional transmitter can create a boundary that is up to 5 meters wide and 5 meters long. The signal field for the boundary is circular. The containment range can be adjusted according to the size of the space that you wish to keep your pet within. The containment boundaries should be kept at least 5 meters away from the utility box and any large appliances.
Correction Features: This collar features a progressive tone stimulus option which means that the collar beeps at the first sign of your dog approaching the designated containment area boundary. The collar will then administer a shock from weak to strong if your dog does not back up into the containment area and continues to move toward the boundary. You can choose an intensity level for the shock that is administered to your pet that ranges anywhere from a level of zero to 100, using the "+" and "-" buttons located on the transmitter box. This system also features pulsed proportional stimulus, which means that the closer your dog gets to the boundary, the more intense the shock will be.
Safety Features: The manufacturer of this product promises that using it for

containment purposes will bring no harm to your pet

due to the use of 6-sigma quality control management production and 433 MHz long-range technology. This system is manufactured with an anti-over shocking design, meaning the collar is not supposed to shock your dog due to sudden loss of power, or transmitter shutdown. The manufacturer claims that the

collars are waterproof up to IP67, which means the collar is safe from water sprays

and splashing in all directions, and can be placed in water that is up to one meter deep, for a time period of half an hour. The collar is also resistant to rust and the product manufacturer states that it will not shock a pet in the rain, or due to their own sweat. The design of the collar is lightweight in order to ensure that wearing it does not hurt your pet, or keep them from participating in their normal day-to-day activities. There are no wires in this system that have to be buried in your yard, eliminating the risk of your

dog digging wires

up, eating them, or getting tangled up in them. This product also features a "pet lost" alarm, meaning the transmitter will beep if the dog is outside of the control range.

Must Know Facts
This wireless fencing system uses a constant radio signal to create what is called a "stay zone". The transmitter emits a 433 MHz radio signal around your home, and to the predetermined boundaries of the "stay zone". The collar that you place on your dog picks up the signal that is being omitted by the transmitter. If he or she begins to approach any of the boundaries of the predetermined "stay zone", they will hear a warning beep that is emitted from the collar. If the dog does not back away from the boundary and continues to cross it, the warning beep will be followed by a light shock that is called a static correction. This shock is only meant to startle your dog, in order to get their attention and let them know that they need to stay within the boundary. The company that makes this product promises that the shock that is administered to your pet is safe and humane.
Check Carefully
Multiple online reviewers of this product have reported that the shock collar that comes with this system randomly shocks their pets, for no reason at all, when their pets are still well within the designated containment area. Another issue that has been reported is that dogs who have made it out of the containment area are continuously shocked, when the shocks are supposed to stop or be intermittent, at most. Yet another issue that has been reported is the collar administering a shock to the dog after the pet owner has turned off the transmitter.
This system comes with an LED test tool that pet owners are able to attach to the probes of the shock collar in order to determine if a shock is being administered, via the LED lights on the test tool lighting up when a shock has been received. This tool is meant to be used by pet owners who would like to make sure that the collar is shocking appropriately, without being shocked themselves. This testing tool will not allow the pet owner to determine how intense or painful the shock may be to their pet. The only way to know, for certain, if the level of shock that you are administering to your pet is too intense or in any way painful, is to administer the shock to yourself, first.
Please be certain to check all of these reported issues out for yourself, before putting the shock collar on your pet. Never put the collar on your pet without first testing the perimeter, shock level intensity, and frequency. If unauthorized shocks occur, discontinue use of the product immediately, as using a malfunctioning, shock-administering product on your animal would be cruel.
What to Watch Out For
Even when using this product to help you to train your dog to stay within its containment area, it is imperative that you take the time to train your pet appropriately, along with the use of this product. There are training instructions included with the wireless fence system. Even with the appropriate training, users of this product have reported that their dogs are able to escape the boundary, and some dogs will not re-enter the boundary once they have escaped for fear of getting shocked again when they cross the line. This could cause your pet to get lost or hurt.
Due to the malfunctioning that has been reported in the shock collar of this system, it is important to make sure that the containment transmitter and shock collar are working properly and will not shock your pet when he or she is within the designated "stay zone". Also, make sure that you leave the "stay zone" with the powered-on shock collar in hand, in order to be certain that the collar is working as it should if your pet wanders out of the predetermined boundaries. You will want to stay outside of the "stay zone" long enough to determine if your dog would being shocked by the collar for longer periods of time, or more frequently than they should be, as some users have reported this particular type of malfunction when using the KD661 Outdoor Wireless Dog Fence system.
The shock collar is not meant to be worn all of the time. It is recommended that you reposition the collar on your dog's neck every one to two hours, and never allow your pet to wear the collar for more than 10 hours in a 24-hour period. It is important that your pet has a break from wearing the shock collar. The collars that are included with invisible fencing systems are not the same as a regular dog collar, and therefore need to be taken off of your pet whenever they are safely inside. Doing this will not only give your pet's neck a break from the collar, you will also lengthen the battery life on the collar if you take the battery out of it whenever you take it off of your pet.

Crucial Tips
This system is intended for use with dogs only, and dogs must weigh ten pounds or more.
A low battery can cause the system to malfunction. DO NOT USE the system if the battery is low.
This system relies on a wireless signal and many factors may impact the control range, such as air humidity, walls, signal strength, and so on.
The system will be affected by electromagnetic waves and obstacles around the fence's boundaries, and the effective distance will be reduced slightly.
The transmitter should be kept inside, out of outdoor elements, and not located near any large metal objects, as they will affect the electromagnetic signal that it emits.
When you set up your system be sure to test out the boundary area, shock intensity, and frequency before training your dog. NEVER put the collar on your dog before testing these things.
It is recommended that pet owners unplug the transmitter and disconnect the fence during storms to ensure that malfunctions do not occur, causing your pet to be shocked when they should not be.
The collar should not be left on your dog for more than 10 hours a day, should be repositioned on their neck every 1 to 2 hours, and should only be worn under close supervision of the dog's owner.
Customer Reviews
The most recent reviews that have been written for this product are mixed, meaning that there are good reviews and there are bad reviews. While a few people found benefits to using this product, quite a few people had problems with using it, as well. Below you will find a list of the benefits (pros), as well as a list of the problems (cons) that have been reported by users of this product, in order to help you decide if this is a good option for you and your pet.

Product Benefits and Features (Pros) 
Light-weight collar.
Easy and quick set up.
100 adjustable levels of shock.
Multiple transmitters can be added to create a larger area of containment.
Features pulsed proportional stimulus, meaning the closer your dog gets to the containment boundary the more intense the shock will be.
Features a progressive tone stimulus option, meaning that a warning tone, alone, will be issued to your dog as they approach the boundary, and a shock will follow only if your dog continues to move towards the boundary.
Completely wireless system, which means there is no digging needed to bury wires, and no possibility of pets digging wires up, and chewing on, or getting caught in them.
The transmitter works with an unlimited number of collars for pet owners with multiple pets. One collar is included with the system, others must be purchased separately.
The collar has a vibration indicator switch that when activated, will turn the collar receiver off if your dog is still for more than three minutes, in order to save the battery life of the collar while your pet sleeps. The receiver automatically turns back on once your pet is up and moving again.
Product Problems (Cons)
System should not be used during storms.
Cannot be used on dogs that are less than 10 pounds.
System is known to malfunction or not work at all if the collar battery is low, or for no known reason.
Battery has to be recharged, and changed at least every few months, depending on how frequently your pet sets off the warning signal and shock settings.
Collar has been reported to shock pets for longer periods of time, and more frequently than it is supposed to when pets escape the containment boundary.
Collar has been reported to go off randomly in the middle of the yard, well within the pet's acceptable boundaries, and shocks them when it is not supposed to.
Customers have reported that the shock is not strong enough to stop their dog from getting out, even for small to medium size dogs, resulting in the product being ineffective.
Because the containment area is circular in shape, it will not line up precisely with your property boundaries and physical characteristics such as the slope of your yard can impact the effectiveness of the electromagnetic waves.
Because there are several factors that impact the effectiveness of the transmitter, as detailed above, customers have been upset by the fact that the signal is not reliable and will go in and out. If your pet's collar does not receive a reliable and consistent signal, he or she cannot be trained to avoid crossing the containment's invisible boundaries.
There is no way to know how your dog will react to this system. Some dogs react negatively to shock. And some dogs will refuse to leave the containment area even when you want them to, or will not re-enter the containment once they have left it, out of fear of being shocked.
PLEASE NOTE: An aggressive dog could turn against their owner upon receiving the shock stimulus. If your dog is aggressive, please discuss using this product on your pet with a certified animal behaviorist before using.
Conclusion
As you can see, there are many important factors to consider when deciding if the KD661 Outdoor Wireless Dog Fence system is the best fit for you and your canine companions' needs.
There are benefits to installing this type of fence, including the fact that there is not much to install, at all. Set up is quick and easy. Not to mention the affordability of wireless fencing. Building a wood or metal fence is time consuming, requires physical strength, and expensive materials upfront, in addition to upkeep and maintenance throughout the years in order to keep the fence sturdy and looking nice. Whereas using a wireless fence requires none of these things, and eliminates the time it takes to both build and upkeep a fence. Furthermore, some homeowners live in communities that do not allow them to put up fences, or they themselves simply do not want the eyesore that they believe a fence is to their property. For those reasons, a wireless fence system works well.
However, there are also some critical risks and downfalls when it comes to using
wireless fencing for pet
containment. With this product in particular, customers report that the transmitter signal is unreliable causing the system to malfunction. Additionally, pet owners complain that the collar shocks their pets randomly, when they are well within the designated "stay zone" of the containment area, and shocks them for longer than it is supposed to when they do escape the boundary. Some pet owners also found that the shock is not enough to keep their pet contained within the invisible fence or causes them to not want to re-enter, should they escape, which would render the product useless as your pet could still run away or
get hit by a car
. Other pet owners who tested the shock on themselves, felt that it was too intense and possibly painful for their pet based on how it felt on their own neck. Most importantly, pet owners cannot know how their dog will react to being shocked. Their beloved pet may start to distrust them, and might become aggressive with their owner in response to being shocked. These are all things that must be carefully considered when making the decision to use this product, or one like it.
Our pets are precious to us, they truly do become a part of our family. Therefore, it is incredibly important to use containment that keeps your dog safe, healthy, and happy. If your main concerns are the amount of money and time you have to spend on setting up containment for your pet, and you are not financially or physically capable of building a fence, or it is not an option that you have where you live, a wireless fence might be a good choice for you and your needs. But if consistency, reliability, and the safety and trust of your pet are what you desire most, you might want to consider how often the signal on this product has been reported to fail or malfunction, and shock pets when it should not, and for longer than it should, before you make your final decision.