We may earn commission from qualifying purchases at no extra cost to you.
Learn more
tennis balls
and play tug-of-war constantly.
Unfortunately for you and your pup, duty often calls. Whether it is work, family, friends, or an emergency drawing you away, you cannot always be right there with your pooch. That means you want to have the very best defense for your dog, a way to keep him secure and safe when he is running around your yard without any human supervision.
So, you have decided that a wireless dog fence is the right fit for you and your furry friend. Or maybe, you are still weighing your options. Either is fine! Whether you are on the fence or you want a fence, it is important to make your decision carefully. There are so many different options on the market, so you need to be sure to pick the best wireless fence for you and your pooch.
Here, we go over one of the possible choices out there for you, so you can assess its pros and cons before deciding whether or not to buy it. The wireless dog fence in question comes from Friendly Pet Products.
Friendly Pet Products Wireless Dog Fence
The wireless dog fence that is being reviewed is the Friendly Pet Products Wireless Dog Fence, specifically the platinum edition. It is advertised by Friendly Pet Products as being both easy and effective, with a fast set-up process.
The Friendly Pet Products Wireless Dog Fence is also advertised as being an "outdoor pet fence" that has a radio and an in-ground cord that supports the Wi-Fi transmitter that is used to form the "fence."
Why is this product here?
The Friendly Pet Products Wireless Dog Fence is included here because it is affordable.
Check carefully because…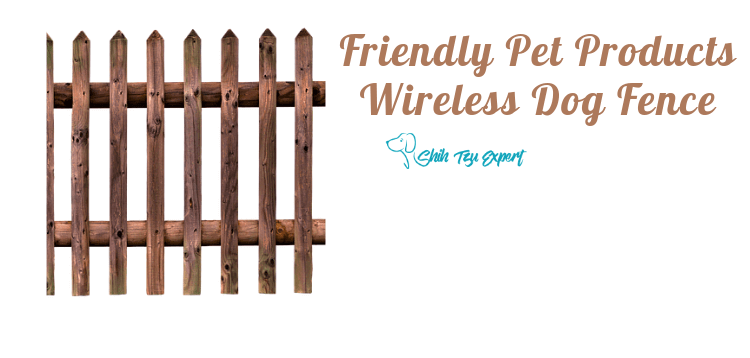 Some pet owners have said that even the shock at the lowest level of containment was enough to startle their dogs, so much so that the pooches yelp and hide. However, it might only be that intense for a pup that weighs less than 50 pounds. You have to remember that every dog is different, with a different pain threshold and a different level of receptiveness to training.
There is a sound-only option for training as well, but not every pooch responds to that. In the best-case scenario, people say that your dog should be able to learn to stay completely away from the boundary no matter what after a few months, eliminating the need for a shock collar at all.
It comes with 500 feet of wire, so if you have a larger property, you will need to purchase more wire to run around the entire area. Keep in mind that 500 feet can create coverage for about 1/3 of an acre. The maximum amount of extra wire that would be usable with one transmitter is 4000 feet, which is about 5 acres altogether when combined with the initial 500 feet. If you want even more coverage, you should get another transmitter and more wire, sticking to one transmitter for every approximately 5 acres.
Make sure that you understand the system properly before using it, otherwise there may be some complications.
The MUST know, true facts about the Friendly Pet Products Wireless Dog Fence
The shock levels are quite a bit more intense than some of the other products on the market, in part because the Friendly Pet Products Wireless Dog Fence is primarily intended for stubborn pooches that are very difficult to train, not for already incredibly obedient pups.
"Wireless" in this case does not mean that there is nothing in the ground. It does, in fact, have a cord that must be buried shallowly. This means that extra labor and time will be required from you for installation.
The collar does work with long-haired pooches too, so you do not need to shave your pup's neck for it to work through an undercoat.
If your dog weighs anything less than 8 pounds, then it is not advised that you use this product. The shocks could hurt or harm your pup if you do. No matter what, make sure that you size the collar properly. And keep in mind that the computerized "shocker" part of the collar is 2 and a half inches long and 1 and a half inches wide, so it may not be comfortable on a smaller dog anyway.
Unless you want to hire a trainer, you need to be prepared to train your pooch on how to use the system yourself. It is definitely possible to do so; it just takes time and treats. Most people can leave their dog out on his own after about two weeks.
Keep in mind that this can keep your pooch in, but will not keep any other animals out. If you live in an area with a lot of wild animals, then this is most definitely not the product for you. They could very easily cross over into your property. The same goes for neighbors' dogs that are allowed to roam wherever they want, whenever they want. If you want to avoid any run-ins with unknown animals, then you need something that is an obvious physical barrier, like a fence or a wall.
What to watch out for with this product
The shocks can be intense, especially for small dogs. Nobody wants your pooch to feel hurt; however, the jolts of pain can be enough to keep your pup from misbehaving. He will not want to be shocked again.
Some owners have complained that the included batteries do not work well at all, so make sure to start with batteries you already own. Otherwise, you might let your pup out unprotected. If you are training your dog to use the system, you should definitely use batteries that make you feel confident. You do not want the risk of the fence not protecting your pup; in those cases, your dog could get lost, hurt, or worse.
Most pet owners agree that the fence works effectively when the batteries in the computerized collar work, but there are some horror stories out there from owners whose furry friends went outside without coverage and had something bad happen to them. You should always be on the safe side when it comes to situations and circumstances like this, for your pup's sake and for your own peace of mind.
Crucial tips
Every single dog owner who used this wireless dog fence seemed to say the same thing: use the instruction manual! With the manual and the quick start guide, it was incredibly easy to understand the system, set it up, and train your pup. The instructions are clear, so if you follow them to the letter, you should be able to figure everything out and get your wireless dog fence up and running in no time at all.
If you run into a problem at any point during either installation or use, then you should call customer service. They are polite, prompt, and super helpful. If something breaks, then support is there for you to send you a replacement or process the return of the system.
The wire has to be buried, but you can do that yourself if you have the time, strength, and energy to do so. All that you will need is a shovel or trowel. Remember that what you are digging is more of a trench than a hole. It should be 2 or 3 inches deep. Then, use a stick of some kind – or just your hands, but be sure to wear gloves so that they do not get dirty – and push the wire into the trench. Then, you have to cover it completely with the dirt again.
Be sure to buy your own batteries and use those instead of the ones included. That way, you can feel confident about the batteries in your system. The effectiveness of the batteries included was the number one complaint by customers, so you should definitely keep that in mind if you decide to purchases this product.
The transmitter is required to plug into an electrical outlet to work. For the transmitter, be sure to purchase your own surge protector. It does not come with a surge protector of its own. If you want to be prepared in case of a storm, then be sure to get one. Otherwise, your pup might find himself able to escape from your yard after it is struck by inclement weather. And be sure to install the transmitter indoors, not outside. It is definitely not waterproof, unlike the computerized collar.
Another note about the transmitter: it is designed to be used with a 110-volt system, which is the standard in the United States. If you live somewhere that has a different volt system, then you are going to need to purchase a power converter to modify the voltage. Otherwise, the product is likely not going to work properly at all.
For the comfort of your furry friend, you do not want to have him wearing the computerized collar all the time. It is best for your pooch's comfort if he only wears it when he is going into the space where it is necessary to wear it. The rest of the time, you are going to want to take the collar off and have your pup sport a different, more traditional collar instead.
Benefits and features
As mentioned above, the installation is very easy because of the instruction manual. There is also the quick start guide, which breaks down the entire installation process in 7 steps. However, the company recommends reading the users guide and being sure that you understand it completely before installing the wireless dog fence.
You can customize the shape of the zone in which your pooch is allowed to play. The most common zone layout, of course, is one loop, encompassing the entire space that you want your dog to be able to run around in. This is great for looping around your entire backyard or both yards, going completely around the house. If you want each yard to be contained separately, then you can create two loops, so front yard and backyard are kept divided. It is also possible to make a pet-free zone around something like a garden bed or a pool, excluding it from the included area. The company website provides example diagrams to help you envision the possibilities.
It comes with just one computerized collar in the kit. However, if you purchase more than one computerized collar, then you can sync them all to the system, allowing you to contain as many furry friends as you need to.
There are 5 different shock levels, or levels of correction, so you can choose whichever one is the right fit for your pup.
The computerized collar is waterproof, protecting your dog from unexpected, dangerous jolts of electricity.
It is advertised as having unlimited coverage, but you will need extra wire and extra transmitters to extend the coverage farther than 1/3 of an acre. The kit comes initially with only 500 feet of wire, which is enough for 1/3 of an acre. For every 5 acres of coverage, you will need another transmitter.
They also offer the ability to change how close your pup needs to get to the wire to be corrected. You could set that distance to anywhere between 1 and 10 feet. However, most customers recommend not setting it to any distance greater than 3 feet; there have been reports that doing so results in unexpected shocks nowhere close to the wire, a malfunction of some kind.
Friendly Pet Products offers a 100 percent money-back guarantee for life from the manufacturer. They say it is offered with no questions asked.
Possible problems
The battery life might not be as long as you would like. If you leave it on all the time, the 9-volt battery will probably not last longer than about a week. That means you will have to buy replacement batteries as necessary or use a rechargeable battery. There is also not a warning for when it reaches low battery, which means that you will need to stay on top of things to make sure you never let your pup out without protection.
The computerized collar is bulky, which might make it uncomfortable for a smaller dog. If you have a medium-sized or larger pooch, then it will probably be a comfortable fit for them, while smaller breeds might find themselves unhappy. And remember that while the strap of the collar is adjustable, it is still just one collar; there is no option to purchase a specifically larger or smaller collar.
The button on the computerized collar that is used to change the intensity of the level of correction is not built deep or recessed in the collar at all. This means that it is possible for your pooch to press the button and make the intensity level of the shock increase without you intending for it to be on that level. You will want to keep that in mind.
It uses a shallow, in-ground boundary wire instead of something totally wireless. It is marketed as "wireless" because the transmitter runs on Wi-Fi, not because it does not use any wires. If you want a product that does not require you to buy any extra wire or bury anything, then this is most certainly not the one for you.
If you are going to be moving from one house to another or doing a lot of traveling, then this probably is not the right product for you. If you want to use it again at a new house, then you will need to dig up all of the wire that you buried or purchase totally new wire. That means you will have to make a decision between time and cost, depending on whichever you are willing to sacrifice more of.
Conclusion
Now, you should be more familiar with the ins and outs of the Friendly Pet Products Wireless Dog Fence system. That means that you are even more capable of deciding whether or not you want to purchase this fence, or an invisible fence in general. It is always a good idea to read other customer reviews out there before making a decision on whether or not you are going to buy a product, especially when it comes to the health and safety of your furry friend.
Do not forget, of course, that every dog, every backyard, every pet owner, and every circumstance is totally different. With so much variation, you are going to have to be very careful to read about different products on the market before making your choice. Otherwise, you could end up with a wireless dog fence that is not the best fit for you and your family. Research is important!