We may earn commission from qualifying purchases at no extra cost to you.
Learn more
Your Stubborn Dog's New Best Friend – It's finally summertime. The grass is green, the air is warm, and the sun doesn't set at 4pm! It's the perfect recipe for happy days outside with your dog – or is it? Some pet parents still haven't found a workable solution that keeps their fur baby safely in the yard.
Maybe you put up a fence, but your German Shepherd jumps over it if you turn your back for one second. Or perhaps your invisible fence is no match for your stubborn Boxer, who runs over the invisible barrier as if he doesn't feel the static shock.
At this point, your dog has run away so many times that you've stopped counting – and you're tired of being worried sick about him while he's missing. Is there an affordable solution that will let you and your pup enjoy the great outdoors safely and securely?
You're in luck! The doggy gods have heard your prayers and decided to smile upon you. Behold their gift to you: the PetSafe Stubborn Dog Collar!
2. What's So Great About The PetSafe Stubborn Dog Collar?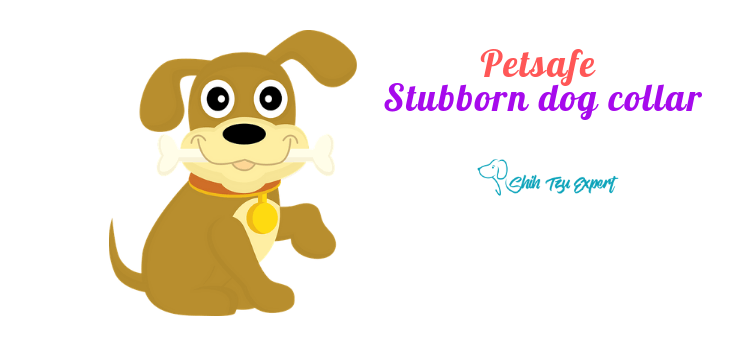 Not all dogs are daunted by a traditional fence, as you may have discovered the hard way. Your fur baby can jump a surprising height and dig with extreme determination. If your pup is a real escape artist, it's unlikely that any regular fence will hold her for long.
You can spend extra money to add height to your fence or bury some chicken-wire at the base so your dog can't dig under, but she might still find creative ways to escape – or just bide her time at the gate until someone opens it and she can dart to freedom.
With an invisible fence, you might, unfortunately, run into some of the same issues. Some dogs are so determined to escape that they'll run straight through the shock zone without batting an eye. Other dogs are difficult to train, whether because of their breed or their particular temperament. That makes it hard to them to learn to respect the fence and resist the urge to chase any squirrels they might spot outside of your yard.
But no matter how stubborn or silly your beloved pup is, you want him to be safe and happy at home instead of lost or injured if he runs away. This is where the PetSafe Stubborn Dog Collar comes into play.
If you're already using an invisible fence with a standard collar receiver, it's possible that the shock level is insufficient for your dog. Believe it or not, some dogs simply don't notice a lower level of correction and can't tell they're being shocked! It's plausible that your dog runs through your invisible fence because she hardly feels the collar warning her to stay in your yard. You can amend this issue by purchasing your pup a collar with a higher level of shock capacity, capable of getting her attention when she approaches the fence line.
Whether you already have a wired invisible fence or you're in the market for one, the PetSafe Stubborn Dog Collar works with many PetSmart in-ground fences (more on that in the next section). And the included collar is adjustable, fitting dogs with a range of neck sizes from 6 to 28 inches.
If you're shopping for an invisible fence, PetSafe's website boasts a helpful table that explains how much wire you need to enclose yards of different sizes. Check the chart to make sure you have enough wire for the property you plan to fence.
3. Will The PetSafe Stubborn Dog Collar Hurt My Dog?
No, it won't! The PetSafe Stubborn Dog Collar does not harm your dog. While it's true that the collar does give your pup a shock if he crosses the fence, he doesn't feel like he's being electrocuted. Instead, he feels a static shock, the same kind you get in the winter from touching a metal doorknob. The shock isn't meant to hurt your dog – it's only designed to get his attention.
That's why the PetSafe Stubborn Dog Collar might be precisely the solution you need for your dog. The higher levels of correction guarantee that your dog notices the collar when it alerts him that he's leaving your yard. This increases the odds that your invisible fence is a useful answer to your pup's wanderlust.
Rather than harming your dog, the PetSafe Stubborn Dog Collar communicates effectively with him and frees your dog to traverse the exciting expanse of your yard, instead of staying cooped up in your house or on a short leash while he's outside. Now your dog can run zoomies around your yard like he did when he was a puppy. With the collar keeping him safe, your dog is free to explore and play in your yard.
4. Check Carefully Because…
The PetSafe Stubborn Dog Collar is compatible with most of PetSafe's in-ground fences – but not all of them! It does not work with the UltraSmart Rechargeable In-Ground Fence or the YardMax Rechargeable In-Ground Fence. If you have either of those two fences, you might want to look for another collar that works with them.
If you already have a PetSafe fence or you're in the market for an invisible fence, here are the PetSafe in-ground fences that work with the PetSafe Stubborn Dog Collar:
Basic In-Ground Fence
This system comes with a transmitter, a standard receiver collar, a surge protector, training flags, and 500 feet of wire. The included cable surrounds up to 1/3 of an acre, and the transmitter can support up to 5 acres if you purchase additional wire. You can use 14-20 gauge wire, depending on your preference. With the Basic In-Ground Fence system, you can protect as many dogs (and cats) as you want – just be sure they're all wearing receiver collars.
Stubborn Dog In-Ground Fence
As you can tell by the name, this kit is meant for stubborn or hard-to-train dogs, since it includes the Stubborn Dog Collar. A transmitter, a surge protector, training flags, and 500 feet of wire make up the rest of the system. The included cable is 20-gauge, though the system works with 14-gauge, as well. Non-stubborn dogs can use this fence wearing the standard receiver collars, too.
Little Dog In-Ground Fence
Like the previously mentioned in-ground fence systems, the Little Dog In-Ground Fence includes a transmitter, a surge protector, training flags, and 500 feet of wire. The most significant difference between this system and the others is the smaller collar and receiver, meant for the tiniest of canines. Officially, dogs five pounds and up can wear the collar, though PetSafe tested the collar on dogs who weigh four pounds with great success. If you have a small dog with a large or stubborn doggy sibling, the Little Dog In-Ground Fence will work for both of them if the stubborn dog wears her Stubborn Dog Collar.
Additionally, the Stubborn Dog Collar works with PetSafe's Indoor Pet Barrier Transmitter. If you want to keep your dog out of the kitchen, craft room, or basement, the PetSafe Stubborn Dog Collar is an excellent choice.
5. Must-Know Features About The PetSafe Stubborn Dog Collar
The PetSafe Stubborn Dog Collar has four adjustable levels of static correction, higher than the scales on a standard collar. The receiver is completely waterproof, meaning your dog can go for a swim while wearing the collar. You'll need a standard 9-volt alkaline battery (not included) to power the receiver on your dog's collar.
If you don't like the included collar or you already have an invisible fence collar, you can put the Stubborn Dog receiver and prongs on a different collar of your choice. You can also use the receiver and prongs on a thicker standard collar if, for example, your dog wriggles out of thin collars too quickly. All you need to do is bore holes into the material to contain the receiver and prongs.
Most PetSafe fences allow you to add unlimited dogs and cats to your system. Whether you have two or twelve stubborn dogs, you can get each of them a PetSafe Stubborn Dog Collar and keep them all safe with any of the compatible PetSafe in-ground fences.
6. Important Details To Note When Buying
The name might seem self-explanatory, but it's worth noting that the PetSafe Stubborn Dog Collar uses correction levels consistent for the stubbornness of the dog. If your dog is generally well-behaved or learns quickly, she might not need this particular collar. Try a standard fence collar first, and upgrade if your dog needs a higher level of shock to get her attention.
The PetSafe Stubborn Dog Collar is meant for dogs eight pounds and up. If your dog is very tiny, the receiver on this collar will probably feel too big for her. Check out PetSafe's little dog collar options to find the perfect fit for your petite pup.
You can fence off only part of your yard if you'd like – for example, if you already have a fence across a portion of your property, you can add an in-ground fence to the open part. You can also bury a wire around sections of your yard that you don't want your dog to access – your flower bed, bird feeders, etc. Consider how you might use an in-ground fence on your particular property.
It's important to note that the invisible fence transmitter can't differentiate between your dog running away and your dog returning home after he escapes. Any time your dog crosses the buried wire, he receives a shock from the collar. That means if your dog runs away and returns home from his wild venture, he might not reenter your yard because he knows the collar will zap him if he crosses the fence. If that happens, just take your dog's collar off and bring him across the fence, then spend some more time positively reinforcing him to stay in your yard.
While PetSafe calls their compatible fences "in-ground," you don't actually have to bury the fence wire if you don't want to. You can hang the wire along an existing fence if your dog is prone to jumping or digging her way to freedom. Your dog would still be safe, and you'd save yourself the work of burying the cable. If you plan to hang your wire instead of burying it, just be sure to buy a kit with sturdy wire and enough insulation to survive being directly exposed to the weather.
7. Crucial Tips
Routinely check your dog's collar receiver for low batteries. About a week before the battery dies, the collar will display a blinking light to alert you that the battery is running low. The collar won't protect your dog with a dead battery! Get into the habit of examining the receiver for the low-battery light whenever you take the collar off your dog, so your dog is always safe when he's wearing his collar.
Make sure the collar is well-fitted around your dog's neck. Of course, you don't want it to be so tight that it's uncomfortable for your pup – but you also don't want her to be able to slide the collar off as soon as she's out of your sight. To get a good fit, attach the collar around your dog's neck, then put two of your fingers under the collar. The collar shouldn't feel tight against your fingers, just snug.
Help your dog gradually get used to wearing her new collar. At first, only have her wear it during your training sessions with the fence. Then praise her, remove the collar, and go back inside together. Gradually work up to playing outside while she's wearing the collar. It's recommended that you remove the collar at least once a day. Nighttime is convenient since your dog is likely ready to sleep (on your side of the bed, of course) and isn't scheming about running away.
Take the time to train your dog completely and consistently after you set up your fence. Plenty of patience and positive reinforcement (treats, belly rubs, and praise) go a long way into ensuring that your dog understands and respects the fence. The more fun your dog has in your yard and during training, the less tempted he'll be to leave!
During training, watch your dog for signs that he feels the collar's static shock – he might raise his ears, tilt his head, or look around for the source of the zap. That means the collar did its job and got his attention! If your dog doesn't react when the two of you approach the fence, raise the collar's setting to the next shock level. Remember, the collar only keeps your pup safe if he can feel it. Otherwise, he won't know where his safe play area ends and will feel free to wander into the street.
8. Pros of the PetSafe Stubborn Dog Collar
At the risk of repeating ourselves, this collar is specially designed for stubborn or hard-to-train pets. That gives hope to pet parents whose fur babies are canine Houdinis, are too big to feel a standard collar, or don't learn new information very well. If you've exhausted your patience with your big pup, the PetSafe Stubborn Dog Collar might just be your saving grace.
If your dog has hearing issues, you might have trouble training her to do anything, let alone help her understand where an invisible fence is! Help is here, however. The PetSafe Stubborn Dog Collar has a vibration option for training hard-of-hearing dogs. That means you can teach your hearing-impaired dog where the fence is and keep her safely in your yard like any other dog.
The collar receiver works with replaceable batteries from any store. You don't have to order proprietary batteries from PetSafe or wait for the collar to charge. When the low-battery light comes on, just swap the dying cell out for a fresh one, and your dog is ready to play outside again.
9. Cons Of The PetSafe Stubborn Dog Collar
Due to its specialized nature and stronger shock capabilities, the PetSafe Stubborn Dog Collar is more expensive than a regular invisible fence collar. Pet parents with a large number of stubborn pets might want to consider other options before buying eight collars.
You need to buy batteries on a semi-regular basis, which isn't a deal breaker for most people. But some prefer to recharge a battery instead of buying a new one, so it's worth mentioning.
The low battery light is small and on the bottom of the collar receiver. That means if you glance at your dog, you might not notice that the light is on. Check the receiver regularly to confirm that the battery is still functioning correctly. Remember, if the battery dies completely, your dog won't be alerted if he tries to leave your yard.
10. Conclusion
Maybe you don't have an invisible pet containment system for your dog yet, and you're on the fence (ba dum chhh) about whether you should get one. There's a plethora of reasons to try one of PetSafe's in-ground fences. Each system is reasonably priced compared to a traditional fence, which can force you to fork over thousands of dollars when a traditional fence might not even be a good fit for your dog!
Many conniving pups can easily escape from wooden or chain-link fences. (If you want to feel discouraged and impressed at the same time, search YouTube for videos of dogs escaping fences.) An in-ground fence also lets you keep your view and allows people to come and go without the hassle of opening and closing (or forgetting to close) a gate behind themselves.
And with the PetSafe Stubborn Dog Collar, even big, hard-to-train dogs have the opportunity to enjoy freedom in your yard. For extra peace of mind, PetSafe offers a warranty and 45-day return policy for the collar and fence.
Perhaps you already have a traditional fence or in-ground fence but are slowing realizing that your dog is a mastermind, capable of escaping any situation like a bonafide magician. Before you give up hope entirely, try the PetSafe Stubborn Dog Collar. Many pet parents are surprised that such a seemingly insignificant device can turn their prodigal pup into a dog who happily stays in their yard every day. Even working dogs who can't resist the sight of a deer, rabbit, or squirrel can learn to stay put! With the collar's return policy, it's probably worth the gamble for you and your dog.
You know your dog better than anyone. If you have yet to find a solution that helps you keep your pup safely in your yard, the PetSafe Stubborn Dog Collar might just do the trick. Consider your yard, your dog, and your lifestyle to determine if the PetSafe Stubborn Dog Collar is right for your fur baby.