We may earn commission from qualifying purchases at no extra cost to you.
Learn more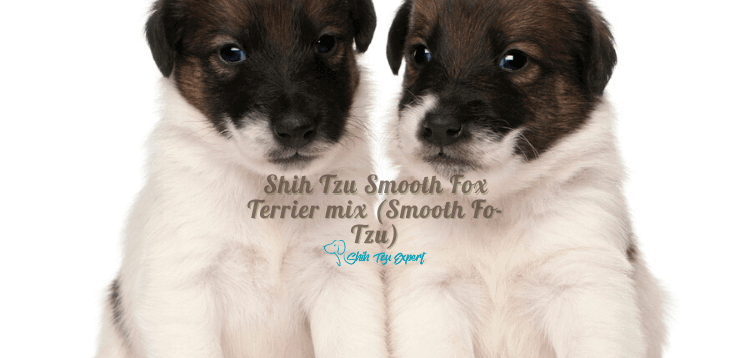 Looking for the right dog for you and your family can be a daunting task. There are so many questions and things to consider when choosing what breed or mix works best for you and your lifestyle. Will the dog be easy to train? Will they be calm around other dogs or pets? Will they get along with children? How much will it cost to have a dog or puppy? How much will they need to exercise? Will grooming be time consuming and expensive? This article will provide all this information and more about Smooth Fo-Tzus.
About Smooth Fo-Tzus
Smooth Fo-Tzus are a cross breed of Shih Tzus and Smooth Fox Terriers. The origin of this specific mix is unknown and is not officially recognized by the American Kennel Club or British Kennel Club. However, there is a long documented history for both the Shih Tzu and Fox Terrier.
Shih Tzus (also known as "Lion Dogs") were originally bred by Chinese Imperial leaders for the purpose of companionship. They likely originated from crosses between Lhaso Apsos and Pekingese dogs. Shih Tzus were often selected for their beauty and affection, making them ideal lap dogs. However, when communism entered China Shih Tzus were nearly non-existent as a breed, but survived due to the breed's introduction to the British and Americans around World War II. The British Kennel Club recognized Shih Tzus in the 1940s; the American Kennel Club recognized the breed in 1969.
Smooth Fox Terriers were originally bred for fox hunting in the United Kingdom around the 17th century. Fox Terriers were selected to be lightweight with long muzzles to ensure they could be carried in saddlebags and released to find foxes in their holes. Originally Fox Terriers were brown, black, or tan, however this made it difficult for hunters to find them in the woods, so white coloration was selected over time and is the coloration we see today. The Smooth Fox Terrier was officially recognized in England in the late 1870s, approximately 10 years later the American Kennel Club recognized the breed.
The Smooth Fo-Tzu's size, weight, and appearance will vary widely depending on which origin breed they take after more.
Despite very different origins and purposes, the Shih Tzu and Smooth Fox Terrier are somewhat similar in size and lifespan, thus the Smooth Fo-Tzu's life expectancy is approximately 10-16 years. The Smooth Fo-Tzu's can weigh anywhere from 9 to 20 pounds (4-9 kg). Depending on the sex, Smooth Fo-Tzu's can reach a height of 9.5 to 15 inches (24-38.5 cm).
There are numerous possibilities when it comes to the Smooth Fo-Tzu's coat and coloration. They can take after Shih Tzus' silky, dense coat or after the Smooth Fox Terriers' smooth double coat. The colors can be a combination of any of the following: Brindle, Liver, Silver, Black, Tan, Brownish-Red, and White.
Basics of Grooming
Whether your Smooth Fo-Tzu has a dense silky coat, or a smooth double coat will dictate your grooming practices. You may require different types of brushes or tools depending on the type of coat; double coats will require a deshedder or furminator brush to help release hair shed by the undercoat. A silky coat, although dense, does not have an undercoat that requires attention and assistance with shedding.
Both types of coats may be prone to matting and will need to be brushed a few times a week to prevent tangles that can be painful for your dog. Shih Tzus' coats require a lot of maintenance compared to the Smooth Fox Terriers' coats, so bathing and styling frequency will be to your discretion depending on your dog's needs.
Smooth Fo-Tzus' coats shed a minimal to moderate amount, again depending on what origin breed they are more like. The amount of shedding will not make a difference to allergy sufferers since it is the proteins in dogs' saliva that cause the allergic reaction, so no dog breed or hybrid is ever truly hypoallergenic.
Essential Products and Grooming Accessories
Depending on where you get your Smooth Fo-Tzu, an animal shelter or a breeder, your dog may come with some basic supplies like a collar and leash. Many animal shelters have a shop in the building and offer things like food, kennels, toys, collars, leashes and more. Local and chain pet stores like PetsMart, Bently's Pet Stuff, Animart, etcetera are where you can find a wide variety of supplies, but may cost more compared to ordering online from places like Amazon.com and Chewy.com.
Many pet stores also offer grooming services if you choose to not do that at home. One thing to keep in mind is that grooming your dog at home not only saves money, but is an opportunity to socialize and bond with your dog. Grooming is a time where you, as the owner, can get your dog used to your touch, listening to your commands, and show them that they can trust you in situations they may not particularly enjoy.
Some products that can help you get started with your dog are as follows (this is not an advertisement, nor is the writer being paid to endorse one brand over the other, this is merely a list of options):
Essential Grooming Products:
Other Essential Products:
Dog Clothes:
This is not a comprehensive list of every clothing item you may want for your dog, but items that may be useful to your dog, especially if you live in a rainy or colder climate.
Health and Care for Smooth Fo-Tzus
https://youtu.be/SiIRQlh-qJE
Like with any dog annual visits to the veterinarian, proper diet, dental care, and exercise are critical pieces in keeping your dog healthy. During annual veterinarian visits your dog's vitals (temperature, blood pressure, and breathing) are checked in addition to their weight, eyes, teeth, and ears. This is to ensure that your dog is healthy and functioning typically. The annual check up also includes vaccinations for rabies, temperament and other illnesses. If you ask, your veterinarian can also clean your dog's teeth and trim their nails during this time, for an additional fee.
If you are getting your Smooth Fo-Tzu as a puppy, you may want to consider spaying or neutering your dog. Spaying or neutering your puppy can help with temperament, and may help them be less territorial. It is a simple out-patient surgery that a veterinarian can complete in a few hours. Your dog will be unconscious during the operation, upon waking your puppy may be drowsy and disoriented from the anesthesia, but will likely recover from these symptoms within a day. You will need to monitor your puppy post-surgery to ensure he or she does not lick or bite their stitches to prevent injury or infection.
Other things to consider if you are getting your Smooth Fo-Tzu as a puppy is how old they are when you get them. Your puppy should be at least 8 weeks old before they leave their mother. If they leave her too soon it could lead to a variety of health and behavior problems. Once you have your puppy it is recommended that they eat food specially designed for puppies to ensure they acquire all their necessary nutrients for their growing bodies. They should be fed about four times a day, a daily total of about ½ – 1 ¼ cup of food. If your puppy is having any difficulties around meal time (i.e. refusing to eat, eating too fast, vomiting after eating) consult with your veterinarian. By the time your Smooth Fo-Tzu is fully grown they should be eating about 1 cup of food per day.
Some health concerns that you and your veterinarian should look for in your Smooth Fo-Tzu include:
Cataracts
Brachycephalic Syndrome
Exposure Keratopathy Syndrome
Patellar Luxation
Intervertebral Disc Disease
Eyelid Defects
Eye diseases and disorders
Wobbler syndrome
Deafness
Urolithiasis
Sebaceous Adenitis (SA)
Pulmonic Stenosis
Your dogs' teeth should be cleaned about 2-3 times a week to prevent tooth decay and gum disease. You can find dental foam, dog toothbrushes and toothpaste at your local pet store or online, some options are listed below (this is not an advertisement, nor is the writer being paid to endorse one brand over the other, this is merely a list of options) :
Training and Exercise
Since Smooth Fo-Tzus are a blend of Toy and Terrier breeds and are small in stature, they are content with less exercise than large and Working breeds. Your Smooth Fo-Tzu will likely be happy with playing fetch in your home, taking a few short walks a day, or play time in a fenced yard or dog park.
Training your Smooth Fo-Tzu should be a relatively easy task. Smooth Fo-Tzus are intelligent dogs and should pick up on commands with ease.
FAQs
How are Smooth Fo-Tzus with other pets and children?
Just like any dog breed, it is important to socialize them around children and other animals at a young age. This will help your Smooth Fo-Tzu become comfortable with being touched and handled by humans, and comfortable living and playing with other dogs, cats, etc.
What are Smooth Fo-Tzus' temperament and personalities like?
Smooth Fo-Tzus can be described as intelligent, affectionate, loyal, social, loving, and independent. Adequate socialization at a young age can turn Smooth Fo-Tzus into agreeable companions to adults, children, other dogs, cats, and strangers. These qualities make the Smooth Fo-Tzu a great dog for first time dog owners.
Are you a good match for the Smooth Fo-Tzu?
The ideal Smooth Fo-Tzu owner will have the time to keep a regular exercise and bathroom schedule. In addition to sufficient time to spend with their dog, an ideal candidate will have the financial resources to fund annual vet check ups, monthly grooming and feeding costs, in addition to money for toys, and any boarding costs when traveling without their dog.
Finding a Smooth Fo-Tzu
There are no official rescue groups for Smooth Fo-Tzus. This is likely due to the breed being a relatively new hybrid breed. If you are lucky you may find one at your local animal shelter or you can search for a breeder. When looking for a breeder, do your research, ask questions, meet the breeder and parent dogs, in addition to obtaining any medical records.
The American Canine Kennel Club, is a good resource for finding Smooth Fo-Tzu puppies and rescues.
Most Popular Names
When trying to decide what to name your dog, try to pick something that is one or two syllables and contains hard consonant sounds. Names that meet this criteria will be easier for your dog to understand. Try to avoid names that rhyme with or sound similar to commands or other family members' names, this will prevent your dog from being confused when you call their name.
Popular Female Dog Names:
Coco
Daisy
Callie
Zoey
Trixie
Stella
Sadie
Popular Male Dog Names:
Bandit
Baxter
Dexter
Duke
Champ
Max
Ziggy