We may earn commission from qualifying purchases at no extra cost to you.
Learn more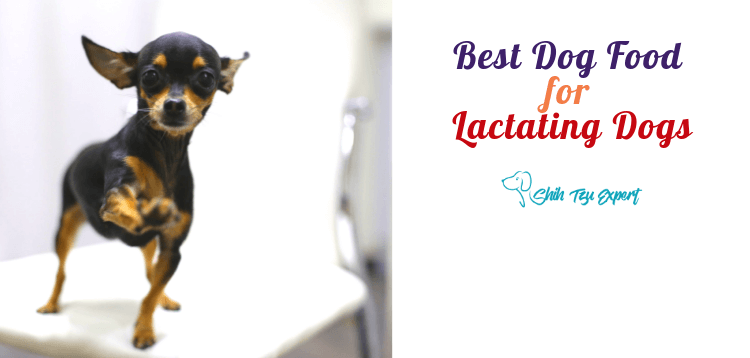 Did your favorite furry lady have babies? Congratulations! New puppies are a delightful way to bring love—and a little chaos—into your home. While those little bundles of joy take up lots of time, energy, and attention, you can't forget their mommy and her health needs.
Being a new mom is rough whether you are a person, a dog, or a bird. Your brand-new mama dog is going to need a lot of tender love and care during this time or she will have trouble providing for her growing furfamily.
But wait! You are already stressed and strapped for time and energy…
Of course, you are! That's why we're writing. We're here today to take on one of the big questions that plagues families with new puppies: What do you feed a dog after giving birth?
We're going to go over all the details. Are you crazy busy? Here is a quick cheat-sheet. 
Okay, now it's time to get specific about your little-mama's menu!
The Menu
The main rule to keep in mind is that she needs very nutrient-dense food. The regular stuff she loved before won't give her everything she needs while nursing. During this busy time, she needs a lot of good-quality protein, fats, and calcium. It's a lot of work to feed those pups!
Wait, you might be saying, don't I need to do all this for the new fur-babies as well?
Indeed! It is very common to recommend puppy food for nursing dogs. In fact, many of the formulas we reviewed were designed for puppies! This brings us to our first contender for the best pup-and-mom food on the market…
is a fantastic option for both mama's and their pups.
This low-carb and high protein food is great for all dogs with increased energy requirements from puppies to nursing mamas to those with the most active lifestyles.
In fact, it is VICTOR's highest protein low-carb option! This means that it is safe for the whole fur family and that you don't need to stock lots of different types of food. In other words, it saves you time and money.
It's got all the goodies that your favorite lady needs to keep up with her pups, including vitamins, minerals, fatty acids, tons of protein, and amino acids. It is specifically formulated to support healthy immune systems and digestion, which is perfect for pups and their mamas.
It is also made from gluten-free grains and is ideal for dogs with allergies! VICTOR took pains to make sure that common allergens like peas and sweet potatoes weren't in their food to make it easy on the taxed system of busy pups.
| | |
| --- | --- |
| PROS | CONS |
| Gluten-free | Contains grains |
| Good for the whole pup family | Contains meat meals |
| Fortified with vitamins and minerals | Contains preservatives |
| Contains essential fatty acids and amino acids | |
| Nutrient dense | |
This food also has plenty of calcium for nursing dogs. Just another bonus!
Right on! So, VICTOR is great if everything is going according to plan. Sadly, sometimes this isn't the case. Problems arise and, if left unchecked, they lead to negative health outcomes.
What if we are having problems?
All kinds of thorny issues can crop up during the nursing phase. For example in the very unfortunate situation like we experienced when one of the new born pups didn't survive, the stress and loss caused the mum to stop producing milk.
It was very tricky because the other 3 newborn pups were only 2 days old at the time.
In addition to adding more unneeded stress (based on our experience neonatal/newly born puppies are very difficult to look after, so do your research and ask as many experts & other who have been through the process. Most of the veterinarians will not even want to see the newborn puppies because they assume the chances of survival are VERY LOW!. But don't give up & don't do stupid things like euthanizing because the pups have simple medical issues like cleft palate), they can leave your head spinning with confusing questions:
What can a nursing dog eat to increase milk?
Why is my dog losing weight?
I am now sure she can't produce enough milk! What now?
Let's spend a little time talking about some of these tricky situations. First up, sometimes your little lady just can't produce enough food for her pups, which leaves everyone stressed out and hungry.
What can I feed my nursing dog to produce more milk?
Let's talk about what to feed nursing dog to increase milk. This may seem silly, but your best bet is making sure that she is getting enough food and water.
Think about it as an equation. If she is not taking enough liquid and calories in, then there won't be enough liquid and calories coming out.
So, bring on the bowls of water. Make sure there is always one close by and you might see a positive change in milk production.
A pro tip is to feed Calcium (Ca) tablets AFTER consulting your vet to jump start or increase production of milk.  Calcium dosage has to be highly regulated at all stages. Usually not more than 1 tablet per day should be fed.
While food is important it is not the only factor. In fact, no matter what the packaging says, there is no silver bullet. To get your dog to produce enough milk, to need to make sure she has plenty of good quality food, a comfortable and clean environment, lots of water, and regular opportunities to get outside. The ability to make milk is tied to her overall health, and the fact that she is not making enough should make you re-evaluate her routine.
Some owners recommend trying supplements such as milk thistle, zinc, and apricot. If you are having trouble, ask your vet if any of these options might work for your struggling mama pup.
While some new moms produce some milk, but not quite enough, others struggle to produce milk at all. In these cases, you'll need to explore other options.
What do I do if my dog is not lactating?
Sometimes, it just doesn't happen. If you've made sure that mama has everything she needs, but she still cannot produce enough milk to feed her family, there is no need to despair. There are high quality puppy formulas that can help you feed the little ones until they are ready for solid food. Our favorite is:
This easy to use milk replacement powder is designed for newborns and puppies up to six weeks old. Simply add water and the powder transforms into a life-saving formula specially created to be similar to natural milk. This formula literally saves the lives of orphans and other puppies that cannot survive on their mother's milk alone!
It is vitamin and mineral enriched, easy to digest, and great tasting. It's sure to leave your little guy wanting more. You can use it as either a milk replacement or to supplement the food of a puppy that is nursing. Packed with Vitamin A and C, it is all natural, preservative-free and made in the USA. Its highly digestible formula makes it a great choice for stressed dogs of all ages, which often have special dietary requirements.
| | |
| --- | --- |
| PROS | CONS |
| All natural | High in calories. Use care when creating mixture. |
| No preservatives | |
| Easy to use | |
| Complete food source for puppies | |
| Fortified with essential vitamins and minerals | |
| Highly-digestible | |
While lack of milk is a common problem, there is another issue that weighs on many nursing pups—using the restroom. Which brings us to an unfortunate question: What do you feed a nursing dog with diarrhea?
What to feed a nursing dog with diarrhea?
We recommend switching to a highly-digestible formula like
Taste of the Wild is beloved by many for formulas that mimic the natural diet of your dog's wolf ancestors. This mixture is no exception. You can feel confident that you are feeding your mama pup real ingredients you wouldn't hesitate to feed yourself—such as fruit, vegetables, and some superfoods for a kick of antioxidants. Taste of the Wild always guarantees that these ingredients are sourced from trusted, sustainable sources.
These real ingredients are supplemented with additional vitamins and minerals to promote optimal health. If you plan to feed it to the puppies as well, it is good to note that it contains DHA to promote brain development and to aid with vision.
Then there is the long list of baddies that Taste of the Wild banishes so that you aren't feeding your little mama (or her babies) gross fillers. This food contains no corn, grain, wheat, filler, artificial flavors, colors, or preservatives.
But wait! What about protein? Taste of the Wild has it covered. The number one ingredient in this dry food is real salmon, giving it an ideal amino acid profile and tons of protein so that mama can maintain muscle while caring for her little ones!
Plus, its mini pieces of kibble make it perfect for both pups and their moms, which makes it a great transition to dry food.
Regarding bathroom troubles, Taste of the Wild has added special proprietary probiotics that make it super easy to digest. That means that it is more likely to help your furry friend produce solid waste.
| | |
| --- | --- |
| PRO | CON |
| Good for puppies and mama, which means you won't need to stock different types of food. | Contains fish meals |
| Bo corn, grain, or wheat | |
| No artificial flavors, colors, or preservatives. | |
| Contains DHA for cognitive development and vision | |
| High protein (number on ingredient is salmon) | |
That's enough about bathroom problems! Let's move onto another food-related issue. Some little mommies have trouble staying big enough to care for their pups. Which leads us to another question: How can I help my new mom-dog pack on some pounds?
What to feed a nursing dog to gain weight?
While we've already established that it is a
good idea to "free-choice" feed dogs
that are nursing, sometimes offering unlimited dry food isn't enough. In these cases, you may need to turn to supplements. Think of these additions like training wheels—a little extra support, and by that we mean vitamins, minerals, and energy, to keep your pups going.
One versatile option is
There are two main factors to note about this liquid calorie supplement.
First, its special vanilla flavor is designed to lure the pickiest eaters into taking in some calories.
Second, it is crazy easy to use. You can either dump it over dry food to encourage more eating or mix it with water and…PRESTO! Your dog will be eating like a champion.
The second option—mixing it with water—is good if you feel like she isn't drinking enough. Remember, not taking in water makes it harder to produce enough milk!
For those who are having so much trouble that they won't go near dry food, you can feed it from plain from a spoon.
Each ounce contains a whopping 150 calories, so it will pretty much guarantee some weight gain. Plus, the creators take efficiency seriously. To make sure that you get the most bang for your buck, this liquid is created to put as much nutrition into each drop as possible.
While this is a great option for nursing mamas, it is also a good product to keep around once you've weaned the puppies. It can be used throughout your furbaby's life to add in some extra calories or to help him or her power through stressful conditions, including the most stressful condition of all—aging.
It is just for dogs, though. So if you have cats or kittens, make sure not to leave it unattended!
| | |
| --- | --- |
| PROS | CONS |
| 150 calories per oz. | Preservatives |
| Safe for dogs of all ages | Artificial flavors |
| Good for stressed dogs | |
As we mentioned, Dyne has a delicious vanilla flavor and they aren't the only one trying to lure in dogs with special tastes. There are other products specially designed to help those struggling with picky pups…
What to Feed a Picky Nursing Dog?
Let's talk about gel—the trendiest alternative to liquid! The
packs in high-calorie nutrition. In addition to being a great source of energy, it also contains essential vitamins and minerals.
The flavor is quite different from Dyne's, so if your little furmama didn't go for vanilla, try out this malt flavored option!
It also contains a very healthy mix of omega 3, 6, and 9 Fatty Acids that will help your little mama have a healthy heart, skin, and joints. Plus, they've added some protein for good measure.
| | |
| --- | --- |
| PROS | CONS |
| High-calorie | Preservatives |
| Safe for dogs of all ages | Artificial flavors |
| Good for stressed and active dogs | Not intended for long-term use |
Good stuff! We've talked about the basics, gone over some good dry food, a formula, and a few supplements. But what if you are the all-natural type who has the time and energy to commit to homemade meals?
That's right. It's time to talk about the DIY-option.
Got it! Now, into the weeds…
What is the best food for a dog after giving birth?
Before you can create the perfect diet, you need to become a pup-pregnancy expert. Let's do a little review of the basics.
First things first: if your favorite little girl wasn't at a healthy weight before she got pregnant, she will likely struggle as a new mom. We'll talk more about this later, but make sure to be extra-attentive to her needs if she was under or overweight before she got pregnant. If she was underweight, you should definitely consider a supplement.
Now, after your new little furbabies are born, mama pup is going to start losing weight fast. Don't be fooled! While it might be tempting to feed her less, she actually needs lots more food, sometimes up to three times the amount she ate before she got pregnant.
It takes a lot of energy (and, therefore, calories) to produce enough milk to feed all those little pups, so you need to make sure she gets plenty of food!
In fact, she is probably the best judge of how much she needs to eat to provide for her growing family. That's why it is typically a good idea to "free-choice" feed her. Essentially, this means keeping unlimited dry food out for her to nibble on as she sees fit.
The one exception is right after she gives birth. Often, the new little mama won't eat for hours (up to twelve). If she refuses to leave her babies long enough to eat after twelve hours, you should offer her something you know she loves to get the process going!
While your bank account might take a hit from all this feeding, it doesn't last too long. Puppies began transitioning to solid food around five weeks and they should be completely weaned off of mama's milk by eight.
So about two and a half months after giving birth, mama pup doesn't need to worry about milk anymore! Ergo, you don't need to worry about providing mountains of food for her and can go back to her pre-pregnancy diet.
Last but not least, don't forget the H2O! Mama's need access to an ocean of water so that she has enough liquid to produce tons of milk.
Homemade Food for Nursing Dog
Interested in becoming a puppy chef? We get it. During this stressful time, it's natural to want to take extra precautions and it can be comforting to feel like you are in control of every element of your dog's health. Unfortunately, it's probably not a good idea.
Like we mentioned, this is a very taxing time for your dog. She is working overtime and she has some pretty crazy nutritional needs. Experts and vets spend a lot of time and energy creating foods that can meet these needs. Trust the process. Otherwise, your pup might end up missing something she important.
It is okay—and, in fact, good—to supplement with human food as a treat. She needs oodles of calories, so you don't have to worry about giving her some dog-favorites like cottage cheese, peanut butter, and chicken.