We may earn commission from qualifying purchases at no extra cost to you.
Learn more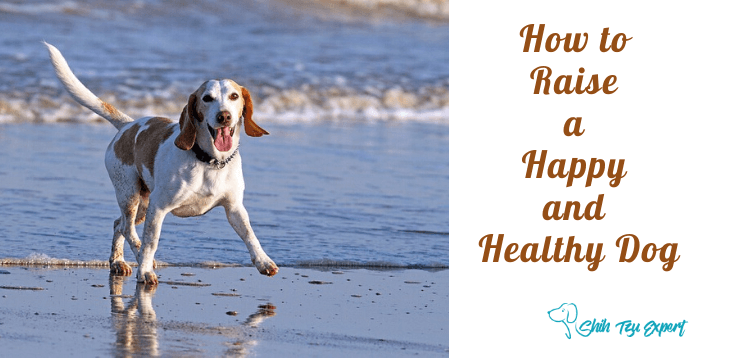 Our family's black lab, Ayla, jumped on everyone. At the age of five, I learned to call her inside when visiting friends drove in the driveway so she wouldn't rush out and knock them over as they got out of their cars. But then an incredible thing happened! One day when I was seven, Ayla was two years old, and my little one-year-old sister left the house. The house was abnormally quiet.
Where was she? Sometimes she played with the cat in the laundry bask. No, she wasn't there. Once she had snuck into the van and hid under the steering wheel. We checked, and she wasn't there either. We tried to keep our cool, but everyone was becoming frantic. Where was she? And the other weird thing, where was Ayla? Had Ayla jumped up and knocked her over? But everything was so quiet. Rinnnnggggg! It was Grandma. Hello? Did you know that Lydia is down here? Yeah, I just gave her a cookie.
She said you knew? Unbeknownst to me, my mom or dad, little Lydia walked out the door and down the road to my grandpa and grandma's house. And there was Ayla, our two-year-old hyper, overgrown puppy, with her. She was walking down here with Ayla right beside her, said Grandma. Ayle knew.
Puppies know. Dogs know. They are so smart. They can sense the situation. It's in the training they're brought up with and the behavior you demonstrate. But not that alone, it's also the sixth sense. Dogs have intuition and they know their place in the world. Give you dog a chance and advocate for your dog with your voice and your actions. Treat your dog with care and offer her a healthy home, and she will be your friend for ever.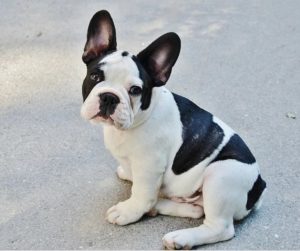 How do you know if your dog is happy? How do you raise a healthy, happy dog? There are so many questions worth asking when you are about to get a dog or you already have one.
There are many
things to know before getting a new dog
, whether it is your first or fifth time looking for this new furry addition to your family. This compilation of advise from experts and dog owners will help you get on the right track to educating yourself, planning for the big day, and following through with the next many dog-bonding years ahead.
Lifestyle: One of the most beautiful things about welcoming a dog into your family is that you have the ability to choose a furry friend who bonds with you in the way you appreciate. There are several considerations to allow room for prior to choosing a dog.
Certain homes are best for some dogs and not others. For example, some apartments restrict the breed or weight of pets to
non-shedding
or those weighing under 50 pounds. If you live in a farm house surrounded by plenty of woods and fields where you hope to allow your dog to roam, beware that dogs with long fur are likely to collect forest treasures in their coats and bring these delightful things into your home if you are not careful to groom them thoroughly each night.
No matter where you call home, that place will take on new boundaries and a new vibe with the welcoming of a furry pet. Will you choose to allow doggie fur and possibly potty mistakes in the living room, the kitchen, the bathroom, your bedroom? Will the boundary be no carpets or no wood floors? If your new dog loves to chew on things, maybe you will need to purchase a new shoe rack to keep your tasty sneakers out of reach. Do you hope to have your dog sleep with you on your bed? If so and if you have a small dog, maybe you will need a doggie step so she can climb up easily. Readying your home for your new addition is a good start!
If you travel often, getting a dog that will work well with this lifestyle will be convenient. Do you hope to have a dog-sitter for the times you are away? Does the dog sitter allow large or small dogs? Dogs that play with others or need their privacy? Alternatively, if you plan to bring your dog with you on your travels, choose one that is okay with long rides in the car, and in new places around new people.
Though it is very important to consider all the quirks of your lifestyle that you hope will work with the new dog you choose, openness to changing your schedule at least for the initial weeks of your newly-expanded family is highly recommended by reflective doggie families. Even the time of day and day of the week can make a big difference in having a positive kick-start to your new life.
For example, if you have guitar practice in the evening and you pick up your new dog for the first time just prior, she might have to wait in the car until practice is over before going home for the first time—and what if she isn't potty trained yet, or tends to chew on leathery arm rests? It seems to be a good idea to pick up your dog at the end of the week so that you have the entire weekend of his first days with you to give him your total attention.
Health
Vaccines: Vaccinations may help to reduce your dog's risk of infection by diseases. Considering the risks in your dog's lifestyle and environment compared to the risks of the vaccination itself will help you make an educated decision on whether you choose to vaccinate your dog or to choose another route to protect your furry friend's health.
Typically, a dog is vaccinated at eight weeks of age with the first round of hepatitis, distemper, parainfluenza, and parvo, then one to two boosters are administered a couple of weeks later.
An alternative schedule used by some dog families is to do these vaccinations only one time at sixteen weeks of age
only. This alternative method is used under the belief that, since each vaccination is an introduction of a small amount of the respective disease into the body and thus surpasses the immune system for the initial week and a half after vaccination, a dog younger than sixteen weeks may be more likely to have ill effects rather than positive ones, and the young dog might have the additional time to build his own natural immunity in these first vaccine-less weeks of life that would otherwise be undermined by an early vaccination schedule.
You can test your dog's immunity with tests offered at many veterinarian clinics or by yourself using Hemopet's Hemolife Diagnostics, in coordination with your veterinarian. These tests are called titer tests and they measure the level of antibodies in the blood that are naturally deployed by the body to fight introduced viruses. Two reportedly cost-effective titers are TiterCheck, which tests fever-causing disease distemper and contagious parvovirus, and VacciCheck, which tests for distemper, parvovirus, as well as respiratory disease adenovirus.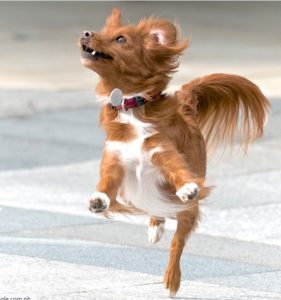 If you choose to vaccinate your dog, supplements are available to reduce the vaccine's ill-effects, and to overall boost her little doggie immune system.
No matter which vaccination method you choose, be mindful about where you take your dog during his first sixteen weeks of life to allow his immune system to build safely. Introduce her to different rooms and people in your household and occasionally to places where your family members frequent, but more closely protect these situations by carrying your dog to limit strange bio interactions until about sixteen weeks. Whether following the traditional or an alternative vaccination method, these first 16 weeks of life are critical for strong immunity building that will set the grounds for your dog's life of health.
Going to the Vet: If you ever feel concerned about your dog's health, take her to the veterinarian. Even if an illness is not a full-blown dangerous concern, and he just feels sad, there might be and underlying problem that is affecting your dog's overall health.
Nutrition: Nutrition varies depending on your dog's specific needs; allergies, age, size. Feeding your dog wholesome food helps them be healthy just like it does humans. At the least, the food your feed your dog should follow healthy food protocols from The Association of American Feed Control Officials (AAFCO).
A common alternative to AAFCO-approved dog foods is a diet of raw foods. Promoters of this method vote that the number one reason to avoid traditional dog foods is due to the mycotoxin and artificial preservative content in dog foods that can lead to digestive issues and cancer. A diet rich in raw nutrients may outweigh the dehydration and disease stressors put on your dog due to traditional dry foods. Supporters suggest using just one protein source to begin with, for example chicken, then add another source once she has been eating the first for one week.
Supplementing some highly nutritious vitamins in her diet will give your dog more energy and ability to learn and follow commands. On occasion supplement her diet with coconut oil to fight unhealthy bacteria and fungi, colostrum to give the immune system an extra boost, and pro and probiotics to further boost the gut bacteria. Additionally, due to the pH differences in raw versus dry foods, it is recommended to not mix dry and raw foods so that the bacteria in your dog's gut is not disturbed. Similar to a dry foods diet, feed your dog raw foods in accordance with how much he weighs.
If you choose an alternative diet of raw foods for your dog, promotors recommend starting right away from a puppy's first few days of eating whole foods. If you have already been feeding your dog traditional dry foods, it is not recommended that you transition slowly to raw foods but instead switch over completely right away.
Medications, treatments
Dewormers can be very useful in keeping your dog healthy and comfortable. Worms are a natural occurrence do to lots of outdoor play time, but not at all healthy. Many traditional chemical dewormers are available through your veterinarian or at most markets, and alternative options are available most everywhere you buy your own groceries. The alternative to chemical dewormers is to grate fennel root, watercress root, and carrot, and add approximately one half teaspoon of each to your dog's meal twice every day during high worm season when you notice your dog rubbing his bum against the ground or the furniture. Specific worm issues, such as tapeworm can be eliminated with a sprinkling of one teaspoon dried grated coconut on her food every day. Your dog's system will be further enhanced against parasites with the addition of a pinch of sea salt in her food once per day, one teaspoon maximum of apple cider vinegar in his water or sprinkled over her food, or one quarter teaspoon ground pumpkin seeds per every ten pounds of your dog's weight, sprinkled into his food.
Tick medications are also available through your veterinarian or a market, and extensively help keep these parasites away from your pet. However, they do contain pesticides that can be detrimental in the long run to your dog's health by harming the nervous system. The natural alternative to this medication is to rub her entire body (especially around the tail, along the belly, and the legs) with a mixture of one lemon, two chopped sprigs of rosemary, two chopped sprigs of sage, one chopped sprig lavender, in one quart water (preferably filtered). Steep this mixture for eight hours then use with a spray bottle, storing for up to two weeks in the refrigerator. Additionally, a mixture of essential oils of the above herbs plus eucalyptus or peppermint oils in one milliliter of a carrier oil such as coconut or grapeseed oil will do the trick as well!
Flea treatments are necessary likely every year, especially if you live in damp, temperate climates such as Oregon or other North coastal, forested areas. When you notice that your dog is scratching herself consistently, give her a bath once every week with castile soap mixed with a citrus essential oil, and follow up with a rinse down in diluted apple cider vinegar (dilute vinegar in water to 1:10). After the bath, groom her using a comb through the coat, being careful to pay thorough attention to beneath her tail, around the neck, under the belly, and down the legs as these areas are hot spots for fleas to hang out. To further limit the harboring of fleas in your home that may have been introduced by your dog, wash any bedding your dog sleeps on once every week with a gentle detergent and hot water. Also vacuum your home well every week, especially in the areas where your dog spends most of her time. Fleas lay eggs that grow to adults and this cycle repeats often and can last many months. Continue to stay on top of cleaning your home and your dog often until flea season is over and you notice no more discomfort in your dog.
Exercise: Professionals recommend exercising your dog often! This might mean making sure he goes out every morning to wander your farm. It might mean taking her out for walks through the neighborhood. Exercise should come in every day. Also include super exercise often, such as an occasional trip to play in the waves at the beach, go on a run with you, or rough house. Dogs are much happier and their bodies are much healthier when they consistently get to spend time with you getting their energy out. Research shows that exercise contributes to medical health too!
Exercising regularly can begin as soon as a puppy begins to walk. A traditional rule of thumb is to exercise your dog for five minutes per each month she is old. These exercises can and should be split into two to three times per day to give him the best energetic outlet and balance of rest and play.
Being able to allow your dog to play without a leash
will further give her freedom to have fun and run out energy, so utilizing your large backyard or taking at least one turn at a large dog park will be incredibly beneficial. Mind your dog's energy levels, and choose a short walk instead of a long ball-fetching game if he seems to slow down. Being tired is okay too!
Dogs rely on their owners to help them live happy lives and that happiness comes from your happiness. If you are sad, your dog iwll recognize it and empathize. If you are angry, she will feel intimidated or maybe aggressive. If you are peaceful or happy or excited, your dog will join in with you then too.
Training: One of the biggest things doggie families recommend in a positive training experience is to be consistent. Just as young children need balance of affection, teaching, and attention, to contribute to healthy behavior, so a dog needs not too much coddling yet not too little stern reprimanding at times. Keep in mind that a dog might feel neglected after the first week of attention-giving wears away and everyone goes back to their old routines. Creating new routines to share with your new dog such as Wednesday evenings fetching a ball at the park can help your dog feel cared for and loved once the excitement of the first week home is gone.
When teaching new commands, be consistent. Do not change the sign you choose for "sit," for example, because your dog might become confused about what to do, or may loose trust in you in general. Training is an ongoing process that you will both practice for your dog's entire life.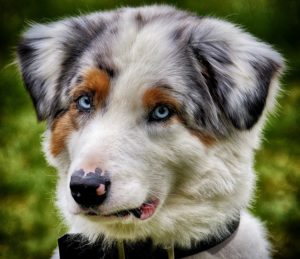 Potty training is one of the most discussed training points for people and animals because it has a big impact on wellbeing! As a dog learns to use the bathroom when she is in the proper place to do so, she begins to be able to go longer throughout the night without being awoken by a pressing bladder. Wetting his bed on accident is not fun for a dog just as it isn't for you. As soon as you are able to train your dog to use the bathroom in the correct place, you will be much less stressed and your dog will also be happier!
Teething is another challenge in training that can add stress. But allowing your dog to play with special teething toys that give your dog a chance to use his new teeth and comfort his aching gums will help the process. Additionally, you can ask your veterinarian about ointments or oils that are safe to use on your dog's gums as she teeth that may provide a numbing relief for a little bit of time.
Trainers remind us that a dog's behaviors do not translate directly to the emotions that humans have. For example, when a dog does not eat right away when you fill his bowl, it does not necessarily mean that he isn't hungry. Maybe she has a stomach ache due to needing to be dewormed, or maybe he likes to eat while no one is watching. It could be a whole host of things! A trainer can help you learn the in's and out's of your dog's personality so that you can understand his learning needs and how you can fill them best.
Learning together with a dog trainer may help you find the quickest and most effective methods for your specific dog, and both of your personalities.
Here's Why Routine Visits to the Vet are Important
If you own a pet, it's only right and responsible that you bring them to a vet clinic. Not only when they're sick. That's because the infections that your pets get could easily be prevented by bringing your pet to a vet for a regular check-up.
We know it's a cliché, but prevention is always better than cure. That can't be true enough.
If you follow a schedule for a regular check-up of your pet, good. But if not, you might want to consider doing this. It might cost you a significant amount, but it's nothing compared to your future expenses in any case (knock on wood) your pet contracts a disease or infection.
Below are only some of the reasons why you have to schedule regular trips to the vet if you need more convincing:
1. You can easily prevent eye and ear infections
Little cherry-eye inflammations may seem harmless at first, but they could pose a bigger threat if not detected early. Your pet could go blind if this infection remained untreated.
Much like eye infections, ear infections can also pose a big threat to your pet. Normally they are caused by ticks and other parasites that infest your pet's ears. If not treated immediately, this infection could be fatal.
If you're one of those pet owners who prefer treating these kinds of infections at home, we advise you not to do it again. This practice can only make it worse for your dog. We recommend seeking professional pet medical services from animal centres near you.
If you notice discomfort in your pet or any sign of eye and ear infections,  bring them immediately to your trusted vet for proper diagnosis and treatment.
2. Allergies are silent killers
If you own a pet, you should never underestimate minor allergies. These allergies can develop into major infections if they are left undetected and treated.
Normally, these allergies and all the itching are caused by wounds. It may sound normal but sometimes wounds could mean something bigger. Like an underlying condition. They are often linked to major respiratory problems and other diseases.
Once you noticed relentless scratching on your pets, it might be more than just itching. Consult a vet immediately.
3. Your pet's urine colour may be a disease indicator
If the colour of your pet's urine starts to change, your pet might be suffering from an underlying disease like a bladder infection or UTI. These kinds of infections can be caused by several factors like the cleanliness of their drinking water, food, and their environment.
If you notice a sudden change to the colour of their urine, don't just brush it off and schedule an appointment with your trusted vet. Make sure to have your pet checked before this infection turns into a bigger problem like kidney failure. Yes, everything could go south from there.
4. Your pets are not exempted from arthritis
Pets grow old, too. As they grow old, they also become more susceptible to conditions like arthritis. One thing you'll notice is that they are not as playful as they used to be. Some tasks are once as easy as 1, 2, 3 for them, but now, they can be quite a challenge.
While slowing down physically is normal in pets, arthritis can make it worse. But it can be managed or treated by licensed experts. If you see any sign of this condition in your pets, bring them to a vet that specialises in this condition.
Regular trips to the vet can cost you an arm and a leg. But this is a responsibility you can't get away from.  Keep in mind that it's nothing compared to the price of treatments and medicines that are needed in case your pets suffer from a disease.
If your pet doesn't have a go-to vet clinic yet. It's better that you look for one now. So in case of emergencies, you can simply go to that clinic for treatment.
Behavior
A happy dog needs lots of balance in life, just as we as humans do. A balance of solo time, play time, sleep, hydration, and nutrition makes up the health pyramid. Training your dog to enjoy time in a crate or a corner with his own bed and toys may help your dog get the solo time that she needs since dogs naturally enjoy den-like spaces due to the protection and silence they offer. Your dog may need more alone time depending on the time of year or the weather. For example, Christmas time often brings lots of people and excitement that your dog may need a break from. Cold or cloudy and wet weather can bring a sense of quiet to people and dogs too, and allowing your dog to take that quiet time to sleep more curl up in a warm place can help her overall mood.
Consequences: Punishment should always be with affection. If you are feeling angry, take a few moments in a bathroom or with your eyes closed to count to ten, breathe slowly, and let peace overcome your aggression. Then proceed to redirect your dog using a kind and firm voice with gestures. Do not ever hit your dog or pretend to do so as this will not teach your dog to be confident, protective, and loving. Research shows that dogs that were treated with aggression learned to be aggressive themselves towards their families and others.
Dogs learn best between three and sixteen to twenty weeks old. If your new dog is within this range, use this time to teach new things! If your dog is older, remember that it is not entirely possible to change the personality or behavior, but old dogs can learn new tricks!
Social time: Spending time with your dog around other dogs and other people can help your furry friend become a friendly, laid-back sort. When you cautiously introduce your dog to others, use a kind and inviting voice that doesn't hold nervous undertones that your dog might translate and aggression and a reason to pick a fight. Taking your dog to many new places will help her become confident. For example, noisy construction sites, along heavy and honking traffic, out into the rain, to parks and the beach, in quiet forests, home when visitors come over, and out to meet all sorts of people: children, very old people, screaming babies, people who use crutches or wheelchairs, loud crowds, people wearing hats or snowsuits. Allowing your dog to experience many different environments will help her be very brave and easy going!
Emotions
Love/parenting/advocacy: Sometimes other people and distractions in the world can stress your dog out, and you are the steady companion that helps her feel safe. Use your voice to make sure others treat your dog well! Do not ignore your dog when others yell him or pull her tail. Teach small children how to gently pet your dog where he likes to be pet. Ask families with off-leash dogs to please respect your on-leash dog's space. You are your dog's world. A dog wants to love you and wants you to love him.
When you choose your dog, you commit to being that dog's family for the rest of her life. You new dog learns quickly to love and trust you, and is committed to you even as you ought to be forever full committed to him.
Happy parenting!