We may earn commission from qualifying purchases at no extra cost to you.
Learn more
What is a self-service dog wash?
A self-service dog wash is an alternative way for cleaning your dogs and keeping them well groomed. This service is not always advertised as much as grooming, but it is a common method used for self-service dog grooming. It is a convenient option that many groomers offer for you to wash your dog at their location. They provide the area, shampoo, water, towels, etc. It is a way that can give your pet a thorough bath without having to worry about the mess afterwards.
Importance of grooming
Whether you wash your dog at home, use a self-service dog wash, or have your dog professionally groomed; grooming plays an essential role in your dog's overall health. Consistently grooming your dog can help control shedding, remove dirt and dead skin cells, and help lower allergens for your pet. How often you wash your dog is dependent upon the breed, but it is a good idea to consult with your vet to get specific advice. A good rule of thumb is to at least make sure you are washing your dog every few months. In addition to bathing your dog you should also be sure to frequently brush your dog's fur and take care of his/her dental health. Keeping up with your dog's hygiene may help prevent allergies, sickness, and future health problems.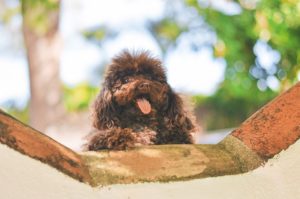 Perks of a self-service dog wash
There are several perks associated with a self-service dog wash. It is affordable, convenient, and effective. The price associated with a self-service dog wash is cheaper than paying for a full grooming service. Even though you will need to do a lot of the work when it comes to cleaning your pet with a self-service dog wash, you will still get a lot of benefits as you would with a full grooming service. You will be provided with all the cleaning supplies, shampoos, and other necessary items needed for the dog wash. Most self-service dog washes also provide grooming services, so the shampoos and other items are typically quality products. Even though the groomers will not be doing the services for you they are there to help with any questions you may have about operations in the facility or even provide advice when it comes to grooming. So, although it is "self-service" there is also a level of professional support that you won't get with bathing your dog at home. Another perk of a self-service dog wash is the level of convenience that it provides. Most facilities do not require an appointment to come in and use the self-service dog wash. Therefore, you can go when it is convenient for you and not have to worry about penciling in a specific time to take your dog to the groomer. The other major convenience that it offers is allowing you not to stress about the mess left behind. With a self-service dog wash you don't have to worry about messing up your bathroom or wherever you usually wash your dog. Most facilities advertise to leave the mess behind, and they will take care of it. Obviously, there may be exceptions, however these facilities are made for dog cleaning and grooming and should be easy to clean.
Lastly, the self-service dog washes are effective and safe. A lot of grooming facilities offer unique spaces and tubs to use. Most of the areas are very spacious and offer additional safety features for you and your dog. A lot of the bathtubs are adjustable and/or have walk in capabilities. This may be important to you depending on the size of your pet. If you have a smaller
dog the adjustable bathtubs will allow you to raise it so you will not have to hurt your back to effectively clean
your pet. The walk-in functionality is also a back saver for those who have larger dogs and have trouble lifting them into a bathtub. In addition to protecting your back, there are features in place to protect your pet. Most of the tubs include no slip grips at the bottom of the tub to keep your pet from falling or slipping. Your dog will also be more comfortable since you are the one who will be washing him/her. This is a great way if you have a timid dog to get them into a new environment, but still allow them the security of having you close by. You will want to check with your provider what options they have, but most of these are standard in self-service
dog baths
. Your pet will be in a secure and contained environment that has quality cleaning products to ensure your pet's hygiene and safety is the number one priority.

Drawbacks of a self-service dog wash
A self-service dog wash is a different way to clean your pet and a decent option for a lot of pet owners. However, there are a few things to consider when it comes to choosing this option. The cost and labor associated with a self-service dog wash are the biggest cons associated with it. Even though the self-service dog wash is considered
an affordable alternative to grooming
, a lot of pet owners have made the presumption that if they are going to pay to have their dog cleaned they would rather pay the extra amount to have a professional groomer to do it or would handle it at home without the additional costs. If you have the space to wash your dog (either a large bathtub or backyard area) it may be more cost effective to handle at home. You will need to take into consideration the
cost associated with dog shampoo
and other items, but in the long run you most likely will be saving money to handle it yourself if you bathe your dog frequently. The other downside to the self-service dog wash is it you will be paying to wash your own dog. You will need to anticipate getting your clothes wet and dirty while washing your dog. The
self-service dog wash also does not include a lot of the other options that come with a grooming service such as nail trimming
, fur trimming, de-
shedding
, etc. Although these may be purchased al a carte, they do not come with the standard prices of the self-service dog wash. It is meant to be a middle option for those who are not looking for a full grooming service but need the space and tools to wash their dog.
What to look for when choosing a self-service dog wash
If you are looking to try a self-service dog wash, there are a few things to take into consideration before choosing a facility to go to. The most important thing to look for is the quality and variety of the products that they offer. Most facilities that offer the self-service dog wash also offer grooming services, so they typically keep a variety of products on hand. If you are choosing a well-known facility near you be sure to do your research on their reputation and products they offer before going. Some facilities will share the products that they use on their website—if this is the case it will be beneficial to look here so you can research the products beforehand. Obviously if your pet has allergies you will need to find a place that offers hypoallergenic solutions and maintains a clean facility. In addition to having a facility with quality products it is also important to ensure that the safety is a priority for the location as well. The best way to evaluate the safety of the facility it to visit before and see it for yourself. It is important to have a large area with easy access for you and your dog.
If you plan on taking your pet to a self-service dog wash frequently it will also be beneficial to investigate the pricing and rewards programs that some of the facilities may offer. A lot of grooming facilities will offer perks and frequent customer
cards
that you can take advantage of. The way they handle their pricing may differ from facility to facility. Most of the time the pricing is associated with the size of your dog due to the increase in use of products and water during your session with larger dogs. However, there are some facilities that offer a flat rate for the service. Most self-service stations offer sessions with a range of 45 minutes to an hour. The additional perks and benefits are a nice add on and ways to potentially try other services or receive future discounts. The last thing to take into consideration is additional features or al a carte items they may offer with the self-service wash.
Additional features 
Like grooming services, a self-service dog washes can offer different features and experiences as additional add ons. A lot of the upgrade options are also additional services for the grooming services. Some of the most popular options are nail trimming, ear cleaning, and dental cleaning. The nail trimming is a popular feature because it may not necessarily be needed every time you take your dog to be cleaned, but something you will want to pay for when it is necessary. The ear cleaning and dental cleaning is something that may be beneficial for specific breeds that are prone to ear infections or dental issues.
Aerated bathing systems are also an additional upgrade to a typical self-service dog wash. An aerated bathing system uses a unique nozzle to provide a combination of water,
shampoo and air to clean your dog
. This unique combination allows you to thoroughly comb your pet's fur and permeate the coat to break up hard to clean oils and dirt. This system can also save a lot of time compared to traditional bath, so it may be a good option if you are pressed for time when you take your dog. Since this system is so unique it is not offered everywhere.
Another alternative bathing system for your pets is bubble soak therapy. This is extremely beneficial for dogs who have allergies and arthritis. It gives your pet the opportunity to soak in quality cleansing products to help rid their fur of allergens and provide relief to sore joints and muscles.
Other popular upgrades are de-shedding services and tools. Sometimes their tools are available to use within the basic package of the self-service wash, however sometimes there are services available to help your pet with future shedding. These are all some of the most popular options, however each facility may have unique offerings so it is important to do your research beforehand to find out which facility will be the most beneficial for you and your dog.

Tips for your first time taking your dog to a self-service wash
Is this your first time taking your dog to a self-service wash? No worries, we have some helpful tips for you.
In order to take your dog to a facility like this you need to make sure they are fully up to date on their vaccines for the safety of your pet and others.
Bring a leash! These facilities require you to bring a leash to help contain your pet.
Do not leave your pet unattended. This goes without saying, but it is your responsibility to take care of your dog while you are there.
Wear clothes that you don't mind getting dirty or wet, because it can get messy.
Pack a few treats for positive reinforcement. Especially if you plan on taking your dog here frequently.
You do not need an appointment to show up and use the self-service wash, however most facilities ask you to be there half an hour to an hour before closing. If it is your first time it will be beneficial to try to go during non-busy hours so the professionals can be there to answer any questions you may have.
If you are unsure about the shampoo and other products, they use you can bring your own as a backup.
Before washing your dog, it will be beneficial to thoroughly comb/brush your dog beforehand to keep his/her fur from getting matted.
Feel free to call them and ask any questions you may have! Most of these locations offer grooming services and consultations so they will not mind answering a few questions over the phone if you are still hesitant about taking your dog to a self-service wash.
How to find a self-service dog wash near you
Self-service dog washes are usually easy to find. Check out your local pet groomers' websites to see if this is a service that they offer. Most of them do. Even if it is not advertised you can always stop by or give them a call to see if this is a service that is offered.