We may earn commission from qualifying purchases at no extra cost to you.
Learn more
Superb clippers for professional animal grooming, even at home! The Oster Pro 3000i Cordless Pet Clippers with Size 10 CryogenX Blade saves both time and money!
None of my dogs gave me any problems while using this clipper.  It's easy to use on my puppies, and they don't even know they are getting a trim!
Don't overcharge the unit, and make sure you keep your clippers cleaned and oiled.  You'll never have any problems with them.
Motor: Rotary, 10W, Max 3000 Strokes per minute (spm)
Cord/Cordless Charge: Cordless
Blades: Cryogen-X Detachable Blade, Size 10
Maintenance: Is it easy to clean/oil/sharpen?  Yes
Weight and Ergonomics: Heavy, 1.3lbs
Heat and noise:  Some noise, some heat
I based this article on my life with dogs of various breeds, mostly medium to large dogs.  Currently I have four dogs, all mixed breeds with medium length thick fur.  I also live in the middle of farmland so knowing how and being able to trim my pets' fur, and having the best tool for the job is beyond important.
Performance Review:  The Oster Pro 3000i Cordless Pet Clippers with Size 10 CryogenX Blade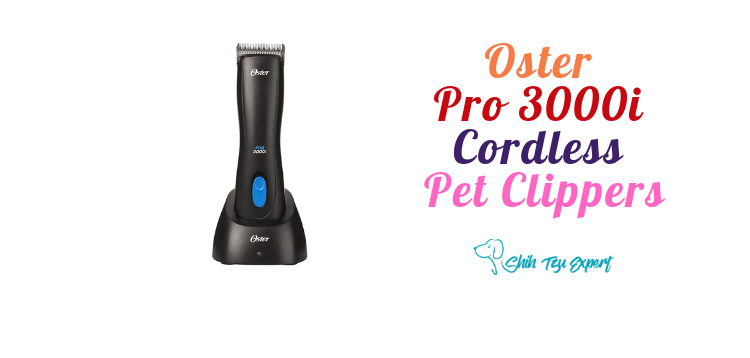 Living in farm country means a lot of dirt, wind and water.  We live near the canals, and out here, the weather fluctuates, at times wildly.  We can go from a beautiful mild day to scorching temperatures and blistering sun literally overnight. All of this can get to be very taxing on our dogs coats and expensive on our bank account from vet and grooming expenses.  Our dogs can also be very temperamental and fussy, so I need a unit that won't hurt their ears or frighten them.
All of my dogs are constantly moving.  They never stop, and living in the middle of fields they find every mud pit around and all always swimming in the canal.  Their fur is always full of crusted dirt and tangled mats a constant problem, so I am always looking for a good pair of clippers that will  hold up over time.  None of my dogs ever stands still,  and they are all rescues with anxiety and stress related trust issues.  One wrong move, and I risk getting another scar.  None of my dogs any issues as far as noise, even though I had read enough reviews to think it might be a problem.  In fact, they were very curious about it, and with the amount of sniffing and licking the moving blades they did, I think they thought it was a new toy.
The fact that this unit is cordless was a huge help.  My dogs are known to dart and dash after anything that moves regardless of what we're doing and a corded unit would have been a big issue, and it's an issue I was completely able to avoid.  Even with all the wriggling, I was able to get all the crusted mat's trimmed off their coats, while holding them in place so that they couldn't run off anywhere.
Even though it's a larger, heavier unit, and I'm pretty tiny, I didn't have any issues with the size or weight.  In fact, I found it helpful to have a larger unit.  My spouse is larger than I am, and didn't have any issues either.  Both of us found the unit to be very comfortable to hold while we were working with the dogs.
The lithium-ion battery pack was a great feature and a huge help.  With it lasting for two hours, it was extremely easy to get all of the dogs cleaned and trimmed without having to recharge the unit.  With as fast as my dogs can get dirty, that's a big help.
The unit is easy to maneuver, even with dogs that move around as much as mine.  I didn't have to adjust anything for any them.  The standard size 10 blades worked well for all of them, but other sizes are available if the need ever arises.
The unit is easy to maintain, and the blades are easy to remove to change out for another size if it every becomes an issue.
Check Carefully because…
The charging indicator may not shut off when battery is completely charged.
The MUST Know, True Facts about the Oster Pro 3000i Cordless Pet Clippers with Size 10 CryogenX Blade:
The Oster brand is a major manufacturer and established leader of home appliance, personal care and pet products, which are built for supreme performance and designed to last.
This powerful clipper features a well-designed housing for that will allow for hours of grooming comfortably.
This clipper is best for professional animal grooming.
Included in the package is a high-capacity battery pack.   The battery pack can be charged separately from the clipper.
The battery is a long-lasting Lithium-Ion battery for optimum performance.
What to watch out for with this product?
There are two (2) things to check before buying this product. Please read them below in the Problems section.
Crucial Tips:
Some heat in the unit is to be expected.  The clippers having moving parts which will cause friction.  If it starts to get a little too hot, simply turn off the unit and move onto something else temporarily while the clippers cool off.
Things to Remember When Researching Which Tool to Purchase:
Getting the right tool for the right job
A pet owner working with only one breed like Goldendoodles will not require the same type of clippers as a pet owner working with multiple breeds.  A pet owner working with multiple breeds will not require as extensive a set as a groomer or veterinarian with a much larger group of animals to work with.
Know your motor
Not every situation will require the same type of motor for the unit.  Here's a good way to know which motor will work best for you:
Pivot Motors — high power (more strokes per minute) with a lower blade speed (these work best on coarse or matted coats)
Rotary Motors — gives equal power and blade speed (works for most cuts and coats, best for average pet owner)  ::  This unit has a rotary motor and is perfect for most household groomers.
Magnetic Motors — delivers lower power but higher blade speed (best for bulk trims)
Detachable blades vs. combs
If you're working with multiple breeds or types of pets, using detachable blades is a great option.  If not, usually only one blade, and changing out combs dependent on fur length might be a better option.
One Speed or Variable Speeds
Again, this depends on your situation.  A clipper with variable speeds will allow to you easily change from the base speed (good for normal trimming) to a higher speed for quickly cutting through thick fur or mats.
Unit weight and size
The heavier the weight, the more durable the unit, yes.  However, not every dog will require a heavier or larger clipper.  Toy breeds, for example, are small enough that a larger unit would not be necessary.  Also, a very petite person with small hands and wrists, or the person who only grooms their pets occasionally, may want to consider a smaller unit as well to avoid wrist fatigue or cramps.
Corded or cordless
Corded clippers do  have the benefit of not having to worry about the battery running low and having to recharge in the middle of clipping your pets.  However, some pets are too large, or may move around too much to allow for corded clipping.  Cordless clippers have the advantage that you don't have to stop and readjust just because your dog is moving around while you're trying to give them a trim.
Noise
Noise can be a huge factor to a dog.  Their ears are far more sensitive than ours, and some clippers may just be too loud for them.  Choose your clipper with as much care for your pets hearing as you do for their fur.
Upkeep and maintenance
Just like any tool, clippers do require basic maintenance.  Make sure you clean out the blades regularly to keep them sharp and free from any stray fur.  Also make sure you oil them regularly to ensure that they don't burn out over time.
Benefits and Features

Problems

Pros

Easy to switch detachable blades
Well-designed housing for hours of comfortable grooming.
Excellent power and versatility
Works great on clipping thick or matted fur like that on a Yorkie
Popular with pet groomers
Excellent aid in keeping pets' coats groomed for maintenance, health and overall well-being
Lithium-Ion Battery for over 2 hours of clipping before recharging is necessary

Cons

.Batteries may have short life, several complaints noted about not charging completely, poor battery life
Clipper can be noisy, some dogs with sensitive ears may react
Frequently Asked Questions:
Can I buy extra batteries and spare chargers? Yes, batteries and chargers are available for purchase separate from the initial package.
What comes with the initial package? The Oster Pro 3000i Cordless Pet Clippers with Size 10 CryogenX Blade comes with one battery, charging stand and power adapter, blade oil and cleaning brush.
What other accessories are available for purchase? Check with your local repair center for parts and accessory availability
Will this work on other animals? Yes.

 

This clipper has been designed for use on dogs, cats, horses and other livestock.
Does this clipper require blades made by Oster? No.

 

This unit uses ALL A5® Detachable Blades
Does the battery need to stay in the unit if the cord pack is in use? This unit has not been found to have a cord pack for corded charging and use.
Is there a "memory effect" problem with this battery? No.

 

This battery does not have a "memory effect" issue, and you can charge it at any time.
How long does the battery last when not in use? The Lithium-Ion battery loses only 3% of its charge a month when not in use.
What are the benefits of a unit that has a Lithium-Ion battery? A Lithium-Ion battery benefits include minimum charging loss and efficient current transfer which reduces the number of charges required and losses during operating intervals.
Does this product have a warranty? Yes.

 

It has a one-year limited manufacturer warranty.

 

The warranty covers defects only. Contact manufacturer for details or additional questions.
Does the manufacturer offer repair services? Yes. Oster does offer repair services in their facility or they can offer you a local dealer for repair.

 

Service fees may apply.
Can I trim my dog's fur immediately after bathing, or does he have to be dry? While you can wash your dog thoroughly before trimming to ensure he has a clean coat, it is always recommended that you ensure your dog is completely dry before trimming.

 

This will avoid damaging the clipper, and avoids the potential of hurting your dog.
What would you recommended, purchasing one model and all accessories from the same company?

 

Or would you recommended interchanging with different manufacturers? I have never had problems mixing and matching between companies, and in my case is quite useful as I work with many types of breeds and not just one.

 

If I worked with only one breed, then my answer may be quite different.

 

I require the ability to change blades for each individual dog, and it works better for me this way.
Does this model have multiple speeds?. No.

 

The Oster Pro 3000i Cordless Pet with Size 10 CryogenX Blade is a single speed unit.
How often should I refresh the battery? This unit does not offer a refresh option when charging.
What's the difference between using a detachable blade and one that is not detachable?If you work with only one breed of dog, then a non-detachable blade would be just fine for your situation because you will only be trimming one type of fur and will need only one size blade. A person who works with multiple breeds, or different types of animals, will be dealing with multiple types of fur, and many different situations which will require a variety of blade and comb sizes available to them.
*Note:

 

While the unit will work with competitor's blades, Oster does have the largest selection in the industry, for the widest variety of use.
What other manufacturer's blades will fit this unit? Yes, all A5® detachable blades

 

will fit this clipper.
How heavy is the unit? At over 1lb, the Oster Super AGR+ Rechargeable Detachable Blade Clipper is on the heavy side, and some customers with smaller hands have complained about that.

 

I have not found it to be a problem with working with any of my dogs.
How durable is the unit? The durability is part of the reason the unit is heavier than others.

 

The clippers are ergonomically designed, and made for long use.

 

The unit has a break-resistant housing that feels indestructible.
Why does this unit cost so much more than other clippers? In this world where so much has gone the way of being disposable, the Oster Super AGR+ Rechargeable Detachable Blade Clipper is a refreshing change.

 

It is durable, long-lasting and versatile.

 

It is a great blade for overall long-time use, and the price is offset by the savings you'll see over time.
***Note:

 

The price on this model has been noted to vary greatly based upon sellers, including manufacturer.

 

Before finalizing your purchase, compare prices at various retailers to find best price and availability.

 

Some manufacturer's may not be able to advise of any available discounts based upon contract with the manufacturer so you may find a place that will sell it for less than what they can show you.
How does this clipper compare to other Oster models? Options vary greatly.

 

The Oster Pro 3000i Cordless Pet Clippers are a great choice for the average pet owner, but make sure you do your research and choose the best option for your needs and situation.

 

Current available options for Oster Pro as found are:

Oster Animal CareContact Information
Customer Service at 1-800-830-3678, Monday – Friday, 9am-5pm EST.
CONCLUSION
In my opinion, the  The Oster Pro 3000i Cordless Pet Clippers with Size 10 CryogenX Blade
is well worth the price I paid for it.  Yes, it was expensive, but it is an easy to use, quality product and works great on all of my dogs.  It also works as a future investment for any other pets I may get in the future, or if I invest in larger size livestock.
I was a little worried about the battery power lasting since I have a small pack of small dogs, but the lithium-ion battery lasting me a couple hours, I didn't have any issues with the battery holding out, and didn't have to recharge once.
I also didn't have to worry about the size or weight of the unit.  Even though I have tiny hands, the unit has very easy maneuverability, and  the cordless feature allowed me to hold onto my dogs with one hand to make sure they didn't move, and trim their fur with the other so the job got done quickly and effortlessly for everyone involved.
I was very pleased with how all four of my dogs reacted to the new clippers.  Even with all of the different temperaments they each display, not one of them had any issues with the noise, or heat from the clippers.  Since all the dogs I have now have short to medium length hair the blade that came with the set worked extremely well, but I have every intention on stocking up on a few different sizes since all of our dogs are rescues and I'm positive we'll be getting more in the future, as well as a few other different critters with varying lengths and thickness of fur.
.
I've seen a lot of other reviews for this product, and others by Oster.  I also have a lot of their other products in my home, and I never have a problem with any of them.  They last for years, I never have to replace any of the components.  The Oster reputation is solid, and in the grooming world they are loved by dog groomers, veterinarians and professional horse grooms alike.  It's almost impossible to find a negative review.  There are a few out there, but the positive reviews so far outweigh the negative there's no comparison, and the only complaint I found has a easy and effective solution for it.
I do want to touch on that price.  I know that if you think about it, it seems absolutely silliness and extravagant to spend a few hundred dollars is a lot for an item that the average person at home may use only once a month or less, and maybe even wasteful.  But when I compared the initial expense to the total savings over a lifetime, and taking into consideration that I will likely never have to make an investment like this again solved that question in my mind rather quickly.  Take into consideration everything you get when you make the investment: the clippers, battery pack, charging system does make it a fantastic deal, and truly affordable.
I love that I can use this clipper as often as needed, for either a quick trim, or a full clipping.  With the running around that my dogs do, it's always good for me to have a clipper that works when I need it to, every single time..  I do recommend that you work with your pets anytime you are going to trim your dog, let them see and sniff the unit both with it turned off and when it's turned on.  Make it a comfortable process for them, as much as for you. It's not going to hurt the clippers any, and it will make your dogs more easy with the process, and produces less anxiety for them.   It's not normal for dogs to allow noise of any type around them, much less on them.  By introducing the tool to them first, it eases any anxiety they may have with the process and helps make the job easier for you too.
All in all, I would happily recommend the Oster Pro 3000i Cordless Pet Clipper to anyone, for any animal (or at least the ones with fur!).  It works wonderfully for horses, cows, dogs, sheep…I have found questions about many other types of pets as well.   I'm intrigued about trying it on my goats once I get them.  The more I use the Oster Pro 3000i Cordless Pet Clippers with Size 10 CryogenX Blade, the happier I am with my investment, and that is the only way I can look at this unit.  It's an investment, in your pets, in their coats and in their health and well-being.  I happily recommend this product to anyone.  It's a lifetime purchase, with options to upgrade since you can purchase additional blades to account for new animals and new fur types which can be helpful, but is not entirely necessary.  With all of the available possibilities and options in the marketplace, and knowing what I have learned through my research, would I make the same choice for clippers again? Yes, I most definitely would.  I can say with absolute certainty, this is one of the best investments I have ever made for my pets, and even with the high price, I would not hesitate to do it again.
Like you, my pets are worth the best of everything I can give them.  I have never put any limits on that.  If there is something that I can buy that will help them with their coats, and thereby their health and overall well-being, especially with living in an area that takes such a toll on their fur, then it's worth it to me.  That's what I bought the Oster Pro 3000i Cordless Pet Clippers with Size 10 CryogenX Blade.  It is by far the best purchase I could make for their coats, and I am more than happy to get it for them.