We may earn commission from qualifying purchases at no extra cost to you.
Learn more
WAHL Lithium Ion Pro Series Cordless Dog Grooming Kit
The WAHL Lithium Ion Pro Series Cordless Dog Grooming Kit saves money and time making them the best low-value clippers for the price!
I've never had any problems when using this clipper.  It's easy to use and none of my critters even know they are being groomed!
Make sure you keep your clippers cleaned and oiled and you'll never have any problems with them.
Lithium Powered Motor, no SPM information available
Cord/Cordless Charge: Cordless, Rechargeable Lithium-Ion Battery, 1 hr charge, Up to 2 hr run time
Blades: Self-Sharpening Precision Blades With Interchangeable Combs
Maintenance: Is it easy to clean/oil/sharpen?  Yes
Weight and Ergonomics: Heavy, 1.62 pounds
Heat and noise:  Loud, low heat
I based this article on my life with dogs of various breeds, mostly medium to large dogs.  Currently I have a small pack of dogs, all mixed breeds with different fur types. I also live in an area where the weather changes constantly, so knowing how and being able to trim my pets' fur, and having the best tool for the job is beyond important.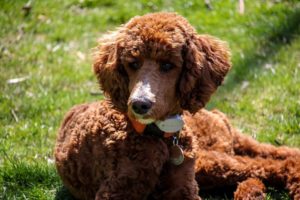 Performance Review:  The WAHL Lithium Ion Pro Series Cordless Dog Grooming Kit
Living in an area where the weather fluctuates continuously can be frustrating.  We can go from a beautiful mild day to scorching temperatures and blistering sun in just a few hours. All of this can get to be very rough on the coats of our livestock and pets, not to mention expensive on our bank account.  Our dogs can also be very temperamental and fussy, so I need a unit that won't hurt their ears or frighten them.
My dogs are constantly moving.  They never stop, and always find every of pit around and swimming hole around.  Their fur is always matted and dirty, so I am always looking for a good pair of
clippers that will  hold up over time
. Plus all of
my dogs are rescues with anxiety
and stress related trust issues. One wrong move, and I risk getting another scar. These clippers are perfect since there is little noise or heat.  None of my dogs had an issue.
The fact that this unit is cordless was a huge help.  My dogs are known to dart and dash after anything that moves regardless of what we're doing and a corded unit would have been a big issue, and it's an issue I was completely able to avoid.  Even with all the wriggling, I was able to get all the crusted mat's trimmed off their coats, while holding them in place so that they couldn't run off anywhere.
I'm very petite, with small hands, but  I didn't have any issues with the size or weight.  In fact, I found it helpful to have this larger unit.  My spouse is larger than I am, and didn't have any issues either.  Both of us found the unit to be very comfortable to hold while we were working with the dogs, even with the size and weight.
The unit is easy to maintain, and the combs are easy to remove to change out for another size if it every becomes an issue.  And since the package includes everything you need, there is nothing else you need to order.
Check Carefully because…
Dependent on method and location of purchase, item shipped may be refurbished unit.  Item may have been used. If item sent is refurbished, unit will have been tested and be in perfect working condition.
The MUST Know, True Facts about the WAHL Lithium Ion Pro Series Cordless Dog Grooming Kit:
The Wahl brand has been a major manufacturer and established leader of  personal and pet grooming products for over 100 years.
This clipper is ideal for body clipping and trimming all animal coats including dogs, cats, horses, and livestock.
The WAHL Lithium Ion Pro Series Cordless runs quietly to keep noise-sensitive animals comfortable and calm.
What to watch out for with this product?
There is one (1) thing to check before buying this product. Please read about it below in the Problems section.
Crucial Grooming Tips:
While this unit is designed to not have many issues with heat, some heat in the unit is to be expected.  The clippers having moving parts which will cause friction. If it starts to get a little too hot, simply turn off the unit and move onto something else temporarily while the clippers cool off.

Things to Remember When Researching Which Tool to Purchase:
Getting the right tool for the right job
A pet owner working with only one breed will not require the same type of clippers as a pet owner working with multiple breeds.  A pet owner working with multiple breeds will not require as extensive a set as a groomer or veterinarian with a much larger group of animals to work with.  The following chart is an excellent reference to keep on hand when doing your research:
Know your motor
Not every situation will require the same type of motor for the unit.  Here's a good way to know which motor will work best for you:
Pivot Motors — high power (more strokes per minute) with a lower blade speed (these work best on coarse or matted coats)
Rotary Motors — gives equal power and blade speed (works for most cuts and coats, best for average pet owner)
Magnetic Motors — delivers lower power but higher blade speed (best for bulk trims)
Brushless Motor – runs cooler, quieter, and provide more power and torque
Detachable blades vs. combs
If you're working with multiple breeds or types of pets, using detachable blades is a great option.  If not, usually only one blade, and changing out combs dependent on fur length might be a better option.
One Speed or Variable Speeds
Again, this depends on your situation.  A clipper with variable speeds will allow to you easily change from the base speed (good for normal trimming) to a higher speed for quickly cutting through thick fur or mats.
Unit weight and size
The heavier the weight, the more durable the unit, yes.  However, not every dog will require a heavier or larger clipper.  Toy breeds, for example, are small enough that a larger unit would not be necessary.  Also, a very petite person with small hands and wrists, or the person who only grooms their pets occasionally, may want to consider a smaller unit as well to avoid wrist fatigue or cramps.
Corded or cordless
Corded clippers do  have the benefit of not having to worry about the battery running low and having to recharge in the middle of clipping your pets.  However, some pets are too large, or may move around too much to allow for corded clipping. Cordless clippers have the advantage that you don't have to stop and readjust just because your dog is moving around while you're trying to give them a trim.
Noise
Noise can be a huge factor to a dog.  Their ears are far more sensitive than ours, and some clippers may just be too loud for them.  Choose your clipper with as much care for your pets hearing as you do for their fur.
Upkeep and maintenance
Just like any tool, clippers do require basic maintenance.  Make sure you clean out the blades regularly to keep them sharp and free from any stray fur.  Also make sure you oil them regularly to ensure that they don't burn out over time.
Benefits and Features

Problems

Pros
Cons

There may be an issue with the power cord shorting out
Made for use in electrical outlets in the United States only; not designed for international use
Frequently Asked Questions:
What comes with the initial package?
The WAHL Lithium Ion Pro Series Cordless Dog Grooming Kit comes with the clipper unit, power adapter, grooming comb, grooming shears, oil, cleaning brush, four interchangeable clipper combs and a carrying case.
What other accessories are available for purchase?
Check with Wahl customer service or your local repair center for parts and accessory availability
Will this work on other animals?
Yes.  This clipper has been designed for use on dogs, cats, horses and other livestock.
How does this clipper compare to other Wahl models?
Options vary greatly.  The WAHL Lithium Ion Pro Series Cordless Dog Grooming Kit are a great choice for the average pet owner for a lifetime purchase, but make sure you do your research and choose the best option for your needs and situation.  Current available options from Wahl as found are:
Does this product have a warranty?
Yes.  Wahl provides a five-year professional warranty  Contact manufacturer for details or additional questions.
Does the manufacturer offer repair services?
Yes.   Wahl does offer repair services in their facility or they can offer you a local dealer for repair.  Service fees may apply.
Can I trim my dog's fur immediately after bathing, or does he have to be dry?
While you can wash your dog thoroughly before trimming to ensure he has a clean coat, it is always recommended that you ensure your dog is completely dry before trimming.  This will avoid damaging the clipper, and avoids the potential of hurting your dog.
What would you recommended, purchasing one model and all accessories from the same company?  Or would you recommended interchanging with different manufacturers?
I have never had problems mixing and matching between companies, and in my case is quite useful as I work with many types of breeds and not just one.  If I worked with only one breed, then my answer may be quite different. Since I require the ability to change bcombs for each individual dog, this package is the perfect option for me.
Does this model have multiple speeds?.
The WAHL Professional Animal KM10 2 Speed Brushless Motor Clipper has two speeds, 3,000 and 3,700 strokes per minute making it extremely easy to switch speeds for different fur needs without having to switch clippers.
What's the difference between using a detachable blade and one that is not detachable?
If you work with only one breed of dog, then a non-detachable blade would be just fine for your situation because you will only be trimming one type of fur and will need only one size and type of blade. A person who works with multiple breeds, or different types of animals, will be dealing with multiple types of fur, and many different situations which will require a variety of blade and comb sizes available to them.
*Note:  While the unit will work with competitor's blades, Wahl does have the largest selection in the industry, for the widest variety of use.
How heavy is the unit?
At over a pound-and-a-half, the Wahl KM10 is a heavy unit.
How durable is the unit?
The clippers are very durable, ergonomically designed, and made for long use.

Contact Information
Wahl Customer Service:
Wahl's Customer Service team is available Monday-Friday 7:30 am – 4:30 pm.
1-800-PRO-WAHL (1-800-776-9245)
All repairs can be sent to:
Wahl Clipper Corporation
Attn: Repair Center
3001 Locust St
Sterling, IL 61081
Wahl also has options for local service and repair.
You can also contact Wahl using their online form.
Wahl also accepts donations and sponsorships.  Information is available on their website: https://wahlanimal.com
CONCLUSION
In my opinion, the  The WAHL Lithium Ion Pro Series Cordless Dog Grooming Kit is well worth the nominal price I paid for it.  It is inexpensive, and comes with everything I need.  It is an easy to use, quality product and works great on all of my dogs.  It also works as a future investment for any other pets I may get in the future, or if I invest in larger size livestock.
Since the unit is rechargeable and holds a charge for two hours, I didn't have to worry about the unit losing power while I was trimming my small pack of dogs, and with no cord, I didn't have to worry about any of my dogs getting tangled up.
I also didn't have to worry about the size or weight of the unit.  Even though I have tiny hands, the heavy unit was worked well for me, and being cordless it allowed me to hold onto my dogs with one hand to make sure they didn't move, and trim their fur with the other so the job got done quickly and effortlessly for everyone involved.
I was very pleased with how all four of my dogs reacted to the new clippers.  Not one of them had any issues since there was virtually no noise, or heat from the clippers.  Since all the dogs I have now have short to medium length hair the blade that came with the set worked extremely well, but I have every intention on stocking up on a few different sizes since all of our dogs are rescues and I'm positive we'll be getting more in the future, as well as a few other different critters with varying lengths and thickness of fur.
I've seen a lot of other reviews for this product, and others by Wahl.  I also have a lot of their other products in my home, and I never have a problem with any of them.  They last for years, I never have to replace any of the components. The Wahl reputation is solid, and in the grooming world they are loved by dog groomers, veterinarians and professional horse grooms alike.  It's almost impossible to find a negative review. There are a few out there, but only one real issue that seems to have been resolved in recent years by the company.
I love that I can use this clipper as often as needed, for either a quick trim, or a full clipping.  With the running around that my dogs do, it's always good for me to have a clipper that works when I need it to, every single time..  I do recommend that you work with your pets anytime you are going to trim your dog, let them see and sniff the unit both with it turned off and when it's turned on.  Make it a comfortable process for them, as much as for you. It's not going to hurt the clippers any, and it will make your dogs more easy with the process, and produces less anxiety for them.   It's not normal for dogs to allow noise of any type around them, much less on them. By introducing the tool to them first, it eases any anxiety they may have with the process and helps make the job easier for you too.
All in all, I would happily recommend the WAHL Lithium Ion Pro Series Cordless Dog Grooming Kit to anyone, for any animal (or at least the ones with fur!).  It works wonderfully for horses, cows, dogs, sheep…I have found questions about many other types of pets as well. I'm intrigued about
trying it on my goats
once I get them.  The more I use the WAHL Lithium Ion Pro Series Cordless Dog Grooming Kit, the happier I am with my investment, and that is the only way I can look at this unit. It's an investment, in your pets, in their coats and in their health and well-being.  I happily recommend this product to anyone. It's a lifetime purchase, with options to upgrade since you can purchase additional blades to account for new animals and new fur types which can be helpful, but is not entirely necessary. With all of the available possibilities and options in the marketplace, and knowing what I have learned through my research, would I make the same choice for clippers again? Yes, I most definitely would.  I can say with absolute certainty, this is one of the best investments I have ever made for my pets, and even with the high price, I would not hesitate to do it again.
Like you, my pets are worth the best of everything I can give them.  I have never put any limits on that. If there is something that I can buy that will help them with their coats, and thereby their health and overall well-being, especially with living in an area that takes such a toll on their fur, then it's worth it to me.  That's what I bought the WAHL Lithium Ion Pro Series Cordless Dog Grooming Kit. It is by far the best purchase I could make for their coats, and I am more than happy to get it for them.