We may earn commission from qualifying purchases at no extra cost to you.
Learn more
With so many different dog clippers on the market, how do you know which one is best? Clippers come in a wide range of prices, as well as a variety of styles.   Which clipper do you need?  Some may even wonder if it even matters which clippers you use.  They all cut, right? Well, yes they all cut, but they do not all cut equally.  There are different types, sizes, speeds and designs of clippers, each being developed with certain things in mind.  Using lightweight clippers on a large or heavily coated dog can turn into disaster for you and the animal.  Knowing what you need the clippers for, and what the different clippers are designed to do, will help you decide which set of clippers are best for you.  There are several factors that should be taken into consideration before purchasing.
What are you looking for in a pet clipper?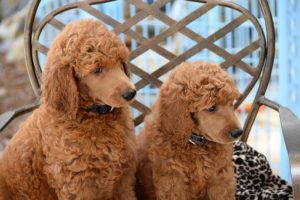 What are your preferences when it comes to clippers?
Some the things to look for when deciding which clippers best fit your needs are:
Price range​- as with most things, price reflects quality.  This is true for clippers as well. The more you will use the clippers the better quality you will need.  An inexpensive pair might hold up for the occasional grooming of your lap dog, but they might not if you have a large or heavily coated dog that you will groom often.
Motor type​- There are three major types of motors on dog clippers- Rotary motor-​R​, Pivot motor-​P​, and Magnetic motor-​M​- known as ​RPM.  ​Each type of motor offers different qualities that provide different outcomes for the groomer.  Learning what each type offers is essential when trying to decide on the right clipper.
Power and speed​- Each type of ​RPM​ motor offers different combinations of power and speed.  Knowing what each one has  will help you decide which one is best for the job you need done.
Type of power​- Clippers offer high, medium and low power, and some even have dual or multiple settings to choose from.
Design​- RPM motors vary in their design.  The simpler the motor, the easier it is to maintain, and also has less parts to wear out or break.
Level of maintenance​- Some clippers are easier to maintain than others, but none are too difficult.  You just have to be aware of which ​RPM​ motor you have so you know what needs to be done in order to keep it in tip-top working condition.
Longevity​-Different RPM motor types have varied life expectancies.  This is something you might want to keep in mind when choosing the best clipper for you.
What makes the RPM clippers different?
The heart of a clipper is the motor; remember the motor types as ​RPM​, ​R​=Rotary,​ P​=Pivot, M​=Magnetic.
We will look at the features of dog clippers and how they differ among the three major types of RPM​ motors.
Rotary Motors
Maintenance- ​basically maintenance free.  There is no need to grease the motor.  Oiling the blades during use and before storage is recommended.
Design​- because the rotary motor has many moving parts, its design is considered to be the most complex of the three motor types.  Since there are many moving parts, there is more  chance of the parts wearing out or breaking and needing to be replaced.
Power and Speed​- the rotary motors are the most powerful of the three motor types.  It offers a combination of high power and high speed at an evely calibrated rate giving it an incredible amount of steady cutting force.
Coat type- ​this motor is good for all coat types making it a popular choice for professional groomers and individuals that own multiple, but different, dogs.  Because of the steady power and speed, it is especially good for heavy-duty  and bulk hair removal.
Extra features-
*comes in AC and DC powered models
*some of the DC units are cordless
*it is the main motor for battery powered clippers
*can often be expensive,  more so than some of the others
*can be used on wet hair
*also good for horse or other farm animal grooming
*tends to run warm causing the blades to heat up which can burn your animal- using cautionary methods can alleviate this problem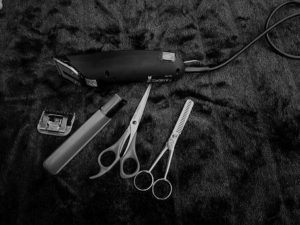 Pivot Motors
Maintenance-​ basically maintenance free.  There is no need to grease the motor.  Oiling the blades during use and before storage is recommended.
Design- the motor has fewer parts than the rotary motor, but still has parts that may​           wear out or break and need to be replaced.
Power and Speed- The pivot motor offers high power with low blade speed.  It does not​ have as much cutting power as the rotary motor, but it has up to four times the power of the magnetic motor.
Coat type-  The lower blade speed makes this a good choice for thick, coarse hair.  It can​ snag or get stuck in thinner, fine hair making it painful for your pet.
Extra features-
the combination of the high level of power and slower blade speed make it a good choice for cutting wet hair
*it is energy efficient using less energy than the other two motor types
*often the choice of professionals
runs cool making it good to use for extended periods, and it has less of a chance of burning your pet
*motor is quiet- it won't frighten pets as much as a loud motor *usually a long lasting clipper
Magnetic Motor
Maintenance-​  ​ basically maintenance free.  There is no need to grease the motor.  OIling​ the blades during use and before storage is recommended.
Design- This motor is very simple.  It has few parts so there is no need to worry about​       them breaking or having to replace them.
Power and Speed- The magnetic motor offers less power than the other two motors,​        whereas the blade speed is higher than the other two motors.
Coat type- The low power and high blade speed provide a smooth cut on thin, fine hair​    types.  The low power can cause it to drag and grab thicker hair making it painful for your pet.
Extra features-
*this motor is most often used in inexpensive clippers
*very reliable design making it easy to handle while grooming
*won't wear out a quickly as the other two motors so it tends to last longer than others *runs quiet so it won't frighten your pet and allows for you to carron on a conversation while grooming
*runs cool making it easy on your hand and on your animal because you don't have to worry about it burning their skin
*great for occasional or high volume use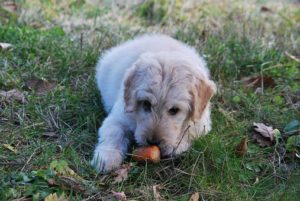 Corded Clipper vs. Battery Operated (Cordless) Clippers
Most of the cordless clippers are made using the rotary motor.  These clippers tend to be less powerful than the ones that run on electricity, but they offer freedom of movement in return. Choosing a
cordless model may be the best option for you if your space is tight or if you will be using the clippers
where electricity is hard to find.  Sometimes having a cord, especially a long extension cord, is a detriment making the clippers harder to handle.  If sacrificing a little of the power is worth the ease of use, then the cordless clippers might be the best choice for you.  The major drawback is that the clippers have to be charged before use, and if your are using them for lengthy periods, they may have to be charged before you can finish your job.  Be sure to check into how long each model will hold a charge- that is important.
RPM and SPM-what does that mean?
When looking at clipper motors, you may notice the use of RPM and SPM.  The RPM refers to the rounds per minute when discussing the motor, where SPM refers to strokes per minute when discussing the blades.
The higher the RPM, the more powerful the motor.  The higher the SPM, the faster the blades move.
Clippers are designed to deliver different amounts of RPM and SPM to result in different outcomes when using them.  Refer to the information above to help decide exactly how much power and speed you need for your situation.
Single Speed or Variable Speed Clippers- which is best?
RPM is what allows the blades to glide smoothly through your dog's coat.  The higher the RPM, the stronger the power of the clippers.  A higher RPM allows clipper blades to cut through thick, coarse or
matted coats
.  A slower RPM is perfect for thin or fine coats.
Some clippers come with only one speed. These tend to be the best choice if you are a novice.  It is important to make sure that speed is sufficient for your pet's coat. However, some clippers come with variable speeds, making them useful on various coat types.  Most variable speed clippers are more expensive, but the cost might be worth it depending on your needs.  These are a good choice for seasoned or professional groomers because of the versatility they offer.
Brushless Motor
What is it and how does it work?
A brushless motor is controlled by a computer instead of mechanical brushes.  This heightens the precision by allowing the computer to control the speed and power of the motor.  With the computer in control instead of the mechanical brushes, the clippers are more efficient.
Pros
less noise due to no sparking within the motor housing
runs cooler so it won't heat up your hand or burn your animal
gives more precise control leading to a better cut
long lasting- won't wear out or break as easily as the other motors Cons
cost is higher than other motors because of the computer technology involved
Best Clippers:  RPM and Brushless
Andis, Oster and Wahl are the leading clipper manufacturers in the world.  They each offer unique designs, and are up to date on precision and cutting technology.  It is hard to say which company is actually the best.  They each have their own unique spin to RPM and Brushless clippers.  Here is an example of just one of the best​ clippers on the market for each motor​ design.  By looking at the specifics on each one, you can see how they compare.
Rotary Clippers
Andis Excel 5-Speed Detachable Blade Pet Clipper
LIghtweight makes for easy use on long or multiple jobs
5 speeds offering up to 4500 SPM giving you the control of choosing the speed you need for the job at hand
CeramicEdge blades-cooler running than steel blades so they won't burn your pet
Housing contours to fit your hand for a nice feel and ease of use
 Made in the US

Pivot Clippers
Oster 113 Pivot Professional Clipper Lucky Dog
great medium duty clipper
compact in size making them easy to handle
lightweight makes it easy to use on long or multiple jobs
quiet running so you can carry on a conversation and your pet won't be frightened by a noisy motor
housing is double insulated so it doesn't heat up in your hand
Magnetic Clippers
​       Andis AGP Super 2 Speed Pet Clipper
2 speed allowing you to control the RPM for the job
quiet running so you can carry on a conversation and your pet won't be frightened by a noisy motor
very fast delivering an accurate cut up to 25% faster than other clippers
permanent magnetic rotary offering reliable steady RPM
removable drive cap and blade lock aiding in precision cutting ability
non-slippery rubber grip makes it easy to hold helping with control
Purple housing allowing you to be fashionable while grooming your pet
Brushless Clippers
Wahl KM10 Brushless 2-Speed Professional Clipper
recommended for dogs and cats
2 speeds lets you choose the right speed for the cut
German engineered with computer technology
extended life- up to 10,000 hours-much longer than most other clippers
maximum power with consistent speed control for precision cuts every time
lightweight making it easy to use on long or multiple jobs
correctly balanced for added comfort especially on extended uses
low vibration cuts down noise and won't bother your pet
Conclusion
Along with raising a pet, comes taking care of it.  Taking care of a pet involves grooming.  You can choose to
take your pet to a groomer
or you can decide to do it yourself.  If you decide on becoming your own groomer, you need to understand the mechanical aspects of clippers.  The RPM and
Brushless motors
have similarities and differences.  Looking at the different aspects of each type of clipper model will help you make an educated decision on what to buy.  Is it necessary to spend the extra money on a heavy duty rotary or brushless clipper, or can a less expensive magnetic clipper do the job you need?  Do you need a higher RPM to cut through a heavy or coarse coat, or do you need a magnetic
clipper for a finer haired dog?
  There is so much to consider.
Buying the right clippers is an investment toward the good health of your pet.  Remember that just because one clipper might be the best selling, or your neighbor's favorite does not mean it is the right clipper for you. Knowing your motors is one of the best ways to choose which one is best for your situation.  ​RPM-which will you choose?