We may earn commission from qualifying purchases at no extra cost to you.
Learn more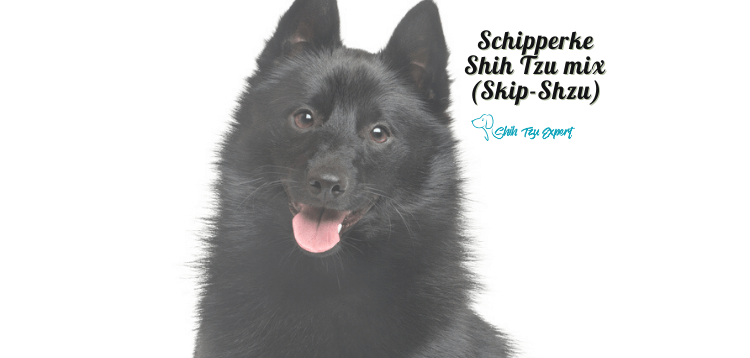 We All know that dream of having the perfect pet, the kids always lean towards getting a dog like a Schipperke Shih Tzu mix (Skip-Shzu). The decision to get a dog is an involved one. It's good to find out if a particular breed works well with other animals or if they get along with small children.
This is a huge decision to make, what kind of dog should you welcome into your home to become a member of your family? So is it a good idea to bring a dog into a family with children, other animals and a limited space?
With so many small to medium sized breeds out there, how do I know which would work best for my size family and apartment? My research has brought me to a seemingly perfect hybrid. A popular mix between the Schipperke and the Shih Tzu, called The Skip Shzu.
What is this breed? All you need to know about this breed
The Schipperke came from Belgium and was originally referred to as The Dutch Dog, although it's not actually from Holland. This is because it was bred in Flanders, which was a Dutch speaking area in Belgium.
These dogs were known as brilliant guards for the boats at the harbor. Since they kept the men at the harbor company, they also were known to enjoy fish as well. While they are known by owners to be affectionate and loyal they can be slow to accept new people and can alert you in the event there is a stranger nearby. This is because the breed is cautious by nature and can be an excellent judge of character. They are also especially good at hunting small rodents or reptiles and thoroughly enjoy chasing such prey. The breed is also known to be active and intelligent. Schipperke's are also known as Spits or Spitske which literally means 'little captain'. Although they've been said to have been around since the 1600's they gained popularity and made their way into America in 1888. The American Kennel Club (AKC) recognized the breed in 1904.
The other half of this lovable mix is the Shih Tzu which is thought to have originated either from Tibet or China. Shih-Tzu translates to "Little Lion". This breed has been around for over 1,000 years! Apparently, during the Commnuist Revolution the Shih-Tzu almost disappeared. This breed became known in England in 1929. Shih-Tzu's made their way to American with soldiers in the 1950's. These dogs have also been known to be friendly and happy little dogs. One of the cutest characteristics is the snubbed nose giving the look of a puppy into adulthood. Who doesn't love a puppy? These small dogs are outgoing and sweet and are genuinely content to follow you around all day. Perfect for a child who is ready for some responsibility. Shih Tzu's tend to be energetic and ready to play. They are also considered to be hypoallergenic. This is a plus if you want to stay active. It was recognized by the American Kennel Club (AKC) in 1969. The Shih-Tzu ranks 20th among the 191 most popular breeds in America.
The first Skip Shzu was a cross between a 100 percent pure Schipperke and a 100 percent pure Shih Tzu. This mix is considered to be a designer hybrid because families of all shapes and sizes can house it, in a tiny apartment in the city if need be due to its toy size.
Since the breed is considered to be a toy it generally doesn't get any larger than 10 to 15 pounds. The ears are long and floppy and it has a double coat which means there is a second layer of fur underneath the fur you see on top. Since it is a mix it could carry the characteristics of either the Schipperke or the Shih Tzu. The Schipperke has more coarse fur while the Shih Tzu has softer, longer hair.

The colors can vary between all black, tan, cream, brown and reddish brown. There can sometimes be white spots on its chest.
They are known for their small round head, round eyes and short muzzle. These cutesy features make it seem like it is always a puppy.
Generally live anywhere from 15 to 18 years.
Males can get anywhere from 8 to 12 inches in length whereas females run slightly smaller at 8 to 10.
As with many other small dogs the Skip Shzu can be a little overly confident.
Skip Shzu Health and Care
As with all breeds there can be some health concerns. The Skip Shzu can inherit any of the health issues typical of a Schipperke or Shih Tzu. These can include but are not limited to the following;
Legg-calve-perthes – Causes a limp that gradually worsens with time.
Autoimmune thyroiditis – Can cause a lack of energy or excess weight gain and obesity.
Epilepsy – Seizure disorder
Patellar luxation – Leads to difficulty in bearing weight on the legs, leads to lameness.
MPSIIIB – Is a brain disease that affects balance.
Bladder
Kidney problems
Eye problems – Blindness, Entropion, Ectropion, or Conjunctivitis
Umbilical hernia – Can cost anywhere from $150 to $400 to repair.
Liver problems – excessive urination, vomiting, yellowing skin or eyes.
Allergies
Hip dysplasia – Loss in range of motion, pain
Ear infections
Dental problems
Reverse Sneezing – can be due to irritation in the sinuses, nose, or throat and sounds like a wheezing or snorting sound. Can last anywhere from a few seconds to a minute.
Snuffles – This is similar to the sniffles in humans but tends to be a bit more violent and uncomfortable for a dog. Can be due to allergies or upper respiratory infection.
It's important to take your Skip Shzu to visit the veterinarian once every 6 months for check-ups and to maintain its health. This would be when it would be best to purchase a good pet insurance for help with those possible future health expenses.
Essential Products and Grooming Accessories
Your Skip Shzu should be fed ½ to 1 cup of dry dog food daily, once in the morning and once in the evening. You need to ensure that the living quarters are not too warm, Skip Shzu enjoy a mild cool climate and need to be given plenty of water to keep them from dehydrating. Here is a list of some of the things needed in order to properly care for a Skip Shzu;
Carrier – A medium, or small sized carrier is ideal, you don't want them to have too much room to get into mischief.
Crate – A small to medium crate for crate training up to 8 hours is effective for this breed.
Leash – A light, retractable leash is perfect for this toy breed.
Deworming – Preventative
Blood tests – Good to know for breed verification.
Shots – To prevent health issues.
Neutering – Unless you plan you breed.
Micro chipping – My sister-in-law is testament to this option, she was reunited with her dog after 3 years because of micro-chipping.
Food – ½ to 1 cup of healthy dry dog food.
Treats – Greenie treats are a veggie brand that small breeds love and is helpful in getting the proper nutrients
Toys – This breed enjoys the chase so small, fetching items are going to be a hit.
License – Records
Grooming – A pin brush will get those deep tangles and keep their coat looking shiny and healthy.
Brush – A pin brush, hair wire bristles work best for soft or coarse coats.
Nail clippers – Small Nail clippers are efficient for this toy breed.
Training – Use positive reinforcement like a clicker and treat process.
Yearly check ups – Preventative
Flea prevention – Preventative
Shots – Preventative
Pet insurance – Coverage for possible future health expenses.
Overall medical expenses can run anywhere from $435 to $535. In addition any food, grooming, or other non-medical expenses can run you as much as $530 to $630 annually.
FAQs
Skip Shzus are said to be very good with children as well as other dogs and cats. Being very friendly and energetic they can run for hours with younger children, play with cats, since they are roughly the same size. Extremely loyal they'll be at your heels ready to play anytime indoors or outdoors.
Loving
Loyal
Affectionate
Calming
Energetic
Playful
Extremely Intelligent
Dedicated
Hyper
Highly alert
Friendly
Do not tend to bark unless alerting of a visitor
Temperament and Personality
The Skip Shzu is a loving and loyal animal which is a fascinating blend of both energetic and spunky but also has a sense of a more calming nature. This breed longs to constantly be around people and can be a bit of an attention hound. While this particular breed can be a little excitable sometimes it is an excellent addition to any family.
The Skip Shzu is content to lounge around the house with its family even though they usually prefer to stay active and like to run around. They are a rare temperament that enjoys the company of humans no matter what they are doing.
While their temperament isn't always a sure thing, for the most part these little dogs are genuinely enjoyable to be around.
The Basics of Grooming
Training and Exercising Your Skip Shzu
Since Skip Shzu are pretty intelligent and are known to train quickly with little effort. The most effective way to quickly train an intelligent dog is to use positive reinforcement by offering treats and praise when the dog picks up a trick well. The earlier you get your dog acclimated with other animals and children the more confident your dog will be to socialize.

A great way to socialize your puppy is to take them to a dog park. You should make sure to protect against breeds that are a lot larger than your Skip Shzu. Look for other breeds that are similar in size. It's also important to begin socializing with other animals early, including cats.
The quickest and easiest method isn't very quick and easy, take your time introducing your new family member to your current pets. Cats are more finicky in this aspect than dogs so it's best to slowly give them small visits and are kept in separate rooms until they have been properly acclamated.

It's important to keep your Skip-Shzu active because they have a high tendency to get fat.
Since they are so small they don't require much space to get activity and are only considered to be moderately active. They should get around 7 miles per week which would amount to about 20 minutes of walking every day.
It's important to always train the dog to heel or keep him on a retractable leash as these dogs have a moderate to high tendency to wander.
How to Feed and Dietary Requirements / Restrictions of a Skip-Shzu
Skip-Shzus can eat a balanced diet including the following:
Dry dog food with a good balance of macronutrients twice a day along with clean drinking water in regular intervals is all that is required for dietary purposes.
Peanuts are a good source of protein, peanuts or all natural peanut butter can be given to your Skip-Shzu as long as it does not contain xylitol since this is poisonous to dogs.
Beets
Oats
Yellow corn
Blended fish
Beef
Ocean and Freshwater fish
Fruits including:

Apples
Bananas
Blackberries
Blueberries
Cantaloupe
Cranberries
Kiwis
Oranges
Pears
Pumpkin
Raspberries
Strawberries
Watermelon

Other low to the ground type vegetables for example:

Potatoes
Radishes
Parsnips
Carrots
Ginger
Celery
Asparagus
Broccoli florets
Brussel sprouts
Cauliflower
Cucumber
Edamame
Green beans
Peas
Sweet potatoes
Kale
Purple cabbage
Cannot have the following:

Avocados
Macadamia nuts
Onions
Grapes
Raisins
Currants
Raw egg
Milk
Chocolate
Candies
Mushrooms
Raw meat
Cheese and yogurt in moderation
Rhubarb
Spinach
Caffeine
Eucalyptus
Figs
Orange tree
Lemon tree
Coconut
Top Tips for Finding a Skip-Shzu
Since Skip-Shzu are bred using two pure breeds you'd have to find a private breeder.
Since these are very rare hybrids they are sometimes difficult to find. .
Popular Names for Skip-Shzu
Male dogs

A.J.
Abe
Archey
Artimus
Asher
Baxter
Bean
Bebo
Bit
Buttermilk
Cacao
Chester
Chico
Chibi
Matty
Ace
Abbot
Arthur
Atlas
Barkley
Beau

Female dogs

Baby
Bianca
Bindi
Cricket
Daisy
Dinkie
Dixie
Fancy
Penny
Poppy
Moxie
Leila
Queenie
Nellie
Sophie
Zoe
Bella
Lucy
Stella
Maggie
Sadie
Lily
Roxy
Pebbles
Abby
Gigi
Summary
I've come to the conclusion that while this is a great mixed breed it's extremely rare. Shih-Tzu puppies are somewhat easier to come by. One need only do an internet search for Shih-Tzu puppies nearby and you'd find an array of puppies as young as 3 weeks old. All in all this breed is adorably, small which is very convenient no matter how much space you have. It is also known to work well with others.
Children of all ages should be taught to properly play with this sweet little pup to ensure their safety and to give the animal plenty of opportunity to get comfortable with their handler. Because they can sometimes be temperamental, toddlers need to be taught to be extremely gentle.
The mix of these two beautiful breeds makes for an incredibly cute toy dog that everyone will love. Although you can't always be certain how your dog will behave you can breathe easy knowing so many families have found wonderfully tempered and excellent companions in the Skip-Shzu.
Current owner or a prospective owner of a Skip-Shzu? Share your experiences or ask questions here:
I read of a woman who has a Skip-Shzu named, Daisy. Daisy is from a litter of 8 puppies in total. The owner goes on to explain that her puppy is extremely loyal and affectionate. Pictured above you can see that Daisy has a medium length coat and the owner describes it as soft.
Daisy's father was a Shih-Tzu and her mother was a Schipperke. The Schipperke has shorter hair but it is usually more coarse whereas the Shih-Tzu tends to have softer longer hair. Daisy is lower maintenance because her hair stays shorter and doesn't require regular trims like a Shih-Tzu.
Other Similar or Comparable small & Medium dog Breeds
Porkie
Terripoo
Pomeranian mix
Shih-Tzu mix
Chiweenie
Yorkie mix
Chinese crested
Maltese
Lhasa apso
Brussels griffon
Teacup poodle
Toy fox terrier
Dunker
Papitese
Shorgi
Pom-shi
Malti-poo
English king
Cairn terrier
Norwich terrier
Whippet
Boston Terrier
French bulldog
Bie-Tzu