We may earn commission from qualifying purchases at no extra cost to you.
Learn more
Why Is This Product Here?
Efficient, durability, not wireless so you'll never lose power, and an easy lightweight grip.
Specification
Motor:
Contains a rotary motor, and has an adjusted two speeds which is 3,000 to 4,000 SPM. Easy speed control switch is available.
Blades:
Are a #10 Wahl's Series, five in one blade, #30 Wahl's Series and the detachable Andis blade. All the blades recommended are meant for all coat types. All blades are detachable.
The 5-in-one and #10 competition blades are not meant for matted hair. The #10 ultimate, #30 ultimate, stainless steel attachment comb 8 set, and stainless-steel individual are meant for matted and thick coats.
Weight and Ergonomics:
The weight is a total of 2.2 lbs which offers a super light essence. The design of the Wahl clipper caters to any angle in which the coat needs to be cut or trimmed.
Cord/cordless charge:
Cord (this product does not require any charging). The cord length is 14 feet long. There is no battery and no need to charge.
Maintenance: Is it easy to clean/Oil/sharpen?
Fairly easy. The Wahl Clippers require the method called 5-point oiling. Not sharpening, the blades will just have to be replaced. May only take up to 5 minutes total to oil and clean off any left-over oil residue.
Heat and noise:
Very little noise and no heating up for the first few months. The easy grip handle has been known to become very hot, take caution if this happens.
Check Carefully because…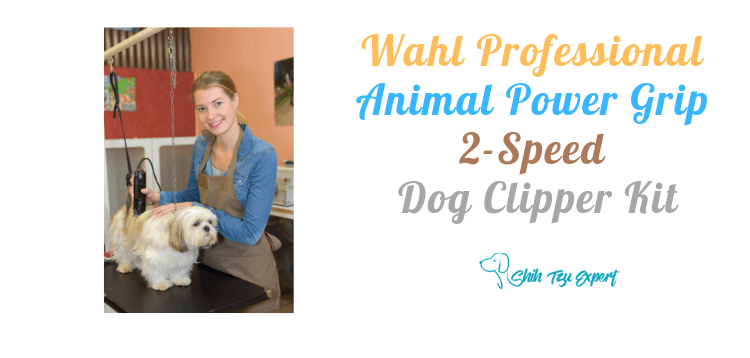 The blades after time, may not sit right and start to slide. Check to see if the motor starts to heat up the rest of the easy grip handle, this has been known to occur. Some customers have commented about these clippers not working fast enough after only two months of use.
All the blades listed are qualified to trim around the face, however, we suggest extreme caution because you may be dealing with an animal that does not like having their face touched. As always take precaution in this area.
The MUST Know, True Facts about
The Wahl Professional Animal Power Grip Clipper has been known to heat up while being held. This can cause alarm and potentially signal a faulty product.
Wahl offers a guarantee warranty to replace or repair your clippers within the warranty time constraint.
Wahl Professional Animal Power Grip 2-Speed Pet, Dog, and Horse Clipper Kit is ranked in the top 400 of dog grooming clippers.
Because of the shape of these clippers, it offers an essential smooth glide that most clippers do not offer.
Wahl is about quality longevity, control, and precision when it comes to dog, livestock, and cat grooming. Be sure to note which detachable blades are appropriate for which task. Some blades are meant for around an animal's face to trim, others are noted for thicker fur that needs longer blades.
Always clean your Wahl clippers after each use. This is to ensure the longevity of the clippers. If you have noticed that your clippers are snagging or collecting hair, re-read which blade you should for which type of coat thickness. Each kit if provided with blade oil to use.
What to watch out for with this product?
After the first 9 to 10 months the clippers may lose its fast function and become quite noisy. After this they may have trouble cutting through double coats, and tough hair.
Does not offer directions, although they do offer visual aids with Youtube tutorials.
Wahl's are known for their animal grooming clippers, yet the company has not modernized and modified the product. Many customers have stated that they love Wahl's but would like to see an updated version.
While customer reviews differ, some will have rave reviews and others will not, it ultimately comes down to you. What are looking for specifically? What are the first questions that pop into your head when searching for this product? Ultimately, what is your goal for needing animal clippers? Is it to simply trim, trim around the face, clip off matted or dirty hair? These questions are crucial while shopping online.
Crucial Tips
Considered an excellent at home grooming clipper set, however, it would be best to know or have a little experience in dog grooming before jumping in and using it. Some animal coats may clip easier than others, it depends on the breed. While Wahl's Clippers have been used on horses, we only recommend a professional or someone that has been doing so, to test this out.
This product does come to two replaceable drive tips if needed. Also comes with cleaning material to ensure an easy and clean cut.
Benefits and Features (Pros)
• Easy grip
• Smooth glide action
• A lot of power within its first uses
• Perfect for cutting away matted hair/fur
• Decent price
• Never clogs because of the clipper design
• Pushes hair/fur away from the clippers
• Cord is short in length, provides little mobility
• Both professionals and non-professionals use Wahl clipping products
• Excellent pivot action
• Rounded head to avoid cutting to close to the animal's skin
Problems (Cons)
• After a few months the motor becomes loud
• Again after a few months the motor becomes weak/ takes longer to cut
• Only recommended for individuals who have experience in horse grooming
• Not great for dogs that have a double coat situation
• Previous customer stated that it may run over fur without cutting, dull blades
• Can't sharpen the blades, must be replaced
• Not for international use at all
• Not wireless
• Not enough accessories
Conclusion
Wahl's clippers start out exceptionally fantastic, however, over a period of months will become inadequate. These clippers would be great for a beginner because, they do not tug on matted fur and are quiet enough in the beginning, to not overwhelm your pet. In conclusion Wahl's is perfect for getting an ideal trim.
Questions/Answers for Wahl Clippers
Below we have answered a few questions that may come up when it comes time to buy a Wahl Professional Animal Power Grip 2-Speed Clipper.
Question: Why choose a Wahl product?
Answer: Unlike some companies who cover a vast range in industries, Wahl focuses on professional grooming. This means Wahl has crafted and carefully designed a set of clippers for anyone. Whether you are a beginner and are looking to cut the cost of taking your pets to the groomers. Or happen to be a professional groomer and want to upgrade or replace the clippers you have. Luckily Wahl designs their clippers with the animal's care in mind. By curating a rotary or brushless motor to be nearly soundless. Some may have a slight vibration, but this is to add in the calm serene nature of the animal. Plus, Wahl clippers can be used to trim livestock. A clipper that can cut through course livestock hair is indeed a product to invest in.
#speed
Question: Are there multiple speeds for this Clipper?
Answer: Yes. There are two speeds in total. The speeds vary between 3,000 to 4,000 SPM. Typically, most operate around 2,500 to 4,200 SPM.
#battery
Question: How does the battery do in terms of longevity of the product?
Answer:  This particular Wahl product uses a cord plug to conduct its function. No battery. While being plugged in you will never have to worry about charging. Or that while in the middle of grooming the battery is losing power.
Question: Is the battery replaceable when it dies for good? If not, can you shave with the use of corded plug?
Answer: This Wahl Clipper does not come with a battery, instead it is a corded function. The corded function is around 14 feet in length. Some have mentioned that the cord can get in the way, however, the clippers never lose speed or precision.
#blade
Question: Does this clipper work with detachable blades?
Answer: Yes, it does.
Question: Can you use different brand blades on this clipper?
Answer: You can only use the #10 Ultimate Competition Series Blade. Be sure to check which blades can be paired with what clipper model. For instance, this Wahl Clipper has a graph list available to showcase which detachable blade to pair with which clipper.
Question: Can I use the Stainless-Steel blade with these clippers?
Answer: The only blade you can use for this Wahl clipper is the #10 Ultimate Series.
Question: What blade is meant for smaller breeds?
Answer: The 5-in-1 Fine Blade is meant for smaller dog breeds. If you are looking for a particular blade meant for a small breed, the Deluxe U-Clip is specifically made for that reason. However, the Wahl is meant for all breeds, including miniature.
Question: Are there adjustable blades that can be used for a difference between thickness of coats and hair?
Answer: There are adjustable blades, but they are meant for a specific clipper. Each detachable blade is reinforced for a certain quality of management. Most of the blades available are used for all types of coat styles.
Before starting any grooming be sure to know what type of coat you are working with. Don't attempt to use any type of blade on a matted coat, use a specific pair of blades for matted fur. For instance, #10 Competition Series and #30-15-10 Adjustable Blades are not for matted fur.
#Thick/Thin hair
Question: What about my pet that has thick and curly hair. Trimming can be a nuisance because the hair gets caught in the teeth of the blade. How does this clipper differ from others with thicker coats?
Answer: Wahl Clippers is not only created by professionals for professional and non-professional use. The way the Wahl Clipper was designed at a slight angle was meant to pushed the hair down and away from the blades. This is so the thicker hair will not be caught in the teeth of the blade. Preventing any pulling, tugging, and needing to start over.
Question: What about animals with fine hair?
Answer: As always if your animal has fine hair, we suggest even higher caution. But Wahl Clippers does extremely well with trimming fine hair without any pain.
Question: Does this work well with smaller dog breeds, what about cats?
Answer: Yes, to both! One customer explained how the underbelly of her cat tends to end up with matted fur, however, Wahl's trimmed the matted hair efficiently, quickly and quietly.
Question: Can this clipper do a full body clipping or is Wahl only meant for trimming?
Answer: Wahl Clipper's does both, trimming and full body clipping.
#combs
Question: If blades are available, are combs available too?
Answer: Yes, there is a comb available alongside the blades. But again, we assure that you line up the blade with the exact clipper model it will work with.
#wet hair
Question: Can this clipper cut wet animal hair?
Answer: We suggest to cut your pet's hair while dry. Mainly because the clippers will work more efficiently with dry hair or fur.
Question: Why you should test out the grip width?
Answer: This is actually important. Some customer reviews have talked about how the bottom width of the clippers can feel uncomfortable for long periods of time. If the hand grip does not fit comfortable, you may want to search for another pair that will.
The SS-Pro Vs. The Wahl Professional Animal Power Grip Clipper
The significant difference between these two, is that they SS-Pro does not fare well with matted coats. We highly suggest to not use the SS-Pro if you are trimming a matted coat. The Wahl Professional on the other hand does perfectly well in this area.
Also, the cord length is shorted than the Wahl by 4 feet along with a lower speed.
What the SS-Pro has to offer based on pros and cons:
• Cheaper pricing
• Comes with a kit set
• Single speed motor and control
• Long cycle life
• Easy-use
• Vibration is low and quiet
• May be difficult to cut long cat hair (according to a customer review)
• Backed by a 30-day return policy
The Deluxe U-Clip Vs. The Wahl Professional Animal Power Grip Clipper
The biggest difference here is that the Deluxe U-Clip is intended for fine hair trimming. Also, with a bulkier style build, the Deluxe U-Clip is on the heavier side when it comes to thickness ratio. The Deluxe has a short cord length of 8 feet, and does not fare well with matted coats.
The upside to the Deluxe is that the clipper has a high speed that reaches 7,200 SPM. While the Wahl only forgoes up to 4,000 SPM.
What the Deluxe U-Clip has to offer based on pros and cons:
• Comes with the a 16-piece complete set
• Ideal for these breed of dogs, Shih Tzus, Labradors, Maltese, Cavaliers, and Spaniels
• Up to 7,200 SPM
• Made in the US
• Excellent to use on an animal's face to trim away long unkept hair/fur
The Thick Coat Clipper Vs. The Wahl Professional Animal Power Grip Clipper
While the Thick Coat Clipper is stated as a thick coat trimmer, it's also used for all coat types. This is something both clippers have in common. Both have a rotary motor however; the Thick Coat Clipper uses #7F ultimate competition series blade. Available with constant speed control, just as the same with the Power Grip. Although the Coat Clipper ways less and was designed in Hungary.
Overall the Thick Coat Clipper may be the Power Grip's biggest competition out of the Wahl series.
What the Thick Coat Clipper has to offer based on pros and cons:
• Use with ease and glides through tough hair
• Designed to grip
• Perfect for a complete shave
• Great for these breeds, Labradoodle, Pomeranian, Golden doodle, and an Australian Shepherd
• Does not have an international electrical adapter component
• Blade clicks easily and securely into place
• The bottom width of the clipper seems to be a bit more of hassle for some (can develop hand cramping)
KM10 Vs. The Wahl Professional Animal Power Grip Clipper
This KM10 is brushless instead of containing a rotary motor. Thus, the KM10 does use the same type of blade the Power Grip uses which is the #10 ultimate competition series. The advantage of the Power Grip vs. The KM10 is the SPM speed. Then again, the KM10 offers a lengthy list of available cut lengths (this depends on the length of hair viable on the animal's coat).
What the KM10 has to offer based on pros and cons:
• 14 feet cord length
• Higher price
• The KM10 is considered professional grade and may be too much for an experienced groomer
• Lightweight
• Quiet
• Great to use on horses
KM Cordless Vs. The Wahl Professional Animal Power Grip Clipper
The KM Cordless is by far on the costlier side of the batch of Wahl Clippers available. With this cordless clipper you have more freedom to move around. Especially great for trimming or completely shaving down livestock. The larger animals seem to be more at ease with these clippers. At least this cordless clipper does come with a detachable blade. The point of detachable blades is so you can replace easily without sharpening.
What the KM Cordless has to offer based on pros and cons:
• Professional use
• Two-hour battery life
• Hardly any vibration
• Switching blades is easy
• Heavy weight
• Only 2 speeds
• Difficult to maintenance when needed