We may earn commission from qualifying purchases at no extra cost to you.
Learn more
The Wahl Professional Animal Pro Ion Cordless Pet Clippers are an inexpensive option for the novice home groomer. They are best suited for dogs with light to medium thickness coats. The lithium ion rechargeable battery gives them two hours of run time, plenty of time to  trim your dog, while giving the convenience of cordless use.
Specifications
Motor: 6,000 rotations per minute (RPM)
Blades: '3 in 1' blade Includes with easily adjustable standard sizes of #30, #15, and #10
Weight and Ergonomics: Weighs 0.65 lbs (10.3 ounces)
Cord/cordless charge: Can be used corded or cordless.
Maintenance: Is it easy to clean/Oil/sharpen? Easy to clean and oil. Sharpening must be done by a professional sharpening service
Heat and noise: Not the quietest clippers out there, blades can heat up with long use
Check Carefully because…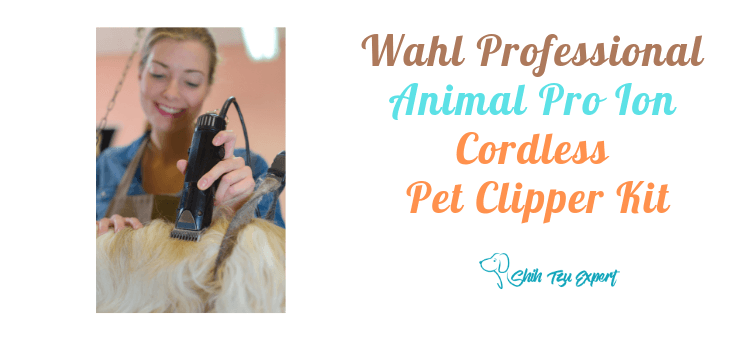 The manufacturer describes it as being designed for use in trimming faces, ears, and paws, and occasional body clipping. It is best to not push this product too much. It may not get through dogs with double or thick, coarse coats. If you want to find a clipper that would allow more than this, it is recommended that you check Wahl's professional line of clippers.
The MUST Know, True Facts about Wahl Professional Animal Pro Ion Cordless Pet Clipper Kit
One of the big selling points for this trimmer is the lithium ion rechargeable battery which gives about two hours of run time. This is a great option for groomers who want to work outdoors. Working outdoors (in warmer temperatures) is a good way of avoiding getting fresh shavings all over your house. This also makes it a good product for dogs who are sensitive to the feel of cord on their skin, or wiggles and risks getting tangled.
Many reviewers were impressive by the lengthy run time and felt that it was plenty of time for one, or even more grooming sessions. The clippers also features a quick charge option that gives you an extra 10 minutes of run time for every 15 minutes of quick charge time. It is also operable with the use of a cord if you are unable to wait for it to charge.
The blades are sharp, and if maintained correctly with regular cleaning and oiling, then they will allow you to trim the face, ears and paws on any breed of dog and the body of a light to medium breed dog. The blade is a '3 in 1' style blade which is adjustable to sizes #30, #15, and #10 through the use of a lever. Also included, are seven color-coded guide combs. They are plastic (not sturdy metal) but they will help you to control your dog's hair length.
The motor is powerful at 6000 strokes per minute. Some reviewers felt the clippers would cut through mats and thick hair like butter, while others felt it was lacking. The lesson here is that you should take your time when going through difficult sections and be sure to stop regularly to remove extra hair that may have gotten stuck in the blades. Even one hair trapped in your blades can reduce the effectiveness of your clippers.
In terms of noise, these clippers are not the quietest, and not the loudest. It depends on what you're used to and the individual temperament of your dog. If your dog is very sensitive to noise, these are probably not the clippers for you. The same goes for vibration. If your dog doesn't like to feel the vibrations of your clippers, you might want to find a different model.
If your dog does get anxious around the noise and vibrations, it is best to introduce the clippers slowly. Depending on your dog's temperament, maybe the first time you show them to your dog, you turn them on near him without touching him. After he's comfortable being near the clippers, you can touch  him with them. If that's okay, make your first session short and increase sessions gradually. If you push him too hard when he's afraid, then he may permanently reject them.
Some reviewers complained about the accessories that come with this product. The blade comb guides are flimsy plastic that can be bent with your finger. There is a finishing comb included in the package which is similar to the type of cheap plastic combs that you get on picture day. The box is a clunky package that you throw everything in to, there are no tidy organizational compartments. There is a pair of trimming scissors included in the set as well, these work well, although they are not the sturdiest or most well made. You will appreciate the oil and cleaning brush that will allow you to keep your clippers well-maintained.
Things to Watch Out For With This Product
Like all rechargeable batteries, the battery on this product will eventually wear out and stop recharging. The battery here seems to be especially prone to malfunction. If your clippers do stop working, contact 1-800-Pro-Wahl for customer service. They will help guide you in what you should do.
An important note, despite having "Professional" in the name, this product is not made for professional use. It is made for light use and occasional full body trims. Wahl has a separate line of more expensive, professional clippers that are made for more frequent use.
Crucial Tips
Like any pair of clippers, maintenance is important to give long life to your product. This clipper kit comes with blade oil and a special cleaning brush to make maintenance that much easier! To clean your clippers, remove the blade and use the cleaning brush to remove any trapped hair or dirt. Use the blade oil  generously on the blade and then reassemble it. If your blade does become dull, you can purchase a new one or return the blade to Wahl for resharpening. The blade can also be resharpened by a professional sharpening service.
Benefits and Features (Pros)
Included in the bag: Clippers, storage case, charging cord, styling comb, cleaning brush, blade oil, stainless steel scissors, guide combs, and an instructional DVD guide to grooming and styling your dog
Well made if you consider the price you pay for them (they cost less than one grooming session)
Easy to use, even for a novice
A battery charge will get you one grooming session or more
No more annoying cord to get in your way
Lightweight and ergonomic
Works well on humans
You can use plastic guide combs from other Wahl clippers
Grooms through matted hair if you go slowly
Guide combs protect dogs from hot blades
Made in the United States of domestic and imported parts
Problems (Cons)
The accessories that are included feel cheap, the comb, the guide combs, and the scissors. The case is not molded to fit the clippers, instead everything just bangs around in it.
Metal guide combs are not available to fit this trimmer.
Good for touch ups, but not made for regular grooming.
The clippers are smooth and do not have textured sides. This makes it easy to drop.
The on/off button is hard to press. This is not good if you have muscular pain or arthritis.
The battery will eventually wear out and stop charging. You cannot replace just the battery. When this happens, the product will need to be replaced
The power switch is located on the side where you hold on to  it. People have found this to be annoying because you can accidentally turn it on and off when you pick it up.
Blades will get hot after long use.
The replacement blades are expensive
The trimmer clogs easily when you are trimming coarse hair.
The product is louder than some other clippers.
These clippers vibrate a lot and will scare more sensitive dogs. This can also bother the person using them. Especially if they have issues with arthritis or carpal tunnel syndrome.
Conclusion
These home grooming clippers are perfect for touch-ups and trims and occasional grooming of light to medium-haired dogs. They are cordless which will allow you the convenience of easy travel, and no cord to get in your or your dog's way. The battery charge is long lasting which means it will give you lots of time to to trim before you need to recharge it. The greatest disadvantage of these clippers seems to be the fact that the battery will wear out over time, and the accessories are cheaply made. They are much less expensive than the higher quality clippers, and in fact, they will quickly make up their price in savings from having to get your dog professionally groomed. They are perfect people who are looking for their first pair of clippers and just want to try it out and not make an expensive commitment with a higher-end pair.
Technical details
Rechargeable lithium ion battery with just under two hours of run time
Taper lever adjusts '3 in 1' blades
10.3 ounces (0.65 pounds)
Size of package: 9.37" w x 9.92" h x 3.05" d
Made in the USA with domestic and imported parts
Questions and Answers
Can these clippers be used by humans, or just animals?
While they are not specifically designed for use on humans, reviewers have reported that they do work on human hair.
Are there multiple speeds on this product?
No, this has a single speed motor.
Are the guide combs plastic or stainless steel?
The guide combs are plastic.
Can you get other guide combs for this clipper?
Yes, you can. Additional combs are widely available.
Can I use this trimmer to trim my Yorkshire Terrier?
It should work for a Yorkshire Terrier. It is not designed for thicker hair types, however.
Will this clipper work on a long-haired cat?
Yes, they should work on a cat.
Can I use these clippers in another country?
No. These clippers are designed for the US market only.
Can you buy ceramic blades for this model?
No you can't.
Will these clippers work on a golden retriever?
These clippers are not made for dogs with heavy, coarse hair or a double coat.
How long does it take to charge?
About 60 minutes will get you a full charge. For a quick charge, 15 minutes of charging will get you 10 minutes of grooming.
If the battery dies, can you use them with a cord?
Yes, you can.
Are replacement blades available?
Yes, they are widely available.
Can I use this trimmer on a horse?
Yes, for light trimming and touch up. These would not be for full body clipping.
How Does this Product Compare to Other Wahl Home Clippers?
Wahl has four varieties of home clippers to choose from. Of the four, the Lithium Ion Pro Kit is the priciest. The cordless function and more powerful motor makes it the highest quality and most functional. Their other varieties include:
Pet-Pro Clipper Kit: These corded clippers come with high-carbon steel, self-sharpening blades. They have a taper lever that will control the length of the cut. They are excellent for trimming and touch-ups, but they rate lower than the Lithium Ion Pro for fine to medium hair clipping, and double-coat clipping. They come with four color coded guide combs. It comes with the same accessories as the Lithium Ion Pro Kit (blade guard, scissors, finishing comb, and storage box).
Pet Clipper Kit for Touch-Ups: This very basic corded clipper has high-carbon steel blades as well with a taper lever to control cut length. It is rated excellent for trimming and touch-ups, but only good for fine and medium hair clipping. It is not recommended for double coats. It also comes with four guide combs. It comes with the same accessories as the Lithium Ion Pro Kit (blade guard, scissors, finishing comb, and storage box).
Pet Battery Trimmer: This cordless trimmer uses AA batteries is Wahl's most economical option. It is their most basic trimmer. It is designed for trimming your dog's face, ears, and paws. It comes with three attachment guide combs so that you can control the length of your trim.