We may earn commission from qualifying purchases at no extra cost to you.
Learn more
An Overview of Dog Clippers: How to Choose the Right Ones to Suit Your Needs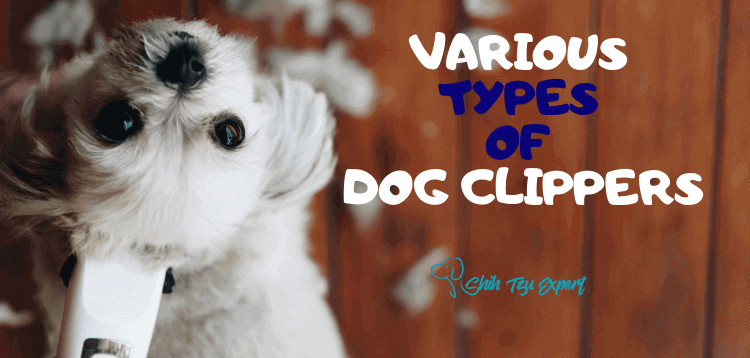 Whether you're a professional groomer or you want to groom your own dog, having the right pair of clippers is very important. For dog owners, having the right pair of clippers will save you the hassle of having to take your dog to the groomers every week or once a month, depending on the type of dog you have.
It will save you money as well. You will quickly earn back the cost of whatever clippers you buy, after just a few trims. Even if you don't want to groom your dog yourself, there will most likely come a time when you will need some clippers for small tasks, for example, if your dog gets into something and has something stuck in his fur which you want to trim off, or if you find some hair is uneven and you just want to do a touch up.
Or maybe, some day, your dog will be in desperate need for a trim and your groomer won't be able to fit you in for a couple more weeks! If you're a professional groomer, having the right pair of clippers will help you work more efficiently and comfortably.
There are several traits to look at when searching for that perfect pair of clippers: the quality of the blades, the speed of the motor, how well they dissipate heat, how much noise they make, how light they are, and how sturdy they are. The most popular brands of dog clippers are Oster, Andis, and Wahl.
Tips for Grooming Your Dog
Keeping your dog well groomed is a necessary task. It helps to minimize shedding, and it keeps his skin healthy and his hair looking nice and untangled. In the summertime, it also helps to keep him cool—you just want to be sure that you don't shave him in the summer, as his coat helps to protect him from the sun's UV rays. Also, in the winter time, don't trim your dog too much as his coat helps to keep him warm in colder weather.
Read the instruction manual for your clippers before you start working. It is important to know how they work and how to change the settings.
Move slowly over  your dog's body when trimming him, and always trim in the same direction the hair grows. Also, always hold the clippers parallel to your dog's skin this will help to stop nicks.
Stop periodically to make sure that your clipper blade is not getting too hot. If it is, swap the blade out for a cooler one if you have a spare. If you place the metal blade on a metal surface, like a cooking sheet, it will cool faster.
If you have a new puppy, start regular grooming by the time it is six months old. If you don't start early enough, he'll be more likely to be afraid of grooming.
Always be sure that you bathe, brush, and then dry your dog before you groom him. This will help to untangle the hair, and remove any hair that has been shed. This will make the grooming process much easier on both you and him.
Types of Clippers
Clippers come in many varieties and prices. A less expensive pair would work just fine for someone who owns a fine-haired dog and wants to clean up his coat every once in a while. A more expensive pair, on the other hand, would be necessary for a professional, or an owner who wants to trim a coarse-haired dog themselves on a regular basis.
As a general rule of thumb, you can get away with an inexpensive pair if you just need them to clean up a trim, or if you catch a stray hair. They are good for occasional use. Medium priced clippers are for dog owners who want to clean up their dog's look between regular trips to the groomers.
They usually come with multiples blades and somewhat better motors. Finally, the more expensive clippers are great for a professional or someone who wants to always trim and style their own dog, especially if they want to show their dog. They often come in multiple speeds with a variety of blades and have strong motors that will last you for a long time.
Differences Between Human and Dog Clippers
You might be wondering if you can't just use human clippers to trim your dog instead of buying special dog clippers. The answer is a resounding NO! While they might be similar in appearance, there are some important differences between human and dog clippers. Dogs have more sensitive skin and coarser hair than humans do.
Therefore there are some important differences between human and dog clippers. For example, dog clippers have more teeth that allow them to get through thick dog hair faster. Human clippers would jam up and you could possibly even burn out the motor if you used them on a dog. Dog clippers have a more powerful motor and have certain qualities that keep them cool during long use. A pair of human clippers would heat up more quickly and could burn or distress a dog.
Finally, dog clippers have a variety of blades to suit different coats. Every breed has a different kind of coat so options are very important here. Dog clippers are also made to be vibrate less and be quieter. Many dogs are sensitive to noise and vibration and are frightened by the buzz of clippers. Quieter clippers are better for these dogs, they could be frightened by human clippers.
Now we are going to discuss the differences between different qualities of dog clippers.
Corded Clippers
Corded clippers are available in a wide range of prices and features. They tend to be lighter than cordless clippers, as the battery adds extra weight. If you are a professional who spends long hours using your clippers, this would be an added benefit. If you just want to use the clippers occasionally, and not for very long, the added weight probably wouldn't bother you as much.
Also, corded clippers do not need to be recharged. You won't ever find yourself in the middle of a trim and find that you are out of power and need to plug them into the charging station, even if you are trimming many dogs.
The problem with corded clippers are that they require an electrical outlet! If you are traveling internationally with them, you might not be able to find a place to plug them in. Also, if you are at a dog show and need to do a last minute touch up while on the floor of the show, you might not even have access to an outlet. They also will not work as well if you plan on trimming your dog outdoors in warm weather.
Finally, some dogs are very sensitive and may be frightened by the feeling of the cord on their skin while they are being groomed. Also, the cord could get in your way if you are trying to maneuver your clippers to trim in an out of the way place, such as the inside of a dog's legs.
If you are going to buy corded clippers, make sure you take a close look at the area where you will be doing most of your trimming and verify that the clippers you purchase have a long enough cord. You don't want to be in a situation where you're ready to trim a dog and find that the cord isn't long enough to reach to your table!
Cordless Clippers
Over the past few years, new advances in rechargeable lithium batteries have improved the quality of cordless clippers. Today, cordless clippers can be charged more quickly and the charge can last longer than those that are run on traditional nickel-cadmium (or Ni-Cad) rechargeable batteries.
But, despite this, you still could end up in the frustrating situation of running out of power in the middle of a trim. Today, however, there are some corded and cordless hybrid models that can be used without a cord, and then be plugged in and used while charging when they run out of a charge.
Having no cord, makes it easier to maneuver these clippers in out of the way spots on your dog, and there is no risk of getting tangled in the dog's legs or frightening it when it is brushed by the cord. They are ideal when doing precision work. They also work great for travel, especially foreign travel. They also add the convenience of allowing you to trim your dog outdoors in warm weather—a much tidier option than trimming your dog inside your home.
Cordless trimmers are usually not as powerful as their corded counterparts and tend to be heavier as well. This could be a problem for someone with hand or wrist problems, especially if they are use a lot. Finally, the batteries of cordless clippers will wear out over time and will either need to be replaced, or in some cases, the clippers will need to be replaced depending on whether the battery in your model is replaceable.
The Speed and Power of  the Motor
All clipper motors have a number associated with them—RPM. RPM stands for rotations per minute, this describes how many times the motor rotates in, you guessed it, one minute. The higher the RPMs, the more powerful the motor. A more powerful motor is useful for trimming dogs with coarse or matted coats or for bulk, high speed trimming.
A lower RPM motor works just fine for precision work, or a dog with a nice smooth, light coat. When clipping, there are two blades in your clippers that rub together each time the motor turns. The act of rubbing causes the blades to heat up. The faster they rub together, the more they heat up.
A faster rotation speed also tends to make clippers noisier and vibrate more. Some manufacturers do a good job of muffling the sound in it's high powered clippers, so it is still possible to find powerful clippers that don't make a lot of noise. If your dog is bothered by the sound of clippers, find some clippers where the noise registers at 50 to 60 decibels, they should be nice and quiet.
It's important that you find the correct balance between power and the other important factors which we are describing when you are looking for your perfect set of clippers. As a rule of thumb, the best clippers on the market tend to rotate between 5,000 ad 12,000 times per minute.
Single Speed Clippers
Some clippers have only one speed, they are called single speed clippers. These clippers tend to be less expensive and are a great option for beginners. They are not suitable for trickier cuts but are good for when your dog just needs a quick clip to cool him in the summer heat. Some clippers come with an intelligent motor that will increase the speed and power when cutting through coarser coats.
Variable Speed Clippers
Variable speed clippers have different speed settings. Most of the more popular ones have five speeds. These clippers tend to be more expensive than the single speed clippers. The higher speeds on these clippers will easily get through a coarser coat, while the lower speeds are better for detail work and tricky areas. One example is the tuft of the tail on a poodle. If you are professional groomer a variable speed groomer is your best option. It is more versatile and will allow you to trim different breeds of dogs.
There are a few drawbacks to variable speed clippers. They tend to heat up more, how hot they get depends on the model and manufacturer. Also, the various gears make them heavier. This may not be too important if you are only grooming one dog, but if you are spending a lot of time every day grooming dogs it can bother your wrists, hands, and fingers over time.
The Size and Weight of Your Clippers
The size and weight is important to consider when choosing your clippers, especially if you're a professional that uses them all day long! Earlier, we discussed a couple of factors that add weight to clippers, a rechargeable battery and the extra gears that are found in a variable speed motor. Lighter clippers will help to prevent your wrists from getting tired, but on the other hand, lighter clippers tend to vibrate more, especially when you run them at higher speeds.
Most clippers that are for sale today are designed to be ergonomic—meaning that they are comfortable to hold. However, if it is at all possible, you should try and hold a pair of clippers before you buy them so that you will know if they will be comfortable for you. Using clippers that are too heavy or vibrate too much for too long can end up injuring you, especially if you already suffer from conditions such as arthritis or carpal tunnel syndrome.
The All Important Blade
As you may have already guessed, there are many different choices to consider when looking at clipper blades. Some clipper models have blades that are interchangeable and you can find replacements anywhere that can be used in your model. On the other hand, some have multiple blades-in-1, which means you are able to get the benefit of different blade sizes with the slide of a switch. These are not necessarily interchangeable though.
The benefit of interchangeable blades is that if your blade starts to get too hot, you can always remove it and switch it out with another so that you can continue with your trim. The other benefit is that it is easier to clean a blade that you have removed from your clippers. Finally, blades do dull and having a spare that you can easily change out will allow you to keep up the quality of your trim. Dull blades can make your cut messy and jam up your clippers as well.
Blades come in different sizes which are indicated by a pound sign (#) followed by a number. The higher the number, the closer the cut. Very high numbers, such as #40 or #50 are used only rarely, usually only by veterinarians preparing for a surgical cut. In general, you'll mostly use blades in the middle ranges.
You'll probably only use a couple of different sized blades unless if you are doing very complicated cuts for a show dog, or you might use extra blades if you plan on keeping your dog's fur shorter in the summer than in the winter. It is possible to find blade size recommendations for different blade sizes online if you need help.
Blade Materials
In addition to differences in blade sizes, blades also differ in other ways as well. They are made with different materials, edges, and types of teeth to give them different characteristics.
Stainless Steel Blades are the cheapest available. They can be infused with carbon to give them a harder cutting surface and stay sharper. They can also be infused with chrome to give them additional resistance to rust or to silver to give them antibacterial qualities. Finally, they can be ice-tempered, or cryogenically frozen, which helps to prevent rust and keeps them cooler longer.
Ceramic Blades and Titanium Blades are a higher quality of blade, and are usually more expensive. They stay sharp for even longer and they resist heat. This makes them good for long grooming sessions. They are used by most professional dog groomers.
Show Edge Blades are made to create a smooth finish, leave no tracks in the coat, and are used mainly for dogs who are competing in dog shows. Ultra Edge Blades are made of carbon-infused steel. This gives them a harder cutting surface and they last longer to.
Skip Tooth Blades have teeth that are spaced wider apart. They are good for thick, coarse, hair with mats. They create a layered look. You can also use them for a rough cut prior to washing your dog. On the other hand, Fine Tooth Blades are indicated by an "F" after their size (ie, #5F). These blades work well for fluffy breeds with clean, smooth coats. They give a soft touch and even look. You definitely don't want to use them for matted, thick, or dirty hair.
How to Change the Blades in Your Clippers
Find the metal blade holder on your clippers and slide the blade onto it. Once you have confirmed that it is secure, line up the clasp on the your clipper so that it fits into the corresponding gap of the top blade. Snap the blade into the clipper so that it is secure. Never put blades in your clippers if the motor is running. This will ruin your clipper motor.
Blade Combs
Blade combs come in different sizes and are made with different materials (steel or plastic). The combs are used with a short blade in order to produce a longer, even coat length. They are easy to use, just snap them on to the end of your clippers. Make sure they are compatible with your clippers if you buy them separately–they should attach securely. Many clippers come with combs, although you may need to buy them separately.
They usually come in sets of five to ten, although, you'll probably only use a couple. Comb sizes, like blades, are indicated with a number. Unlike blades, however, a higher comb size number indicates a longer cut and a lower number indicates a shorter cut.
Caring for Your Clippers
If you take good care of your clippers, they should last you through many cuts. After each use, brush your clippers off, removing any debris or hair that may have collected on them. Also, be sure that you keep your blades oiled, this will help to prevent them from getting dull. Check with your manufacturer to learn what type of oil will work best for your clippers.
One time each week, use a vacuum to clean out the air vents. Every two months, grease and oil your clippers, making sure you don't get oil in the casing. Every four months, replace the hinge or blade latch and replace the carbon brushes (see your instruction manual to learn how this is done).
Caring for Your Blades
Clean blades will last longer and require less sharpening. Dull blades can cause uneven cutting or even cuts to your dog's skin, so always keep an eye on the status of your blade. A good blade wash will clean and lubricate the blades and help to prevent rust and decontamination. To use a blade cleaner, pour the solution into a small bowl.
Then, run your clippers with the blade attached, dipping the blade in the cleaner. Finally, wipe them down with a rag and squirt a dab of oil on the edges where your blades rub together. When your blades get dull, either replace them or have them sharpened by a professional sharpener. If you need help finding a professional, check with the manufacturer of your clippers, a local groomer, or a pet shop that sells grooming tools.
Other Clipper Accessories
In addition to clippers and their blades, many manufacturers will include other extra items in a clipper set. You might want to look for them:
Some clippers come in a variety of colors. You might want to choose a pair that comes in your favorite!
A hard case is useful for protecting your clippers, plus, it will help to keep your clippers and accessories organized all together.
A cleaning brush for keeping your clippers clean and running smoothly.
A charging stand for cordless models. The stand will make it easier to charge your clippers, just set them in the stand instead of plugging in the cord.
A removable "scissor grip" handle for more control and comfort.
An anti-slip rubber gripper on the handle of the clippers. These will help you hold onto them and prevent them from slipping out of your hand.
Some clipper sets come with an instructional DVD. This will give you guidance on grooming your dog, but you can also always find a good video online as well.
An apron will help protect your clothing, plus, they usually come with loops and pockets to help keep your grooming gear close.
If your clipper's rechargeable battery is removable, they might even include a spare battery so that you can keep trimming when your battery dies.
As you can see, choosing the right clippers for your use is a complex and difficult decision to make! There are so many different styles and options to choose from that it can be somewhat overwhelming. Just be sure that you think it through and consider all of your options. Think about how you are going to use them and how often. Finally, be sure that you read reviews, as that will give you lots of important insight.